Steem-Ghana Weekly Contest: Share You Culture With Us (Pool Prize Increased)
Hello Steemians,
It is a privilege to come your way once again this week with another contest. We know how much closer the world has become now, the term global village couldn't have fit any better than it does now. It is for this reason why we want to know more about each and everyone of our backgrounds.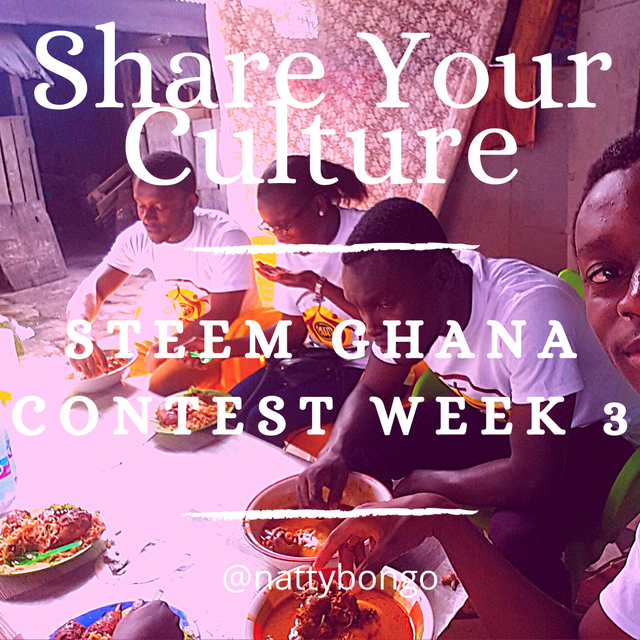 We know steemit is a big community and that cultures and people here are from diverse geographical locations with different believes and diverse ways of doing things. And so for our week 3 contest we are asking you to;
---
Share you culture with us.
---
It is that simple you do not need to tell us every single bit of your culture there is to know, just pick one that interest you.
It could be your culture music you want to talk about, perhaps a particular dance that is making waves from your culture that you want to talk about or even share a video with us, maybe you want to talk about the origins of your cultural language, or your unique style of dressing. The opportunities are endless and as already mentioned you are at liberty to go big.
Contest Rules
Post must be atleast 300 words
The contest is open to all
Post must be in the Steem Ghana Community
Post can be in any language
Entries must be original work (No Plagiarism)
Only one entry is required
Please do well to tag @nattybongo and @mcsamm for easy identification of your post
Use the tags #ghcontest, #steemexclusive and your country tag
Please share link of your entry in the comments, entries not commented would not be considered
---
Contest is opened till 29th April, 12am - GMT
---
Prizes to be Won
• 1st Place – 12 Steem
• 2nd Place – 10 steem
• 3rd Place – 7 steem
• 4th Place – 5 steem
• 5th Place –3 steem
---
It would be an absolute thrill for us to see your participation and we simply can't wait to read your submissions!!. Thanks for your time and have a great day.
---
Cc:
@pennsif
@stephenkendal
All country Reps