Launch date confirmed - Important Announcement!!🚧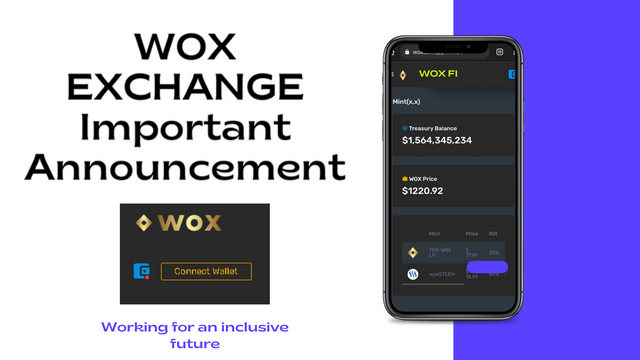 Edited in Canva / woxdefi.app
.
.
It is a great pleasure for the team to announce the definitive launch of the WOX-EXCHANGE Project, which we have been talking about for some time now.

The launch date is Monday, February 7, 2022.
We want to welcome all investors who are already betting on the growth of this great project and of course all those who want to join us, we invite you to build a great project with a long term mentality, which is the way in which great things are built.
The big problems that most of the DeFi Projects present could be summarized in two:
On the one hand there is the fact of the lack of liquidity in a large number of these projects, so it is important that there are investors. However, it's crucial for us to attract mostly investors willing to support growth of our project and who will stay with us in the long term.

Another serious issue is the fact that often investors focus on short-term profits. And as soon as they have the opportunity to exchange the main currency of the Exchange, they often dump a large amount of tokens on the market. Creating strong selling pressure at early stage of the project, which reflect on token price collapsing.
This is the main reason why we emphasize the Long Term View, because this would allow us to build an ecosystem in which we all benefit, and not just for a few days or a few weeks, but for indeterminate periods of time, do you like this idea?, we hope so.

We would also like to let you know some important details regarding the launch:
Date of launch: 7th feb 2022
You can stake WOX for 29K APY (0,52% every 8 hours) and WOX-TRX LP (0,56% every 8 hours)for 45K APY.
Note: You will only be able to unstake your WOX Tokens after 30 days. But after 30 days there will be no lockout period .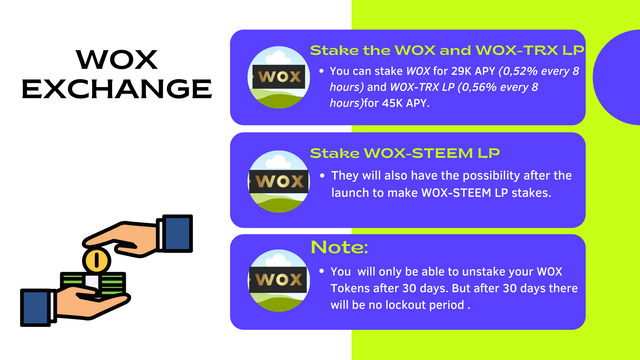 Edited in Canva / woxdefi.app

RESTEEM and EARN 30 WOX tokens
Would you like to help us promote our big Launch date and earn yourself 30 WOX tokens? Join our initiative and follow quite simple steps:
Step 1: join our discord server (link here)
Step 2: resteem this publication
Step 3: write "Resteemed" in comment section below and add details regarding your tronlink wallet address (we recommend linking your tronlink wallet with TRX address visible in your Steem wallet)
Once this post will be 7 days old - we will select randomly 10 people who joined this initiative and transfer 30 WOX tokens to wallet addresses provided by each one of them.

Few words about WOXFi project
Short explanation would be quite simple and direct: WoxFi is upcoming DeFi, which is a pancakeswap fork build on top of TRON blockchain.
It is being launched by @xpilar and his team. For many of us (Steemit users) this person doesn't require much introduction and we all know how dedicated and respected he is on this platform. Additionaly, his efforts are supported by several active members of highly reputable Project.hope community.
Here you can find more detailed informations about this project: