True and scary| Scary story contest| the world of xpilar
True Story
So today whatever I'm going to talk about is 100% true. Why? Because I was the one with that all happened.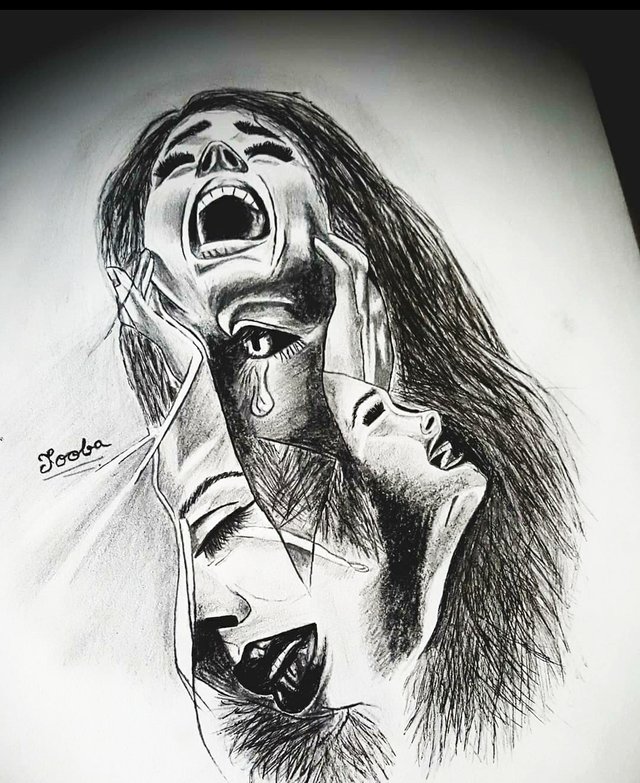 This pic is made by my friend for the contest
SO LET'S START!
I was a night owl and did not sleep the whole night while everyone else was sleeping. One night I was combing my hairs at 3 o clock and I heard someone's voice, I ignored it then I again heard that someone was calling me. The voice was of a young boy, age of between 20 to 25 WARISHA WARISHA WARISHA 3 times I heard that voice and after hearing it I went to sleep. I didn't discuss that with anyone.
After 2 days I was lying on my bed and someone again called me. This time the voice was of a lady, a lady of age above 40. She called me only once then after hearing WARISHA I heared a peculiar voice that I can't describe here. This time I was very veey scared.
Third time happened when I was lying on my bed and trying to sleep. Then someone's hand touched me I thought that could be my sister. Then gradually that hand started moving and rubbing my back I felt weird and at a sudden looked back there was NO one I was so so so sacred that I started crying and went to my mama's room and slept with her.
Fourth time happened when I was getting ready to sleep. I was in washroom, there is a window in our washroom so from that window I heard a male's voice. He was saying THERE IS SOMETHING WITH YOUR MAMA GO GO! After hearing that I ran towards my mama's room, she was sleeping there everything was okay there but after few minutes when I visited I saw there was a black shadow of a long person or I don't know what it was but his back was bent and he was looking just at her face. I can't describe what I was feeling at that moment, I'm scared right now while writing this. I didn't tell all that to mama because she might got worried. But her eyes told me that she knew everything.
Fifth time happened I was sleeping at mama's bed there was no one at house except me and mama. Then suddenly my eyes got opened and I heard someone's voice from the gallery, our gallery is packed and we usually don't open that door. I NEVER NEVER HEARD SUCH SCARY VOICE IN MY WHOLE LIFE NOT EVEN IN MOVIES. That voice was super heavy and aged. He was reciting Surah of Quran and saying something about prayers. I didn't know what Surah he was reciting. After hearing that voice my whole body got paralyzed only I can hear his voice I could not even move my head and after hearing all I fainted Mama ran when she heard that voice and when I got normal again she told me everything what happened. That guy was reciting Surah Bakra. I started weeping bitterly.
I can't tell all the story why that was happening but I hope you enjoyed reading
Mentioning respected @cryptokannon, @steemcurator01 and @steemcurator02 to get their support.