Spotlight on Huobi challenge!!
---
2. Get verified on Huobi
---
It is a requirement to verify your identity on Huobi. To upload the needed document, click on the drop-down arrow near your account name, which is your email address, then click on "Verification."
Fill out the form correctly and upload a valid ID. Click on "Verify" to upload.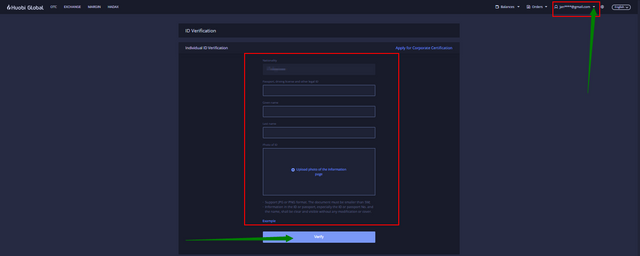 After submitting the document, you will see a short summary of what you filled out and the status shows as pending for verification.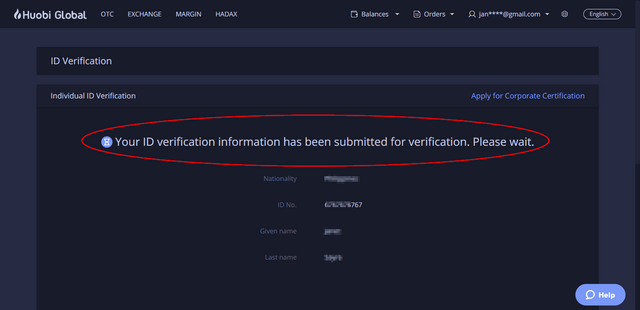 Perfectly You have successfully verified your Huobi account.
---
3. Secure your Huobi account by setting a 2-Factor Authentication (2FA)
---
What is 2FA?
Two-factor authentication, also known as 2FA, is an extra layer of security or added protection which we refer to as multi-factor authentication. Not only the username and password are required but also a piece of information that only a user possesses. This process is to confirm a user's claimed identity.
The 2FA process helps lessen the number of identity theft cases as well as phishing via email. It would be harder for potential intruders to gain access and steal someone's identity and personal data without that piece of information that only the account owner knows.
In the case of exchanges what the user has are his/her login details such as the username and password. The form of 2FA that a user possesses for this instance is a token or code. The code can be received either through SMS on a user's mobile phone or via applications like Google Authenticator or Authy.
In this step, we will activate 2FA on your Huobi account. Click on the drop-down arrow next to your account name or email. Select on "Account & Security" and click on Google authenticator on the small box that pops up.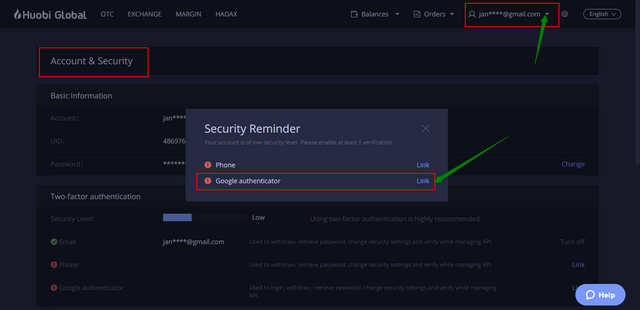 Scan the barcode or copy the key to generate the six-digit code, then click on "Link."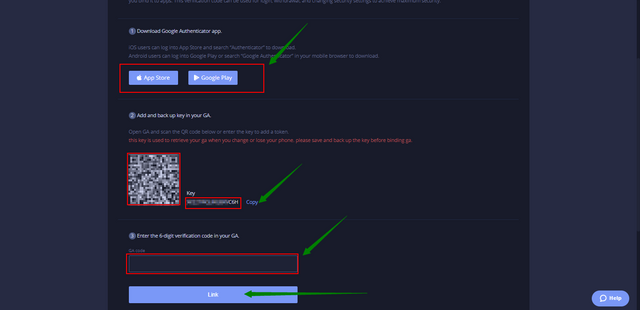 You will be redirected to the "Account & Security" page showing Google authenticator has been successfully linked to Huobi.

Wonderful! Huobi is now safe to use.
---
4. Start Trading Steem on Huobi
---
With the funds you've deposited, you are now ready to trade on your Huobi account.
Click on "Exchange" and choose the currency that you wanted to trade under "Markets", then scroll down to view the "Buy" option.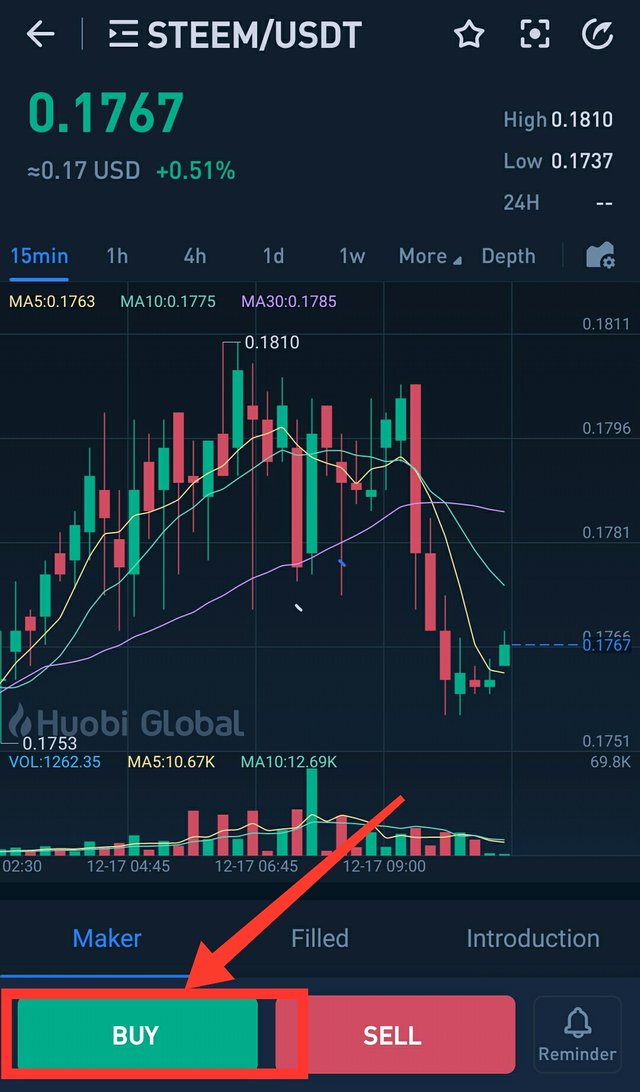 Select your order and type in your amount. Click on the "Buy" box to continue.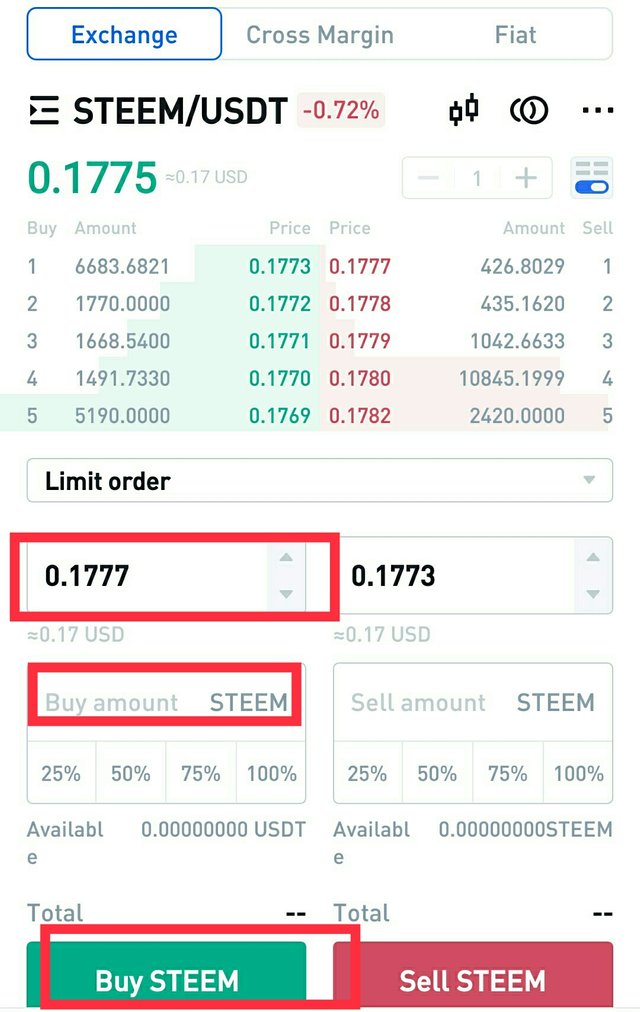 At the bottom of the page, you can view your open and previous orders.
Finally, You have bought your first Steem on Huobi.
---
Fees
---
The base crypto to crypto trade fee is 0.2% for all pairs. This can be reduced through high trading volumes.
Trade volume (30 day USDT) Maker fee Taker fee: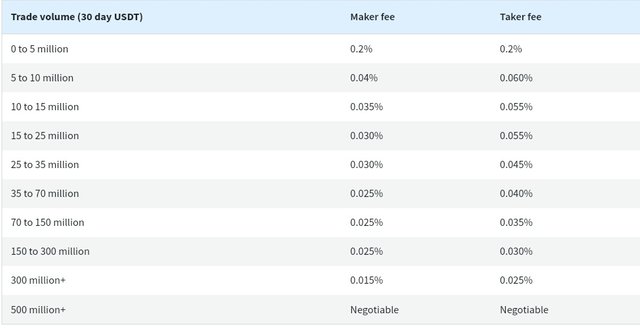 The rate for fiat to crypto trades depends on whether you are placing an order (maker) or are taking an existing order (taker), and the currencies you are trading.
---
Step by step overview on how to withdraw Steem from Huobi
---
Withdrawing funds from your Huobi account is easy. However, prior to making deposit and withdrawal transactions, you have to go through verification processes to ensure your safety.
Here, you will find steps that you can follow in withdrawing funds from Huobi account.
Once the site is up, log-in with your registered account.

After logging in, go to "Balances" and select the currency you want to withdraw. You can either type in your Steem or manually search it from the list.

Click on "Withdraw."

Key in the Steem address as well as your amount. Make sure the correct Steem address is entered to avoid losing your money permanently as withdrawal transactions can no longer be reverted.

Click on "Withdraw."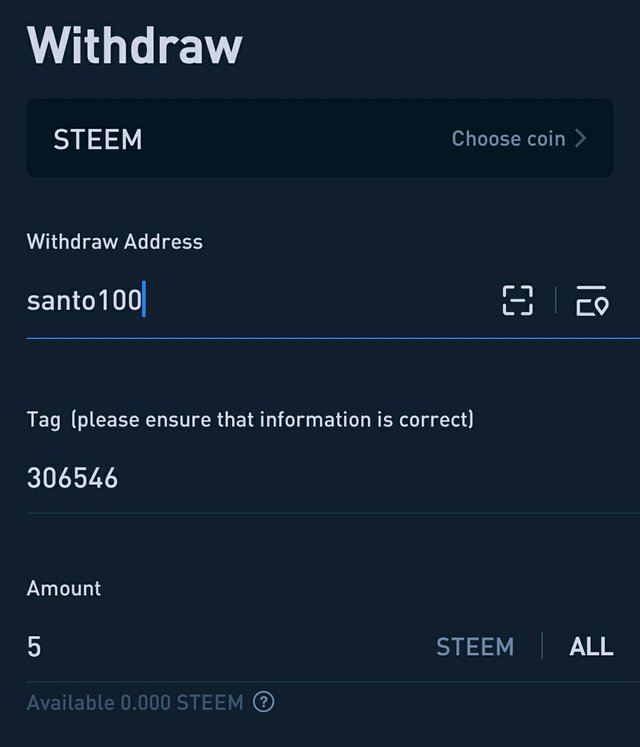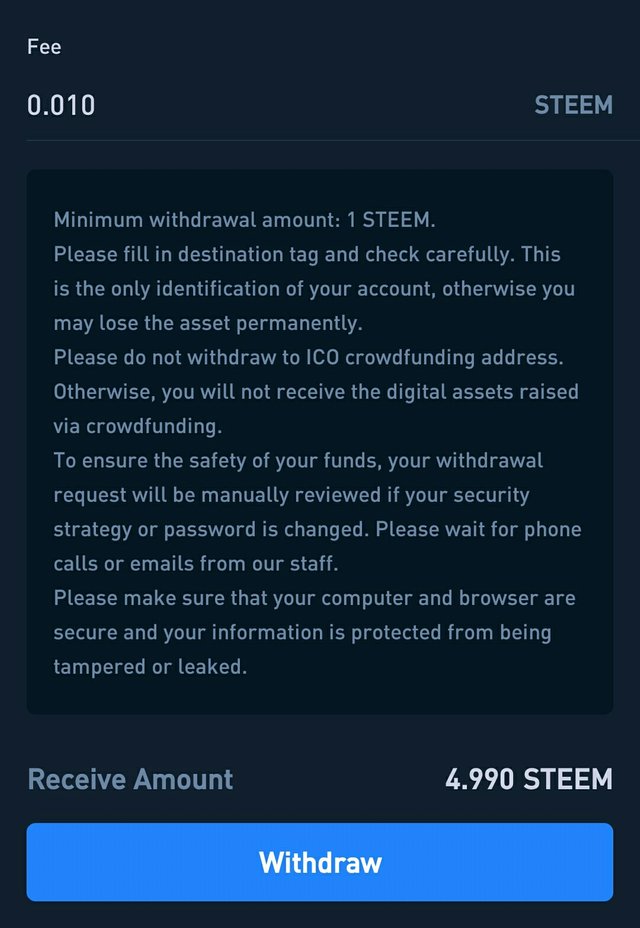 The Security authentication box will pop-up. Input the codes needed and click on "Confirm." The next page is for you to submit the required documents. Once submitted, it'll be processed within 30 minutes.

If this step is skipped, you need to wait for a call within 24 hours to go through phone verification from an officer in charge.

Click on "History" to monitor the status of your withdrawal. Remember that 6/6 confirmation must be met.
Finally Your processed Steem withdrawal from your Huobi account successfully.
---
Conclusion
---
Huobi exchange is a safe and solid exchanging platform for a wide range of cryptocurrencies. It has a great user-friendly interface, strong storage, an intervention fund for users. It also has an exchange application available for Windows, Mac, iOS, and Android devices.
When it comes to security, they have taken all of the safety precautions. Their 20,000 BTC strong insurance fund keeps them well protected. Huobi seems to have it all for any investor, regardless of skill or experience.
Thus it is a wonderful exchange to trade on and one of the highly recommended amongst other cryptocurrency and digital assets exchanges.


Thank you for reading my post.
Cc-:
@steemcurator01
@steemcurator02
@steemitblog
The post reward set 100% Power Up