Another edit that ended…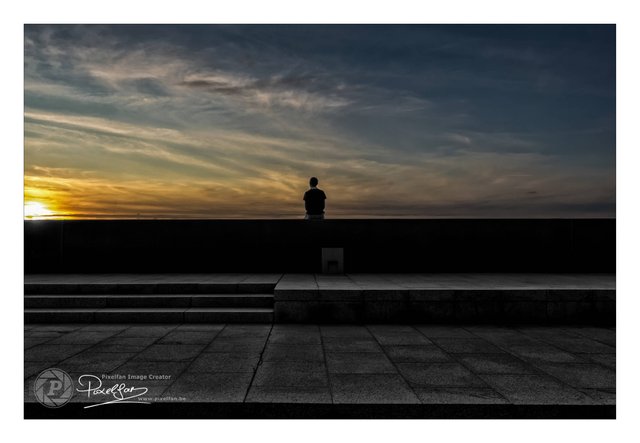 ---
…completely different of what I had in mind when starting editing…
Last Saturday we had a beautiful sunny autumn day. A perfect day for a walk, so we did.
During that walk we came across this place where I already shot this picture somewhere last year. Of course that guy wasn't sitting there anymore 😊 but it gave me the idea to re-edit the picture with some color-splash.
When I started the idea was to only keep the yellow and orange colors, but the more I worked on the picture, the more I started to think it was a shame to alter such a beautiful sunset…
So, in the end, I kept the sky unaltered and only worked/converted the guy, the wall and the stairs to B&W.
And I think that was the right choice 😉
And…as a bonus… I now have a nice B&W foreground that I can use in different other settings…
I have a feeling that that little black guy will find himself in lot of different places in the future 😉
---
You liked this post?
Right you are 😉
Just follow me here to make sure you don't miss any new work. As you can see below, you will be in good company... my 3 skinny friends are waiting for you 😉


BTW: I will not ask you to upvote my posts… deep down inside you know you have to 😉
Curious to see my other work?
Although I spend most of my time here, you can also find me in other places… just take your pick…