Roadtrip California Deu/Eng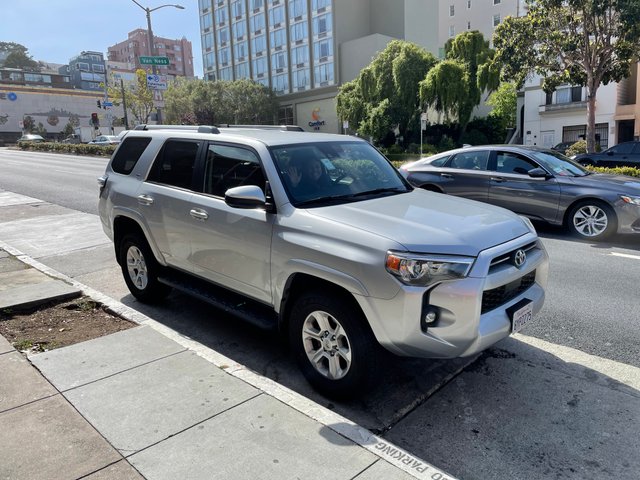 Hallo liebe Community,
das war nun also San Francisco. Am nächstern Morgen holten wir gut gestärkt nach dem frühstück unseren Leihwagen bei Budget ab. Gemietet für 8 Tage für 100 $ pro Tag. Bestellt hatten wir einen kleinen SUV Toyota RAV4 oder Ford Edge. Das kann man sich in der Regel nicht aussuchen sondern bekommt etwas aus dieser Klasse, was halt gerade da ist. Nun wußten wir aus früheren USA Urlauben, dass die Autovermieter oft auch größere Wagen zum gleichen Preis raus geben, wenn die gebuchte Klasse gerade nicht so viel vorrätig ist. Und siehe da, wir bekamen wieder ein kostenloses Upgrade. Und was für eins. Ein Toyota 4Runner, ein riesen Schiff mit Tempomat und Abstandshalter was das Fahren auf den amerikanischen Highways sehr bequem macht. Einfach Tempomat rein und 100 Meilen geradeaus fahren lassen. Sehr entspannt. Coll war das erste Anlassen des Motors, das sind noch Maschinen mit 6 Liter Hubraum und unzählbaren Zylindern, Benzin spielt dort keine Rolle und kostet fast nichts. Nicht gerade umweltfreundlich! Also packten wir unsere Siebensachen in den überdimensionierten Kofferraum und los gins Richtung Osten. Auf dem Weg genossen wir die Landschaft und sahen unzählige Rinder, einen Kojoten und an jedem Haus eine amerikanische Flagge. Auf dem Weg lag auch ein schönes großes Outletcenter, in dem wir einige Stunden verbrachten und das ein oder andere Schnäppchen beim Shopping machen konnten. Wirklich erschöpft kamen wir dann abends in Mariposa, einem kleinen alten Goldgräberstädtchen mitten im Wald an, das für die nächsten beiden tage unsere Heimatbasis sein sollte. Kleines Motel mit Parkplatz direkt vor dem Zimmer und idealer Ausgangspunkt für unsere anstehende Erkundung des Yosemite Nationalparks, der ca. 1 Stunde entfernt lag. Und ich will nicht zu viel versprechen aber der Yosemite Nationalpark ist ganz klar die Nr. 1 unserer Reise für mich gewesen. Seid also gespannt wie es weitergeht.
Viele Grüße und bis bald Euer
Al
Hello dear community,
that was San Francisco. The next morning we picked up our rental car at Budget well strengthened after breakfast. Rented for 8 days for $ 100 per day. We had ordered a small SUV Toyota RAV4 or Ford Edge. Usually you can't choose one, but you get something from this class, which is just there. Now we knew from previous vacations in the USA that the car rental companies often give out larger cars for the same price, if the booked class is just not so much in stock. And lo and behold, we got a free upgrade again. And what one. A Toyota 4Runner, a huge ship with cruise control and spacer which makes driving on the American highways very comfortable. Just put cruise control in and let it go straight for 100 miles. Very relaxing. Coll was the first starting of the engine, these are still machines with 6 liters of displacement and countless cylinders, gasoline plays no role there and costs almost nothing. Not exactly environmentally friendly! So we packed our seven things into the oversized trunk and off we went east. On the way we enjoyed the landscape and saw countless cattle, a coyote and an American flag on every house. On the way there was also a nice big outlet center, where we spent some hours and could make one or the other bargain while shopping. Really exhausted we arrived in the evening in Mariposa, a small old gold mining town in the middle of the forest, which should be our home base for the next two days. Small motel with parking right in front of the room and ideal starting point for our upcoming exploration of Yosemite National Park, which was about 1 hour away. And I don't want to promise too much but the Yosemite National Park was clearly the No. 1 of our trip for me. So be curious how it will go on.
Many greetings and see you soon
Al