The Robber Flies, the Fierce Predator of Insects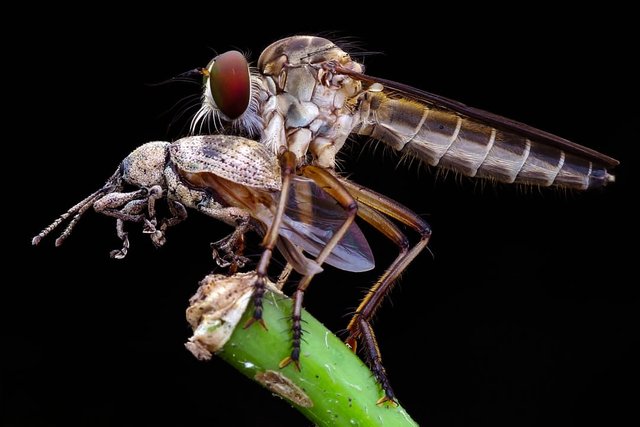 Hello Everyone
How are you today, I hope you are all right wherever you are. On this occasion, I would like to share some macro images with all of you. The image I want to share on this occasion is a robber fly.
The robber fly is a type of winged insect that is included in the category of predators. These flies eat many types of insects, and can catch prey larger than their own body size. If you observe robber flies, it can be seen that each robber fly has his own territory.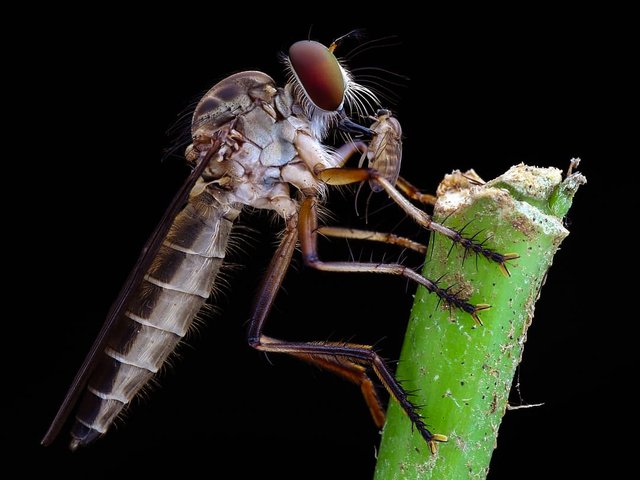 Some types of robber flies prey on insects in flight, and others prey on insects that sit on plants or on the ground. then suck through the proboscis. Many species have a long, pointed abdomen, sometimes with a sword-like ovipositor. Other flies are fat, resembling bees.
Its antennae are short, 3-segmented, sometimes with a feather-like structure called . The robber fly has a short, strong proboscis, and is used to stab and inject its prey with its saliva which contains neurotoxic and proteolytic enzymes to immobilize.
Digest the inside of its prey, Robber flies are fat, thorny legs, mustache on its face (mystax), and 3 simple eye (ocelli) between the two large compound eyes. Mystax helps protect the head and face, bending for defense when encountering prey.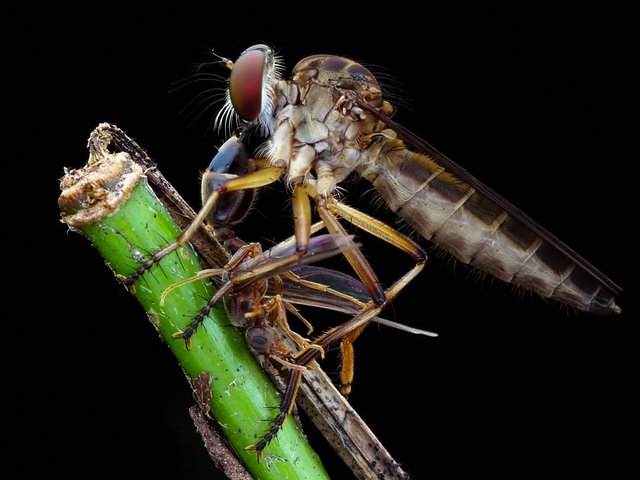 | Camera | Sony A7000 Mark III, Lens Sigma and Rynox Filter |
| --- | --- |
| Category | Macrophotography |
| Processed | Adobe Photoshop |
| - | - |
THANKS FOR VISIT MY BLOG
BEST REGARDS