Legionarius | Concurso de @Xpilar [Esp/Eng] The image is made of own imagination and thoughts (72)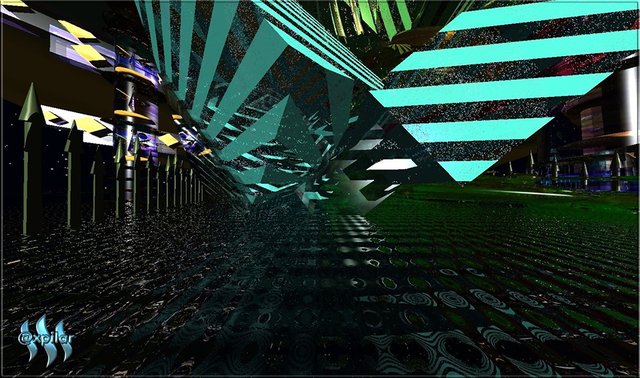 ---

Legionarius

Versión en español
Sin duda los dioses nunca quisieron que en mi vida sucediera algún buen designio, yo supuse que después de sacrificar tantas heridas a Marte por fin lograría entrar triunfante y lleno de honores con mi legión en la eterna ciudad de Roma. Hace un momento casi podía escuchar los gritos de esclavos, plebeyos y patricios recibiéndonos como hijos predilectos del Imperio después de extender sus dominios más allá del Mar Negro.
Venía marchando con otros cinco mil soldados sobrevivientes de conquistas y saqueos en la inhóspita tierra de Cólquide, traíamos como tesoro las cabezas de varios generales de oriente rebeldes al brazo fuerte de Roma. Ahora me encuentro repentinamente sólo, la quietud se ha apoderado del entorno y no encuentro a ningún otro romano vivo u otro que pueda contarse como huésped reciente de los dominios de Plutón. ¡¿Por qué los dioses se ensañan así conmigo?!
Crucé las murallas por la Vía Appia, hasta ahora no he visto ni un sólo ciudadano en la calzada, nadie a caballo, desapareció el bullicio cotidiano del mercado, los prostíbulos y los templos. Y ahora este extraño zumbido y los destellos que de repente se manifiestan, debe ser Júpiter que me quiere fulminar con sus rayos. Algo ha cambiado de repente, la arquitectura comienza a verse distinta, este suelo se asemeja al firmamento, surgen extrañas construcciones y ahí hay columnas luminosas flotando como si hubieran caído del Monte Olimpo.
Oigo relinchos de caballos pero con un timbre demasiado metálico, constantes rugidos, aullidos de bestias mecánicas, palabras dichas en lenguajes ignotos. Será que los dioses bárbaros han venido a encargarse del opresor romano, o será alguna extraña hechicería de un pueblo rival en su poderío. Puede ser que haya tenido algún hongo el vaso en el que serví mi último vino. Aquellas columnas como prismas brillantes se acercan, mi armadura y todas mis ropas han desaparecido, al compás de su luz se han vuelto polvo mi gladius y el estandarte de la XIII legión en mis propias manos.
De entre toda esa luz colorida alcanzo a distinguir una figura con una extraña indumentaria, aquel debe ser Apolo o el mismo Helios. Se acerca a mí y hablando a través de una pequeña caja de plata comienza a decirme en latín perfecto, "Amigo, la misión ha sido todo un éxito, bienvenido de vuelta al futuro, es todo un honor haber contado con su participación en nuestro experimento".

English version

No doubt the gods never desired a good fate for my life, I supposed that after sacrificing so many wounds to Mars I would finally manage to enter triumphant and honored with my legion in the eternal city of Rome. A moment ago I could almost hear the screams of slaves, commoners, and patricians welcoming us as beloved sons of the Empire after extending their domains beyond the Black Sea.
I have been marching with five thousand other surviving soldiers from conquering and looting in the inhospitable Colchis, we were also bringing as treasure the heads of various eastern generals rebellious to the strong arm of Rome. Now I am suddenly alone, quiet has taken over the surroundings and I don't find any other living Roman or any other who can be counted as a recent guest of Pluto's reign. Why are the gods so mad at me?!
I crossed the walls along the Via Appia, so far I have not seen a single citizen on the road, no one on horseback, the daily bustle of the market, the brothels and the temples disappeared. And now this strange buzz and the sparkles that suddenly manifest, must be Jupiter that wants to strike me down with his thunders. Something has suddenly changed, the architecture begins to look different, this floor resembles the firmament, strange constructions emerge and there are luminous columns floating as if they had fallen from the Olympus Mount.
I hear neighing of horses but with a metallic tone, constant roars, howls of mechanical beasts, words spoken in unfamiliar language. Could it be that the barbarian gods have come to take care of the Roman oppressor, or it will be some strange sorcery from the rivals to our power. It may have been a fungus in the glass in which I served my last wine. Those columns like bright prisms are approaching, my armor and all my clothes have disappeared, to the beat of its light my gladius and the standard of the XIII legion have become dust in my own hands.
Among all that colorful glow I can distinguish a figure with a strange outfit, that must be Apollo or Helios himself. He approaches me and speaking through a small silver box he begins to say in perfect Latin, "My friend, the mission has been a complete success, welcome back to the future, it's an honor to count with your participation in our experiment"

Inspirado por esta gran iniciativa de
@Xpilar
, presento mi participación a la 72 edición de su concurso narrativo a partir de las imágenes de su creación. Si quieres conocer más de este proyecto puedes visitar esta
publicación
---
Inspired by this great initiative by @Xpilar, I submit my participation to the 72 edition of the narrative contest frome images by his own creation. If you want to know more about the project you can visit this post
---


@LeVeuf