This is a beautiful sunset and the rest is nonsense 😉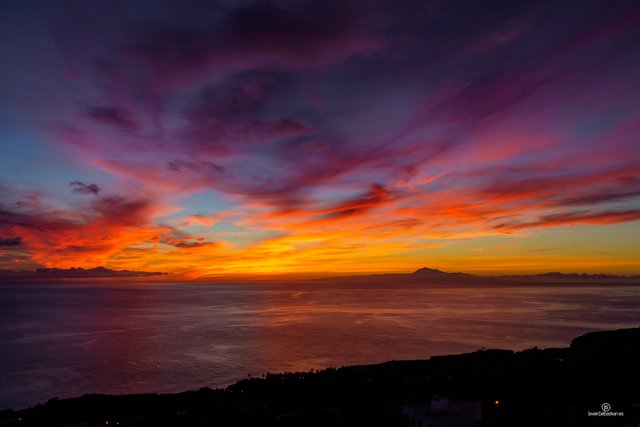 View in full size here

---
by @axeman


---
Hi Gyus:
On these November afternoons, after the end of summer, when time begins its way towards winter, the skies of the Canary Islands take on an incredibly beautiful color. We can appreciate orange, yellow and even red and violet tones under the blue of the sky. They are good dates to photograph sunsets and share these photos with all of you.
I hope you like it, greetings!
Cheers!



Hola chicos:
En estas tarde de noviembre, tras el fin del verano, cuando el tiempo empieza su camino hacia el invierno, los cielos de Canarias cogen un colorido increíblemente hermoso. Podemos apreciar tonalidades naranjas, amarillas e incluso rojas y violetas bajo el azul del cielo. Son buenas fechas para fotografiar atardeceres y compartir estas fotos con todos ustedes.
Espero que les guste ¡Saludos!
---

Copyright: Javier Sebastian, Canary Islands. All my images are original.
If you want to buy any of my visuals, please drop me a message, I'm on Discord: JavierSebastian#5816

---
Coinbase | Facebook | Twitter | Instagram | Youtube | Invite me a Coffee | Patreon | Creary.net
---
I use this wonderful service to trading crypto coins.
I use these services to earn token while surfing the web. These are my referral links.