Our lunch yesterday or Does the first pancake always burn?
In my case, it was not about a pancake, but about udon soup, and I succeeded)) For sure, I didn't cook it quite right, but I was satisfied with the result. I have never been to Japan((, but I love Japanese cuisine - or, better to say, those dishes that are served in cafes and restaurants in Russia as Japanese cuisine (I suspect that this is not quite similar to what is eaten in Japan).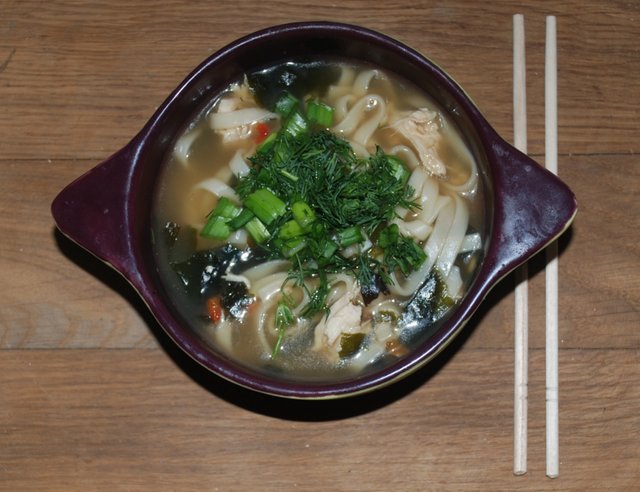 However, it had never occurred to me before to cook myself, for example, udon noodle soup. I thought it would be difficult - first of all, because of the lack of necessary ingredients. And, indeed, I could not find dasi broth and rice wine in the three shops closest to home. But these were the most ordinary supermarkets with a standard set of products, and I think I would have found everything I needed in larger grocery markets. However, I bought udon noodles and a dry mixture of wakame seaweed with slices of tomatoes and red pepper, and at home I had ginger (powdered and pickled), sesame seeds, soy sauce and ready-made broth with chicken breast.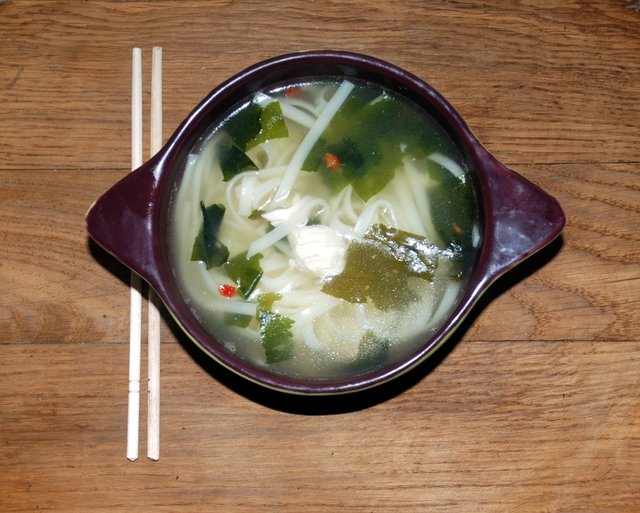 With this set of ingredients, I decided to try it)) I poured some of the chicken broth into a separate saucepan and began to warm it up. In another saucepan, I cooked udon noodles (it cooks for about 3 minutes), drained the water, rinsed the noodles with cold water and put them in bowls. I also added to these bowls chicken breast, cut into small pieces. When the broth started to boil in another pot, I added a little soy sauce, ginger powder and a couple of pinches of wakame with pepper and tomatoes. I cooked the broth for another five minutes, and then poured it over noodles with chicken in bowls, and sprinkled green onions with dill on top (my friend hates green onions, so I got more, hehe)). Of course, the similarity with the classic udon turned out to be remote, but the taste was very pleasant))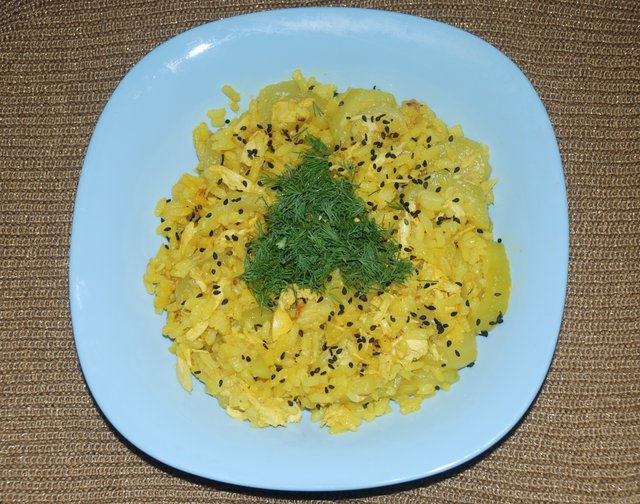 Udon noodle soup was our first course. And for the second I cooked stewed rice (it was cooked in advance) with zucchini and pieces of boiled chicken breast. Turmeric was used as a seasoning, which gave the dish a golden yellow color, and for decoration I used black sesame and dill. Bon Appetit!
P.S. Every photo is clickable
Written for the Food Photo contest by @mister-omortson
Camera used Nikon D80
Thank you for stopping by and reading it
Your @irchen