Phantasma Catchers | Digital Art
---
Get ready, a new portal has opened in the city, souls from other worlds invade our planet once again.
Your mission: to catch as much as possible so you will get almost infinite energy, but do not let them possess you, you will lose points of life. We trust you, this is a game you must win.
Happy new year guys, it's a pleasure to see you again, I'm back, my vacations are over, so time to get your hands on Wacom and do great things, I've been exploring some NFT markets and I liked Ghostmarket, so you can buy this work there, here below is the link
https://ghostmarket.io/asset/pha/ghost/34526393444058404773684792373812292483307793183808807850844671724295115833877/
Tools:
Wacom Intuos 4
Photoshop
Brushes courtesy of Imad Awan: Download here
-Step 1:
As usual, I started with the sketch, focusing on the two main characters and the approach I wanted to achieve for the souls.
-Step 2:
Using the gray scale, I started the detailing of the characters and the environment, creating a kind of portal in the background for the appearance of the souls, besides achieving some volume in the man's armor.
-Step 3:
To color the scene, use the gradient map to color the background in blue tones and use the loop tool next to the levels to color the characters in different color tones, besides that I have made a few more adjustments with the ctrl+u.
-Step 4:
With the "radial blur" tool and a layer mask, achieve the distortion in the portal, to which you add shine with the "dodge color" fusion mode, also render a little more to the girl, clarifying her colors and adding a longer and more attractive hair.
To make all the souls, I only had to design one of them and then duplicate it many times, transforming each one of them to achieve a different perspective in a different direction. Then I applied a couple of strokes in the "Vivid light" and "color dodge" fusion modes to achieve the overall shine.
Tell me in the comments that you imagine when you see this illustration.
---
I'll leave you a little gif with the whole process in it, so you can better appreciate the step by step.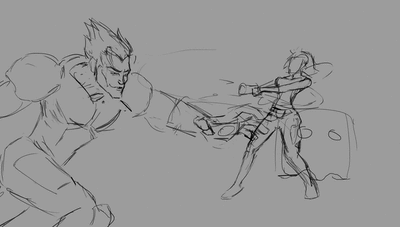 ---
---
See you in a future post!
Thank You for Supporting My Artwork
NFT SHOWROOM | INSTAGRAM | FACEBOOK
⬆️ Follow ⬆️