Comission #48 War Mole-Excavator | Digital Art
---
Diggers! I'm back! Pulling up more commissions for @smanuels from deep underground. After a short break in which I did some personal work to clear my mind, I have started working on new illustrations for the project that @smanuels is building.
Today, I introduce you to the mole -excavator, an incredible machine, whose task is to cross large masses of rock from the subway, building subway tunnels so that war troops can travel safely through them, an incredible strategy for safe mobilization before the fierce battles that occur in this world.
Tools:
Wacom Intuos 4
Photoshop
Brushes courtesy of Imad Awan: Download here
-Step 1:
Today there is no sketch with lines, no, no, since I had clear the idea of @smanuels, I went straight to draw it in gray scale, this way I got volume immediately and a first look closer to the final result.
-Step 2:
With soft brushes, I mixed and redefined the structure of the excavator, achieving a better finish to start coloring. For this last, I used in first instance a layer in fusion mode "overlay", so I gave the first coat of color without damaging the work done in gray, on the other hand, in the sky I used the hard brush to capture some colors of a great sunset.
-Step 3:
With a cloud texture brush and the soft brush, I contrasted the base colors of the sky and built up a great cloudiness. As for the excavator, I added the stained metal effect using the "hard light" fusion mode and a strong textured brush, for the dust I used a brush called " ground dust" This is one of the advantages of having a good repertoire of brushes with different textures and effects.
-Step 4:
This illustration is the queen of texture brushes, since I used a rock texture brush, to build rocks of course, it was completely indispensable to have some strong rocks that would stand out at the first sight of the viewer, besides, I made some other stones flying everywhere and some sparks at the tip of the drill.
You can notice that from the beginning I did not make an effort to detail the connection between the drill and what I will call "the body of the excavator", this is because I already had planned to make a big fog of dust rising from the excavation, which I built using a fog brush, the airbrush and a soft eraser to eliminate the unwanted brushstrokes.
Tell me in the comments that you imagine when you see this illustration.
---
I'll leave you a little gif with the whole process in it, so you can better appreciate the step by step.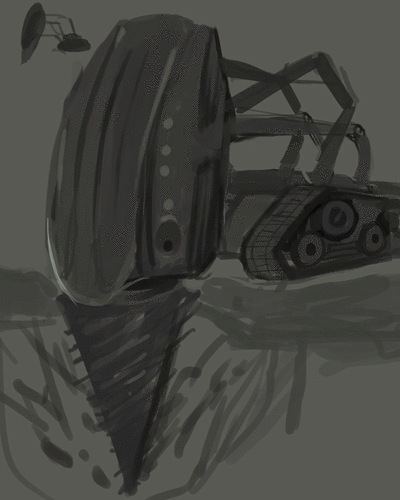 Don't forget to check out my gallery at NFT Showroom, where you can acquire some of my art and collect it, encouraging me to create new and amazing artworks.
Latest artworks↘️
---
---
See you in a future post!
Thank You for Supporting My Artwork
NFT SHOWROOM | INSTAGRAM | FACEBOOK
⬆️ Follow ⬆️