Dibujo a bolígrafo/ DÉCIMO NOVENO CONCURSO DE ESCRITURA Y PINTURA !! / NINETEENTH WRITING AND PAINTING CONTEST !! / #WORLD OF XPILAR
Hola amigos de steemit, les presento mi entrada al DÉCIMO NOVENO CONCURSO DE ESCRITURA Y PINTURA !! . Debo de reconocer que de las imágenes de referencia de
@Xpilar
esta es la que más me ha gustado, tal vez porque tiende un poco a la estética de lo sublime y le da una impresión de inmensidad a la naturaleza, en este sentido deja empequeñecido la existencia humana. Otro punto por el que me gusta la imagen es porque contiene el elemento hielo o frío, las condiciones invernales es algo que generalmente añado a mis composiciones plásticas ya sea de manera representativa o simbólica. Abajo les muestro el dibujo, espero les guste:
Hello friends of steemit, I present my entry to the NINETEENTH WRITING AND PAINTING CONTEST !! . I must admit that of the reference images of
@Xpilar
this is the one that I liked the most, perhaps because it tends a bit towards the aesthetics of the sublime and gives an impression of immensity to nature, in this sense it dwarfs the human existence. Another point why I like the image is because it contains the element of ice or cold, winter conditions is something that I generally add to my plastic compositions, either in a representative or symbolic way. Below I show you the drawing, I hope you like it: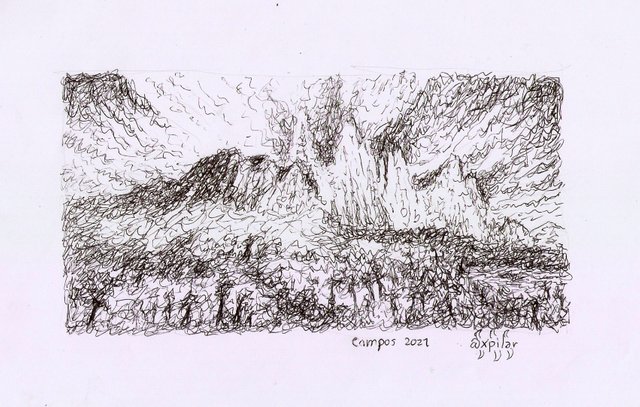 Sobre el dibujo/About drawing:
En el concurso anterior opte por utilizar lápiz de grafito para realizar el claroscuro, esta vez me incline por hacerlo a bolígrafo y adicionalmente para hacerlo distinto y más original le aplique el claroscuro con la técnica de garabateo, que por cierto es una técnica que cada vez me gusta más. El resultado final me agrado bastante, al garabateo es una técnica que se percibe bien en el dibujo visto como un conjunto, no tanto visto en detalles o en partes.
In the previous contest, I chose to use a graphite pencil to make chiaroscuro, this time I leaned towards doing it with a pen and additionally to make it different and more original, I applied chiaroscuro with the scribbling technique, which by the way is a technique that every time I like it more. I quite like the end result, scribbling is a technique that is well perceived in the drawing seen as a whole, not so much seen in details or in parts.
---
Parte del proceso/ Part of the process: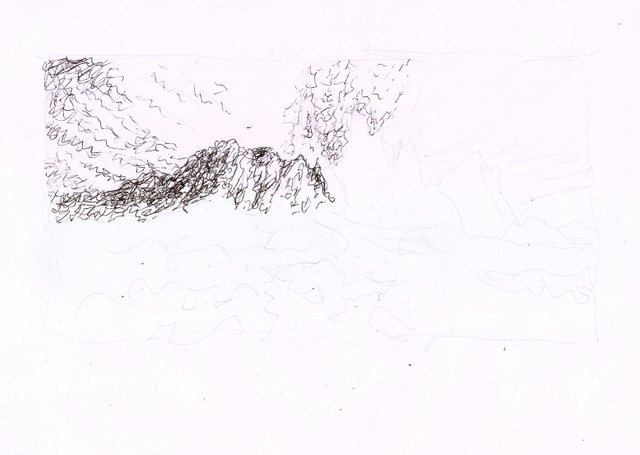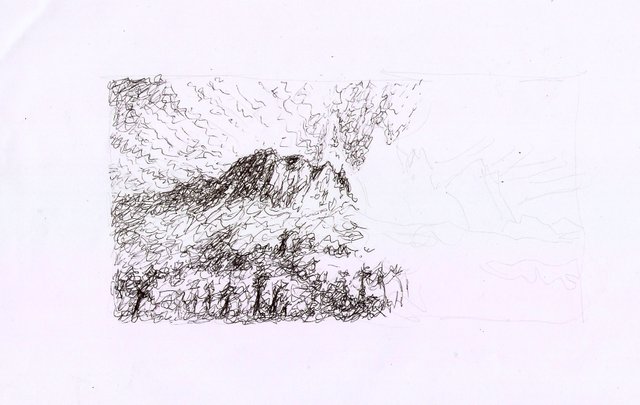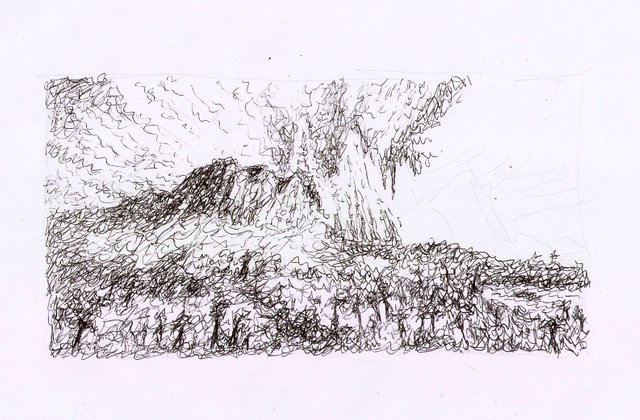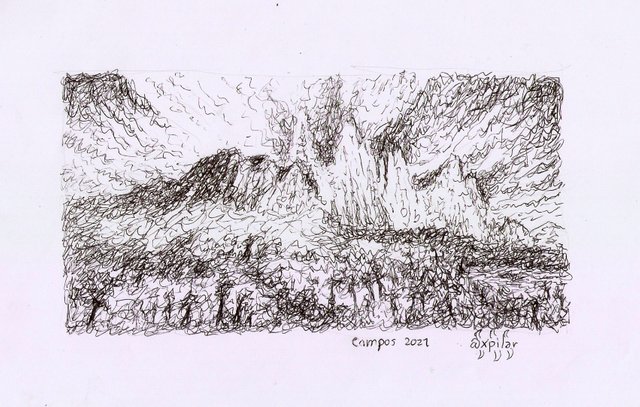 Gracias por visitar mi post, espero agregar calidad al concurso. Gracias @franyeligonzalez y @xpilar por su apoyo.
Thanks for visiting my post, I hope to add quality to the contest. Thank you @franyeligonzalez and @xpilar for your support.