ArtVenture Contest- Ahsoka Tano del universo Star Wars
Ahsoka Tano
Bolígrafo y colores sobre papel/ Ballpoint pen and colors on paper
2020
Muy buenos días, buenas tardes y buenas noches amigos de Steemit. Este es el dibujo que hice para participar en "
@Art-Venture
traditional Art contest: "My Star Wars". Entre los personajes del universo Star Wars escogí a Ahsoka Tano para representarla, quise dibujarla porque fue el primer personaje que vi de toda la serie, debido a que comencé a ver Star Wars de forma impar, y vi por casualidad en una escena donde estaba luchando ella, me llamo bastante la atención y se me quedo grabado el personaje en mi memoria.Espero les guste el dibujo.
Good morning, good afternoon and good night, friends of Steemit. This is the drawing I made to participate in the "@ Art-Venture traditional Art contest:" My Star Wars. Among the characters in the Star Wars universe, I chose Ahsoka Tano to represent her, I wanted to draw her because she was the first character I saw in the entire series, because I began to see Star Wars in an odd way, and I saw by chance in a scene where she was fighting She caught my attention and the character was etched in my memory. I hope you like the drawing.
---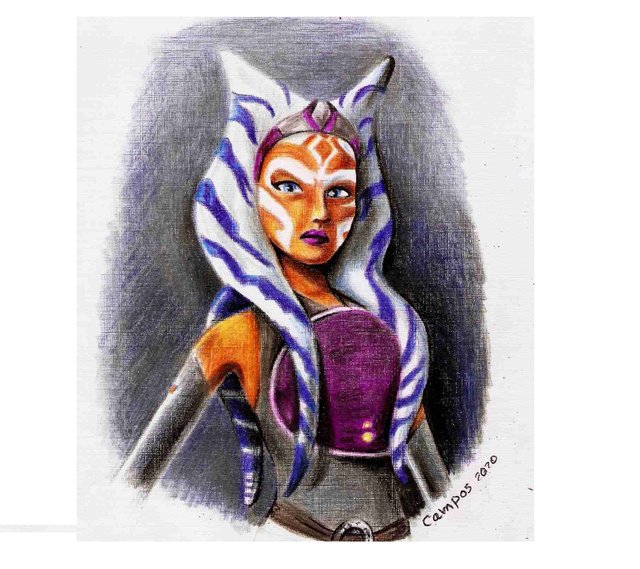 Sobre el dibujo/ About the drawing:
Para esta ocasión quise realizar el dibujo utilizando lápices de colores sobre cartulina en hilo. Comencé trazando un boceto muy sencillo, solo para ubicar lugar y proporción del personaje dentro del espacio compositivo, el reto del trabajo dibujistico lo iba hacer con los lápices de colores. La gama de colores que utilice para la piel fue anaranjada, marrón, amarilla y negra, para el traje fue azul oscuro, azul claro, blanco, morado, negro, gris, plateado y marrón, para el fondo utilice plateado, gris, blanco, azul oscuro y negro. Adicionalmente utilice un bolígrafo para definir las áreas más oscuras.
For this occasion I wanted to make the drawing using colored pencils on cardboard in thread. I began by drawing a very simple sketch, just to locate the place and proportion of the character within the compositional space, the challenge of drawing work was going to be done with colored pencils. The range of colors I used for the skin was orange, brown, yellow and black, for the suit it was dark blue, light blue, white, purple, black, gray, silver and brown, for the background use silver, gray, white, dark blue and black. Also, use a ballpoint pen to define the darkest areas.
---

Proceso creativo/ Creative process: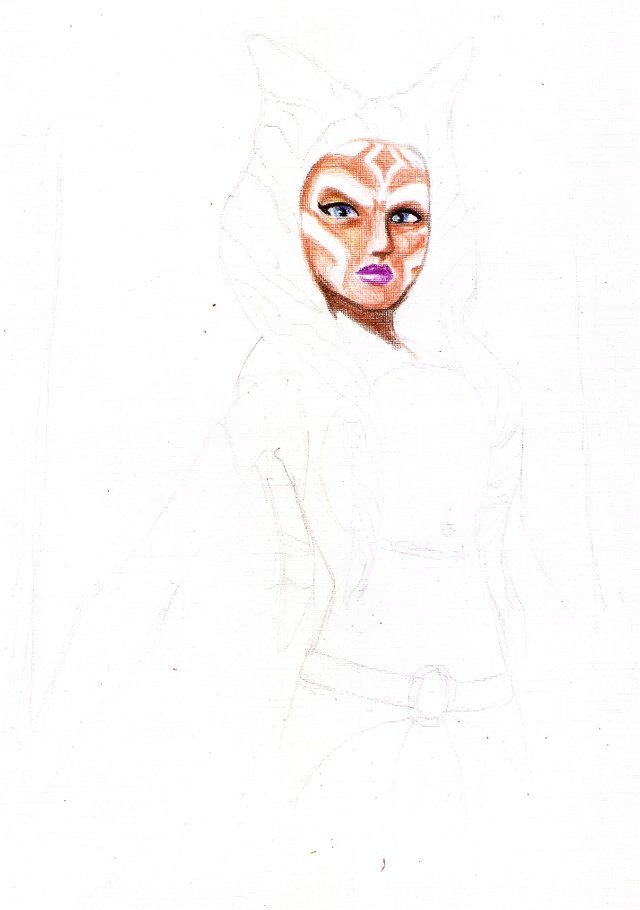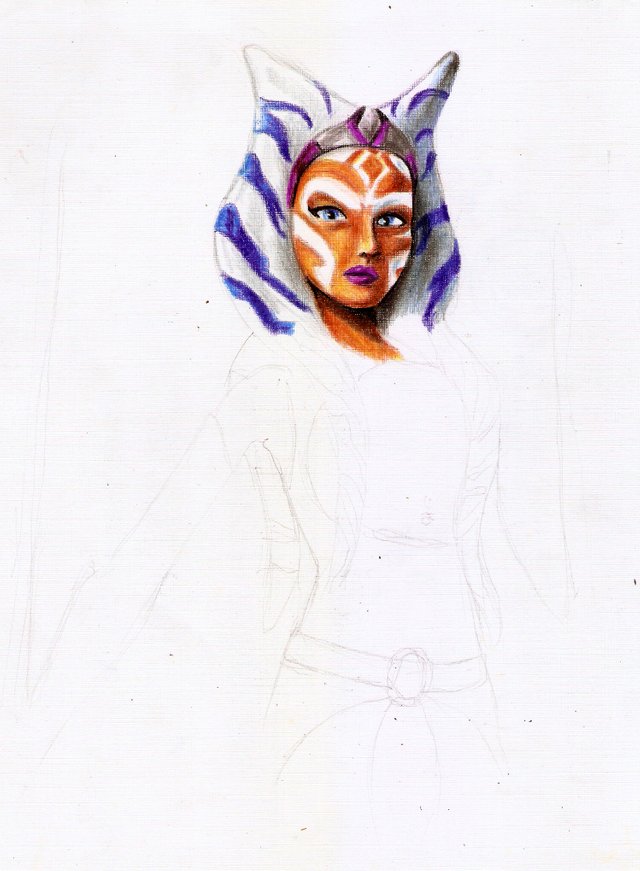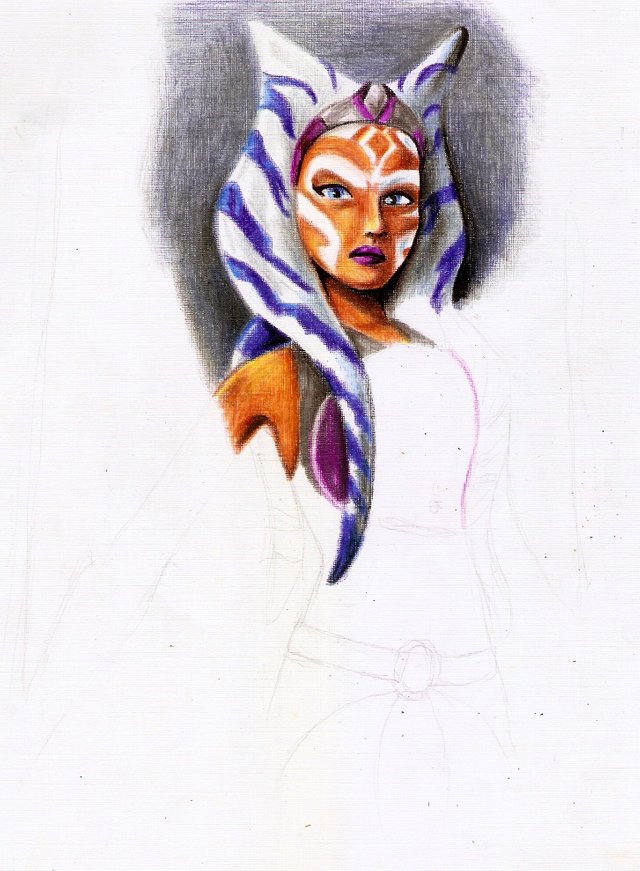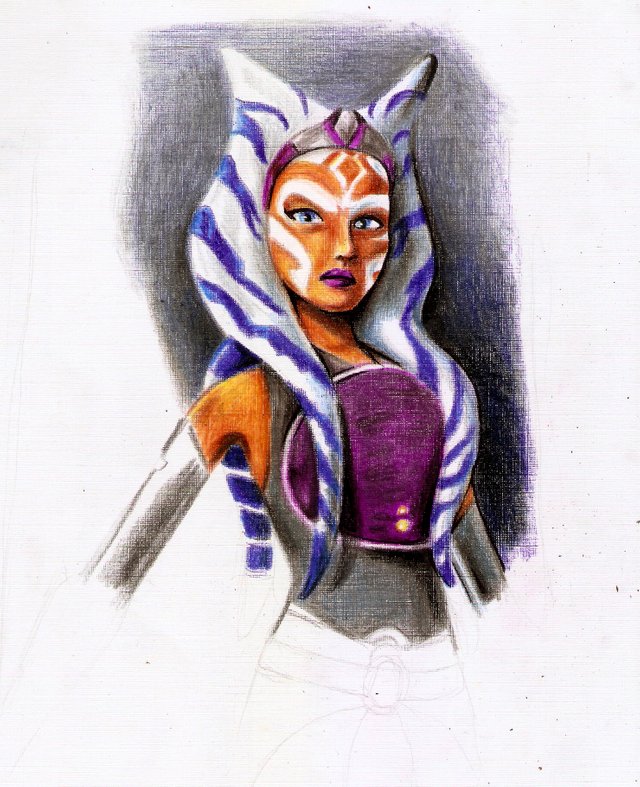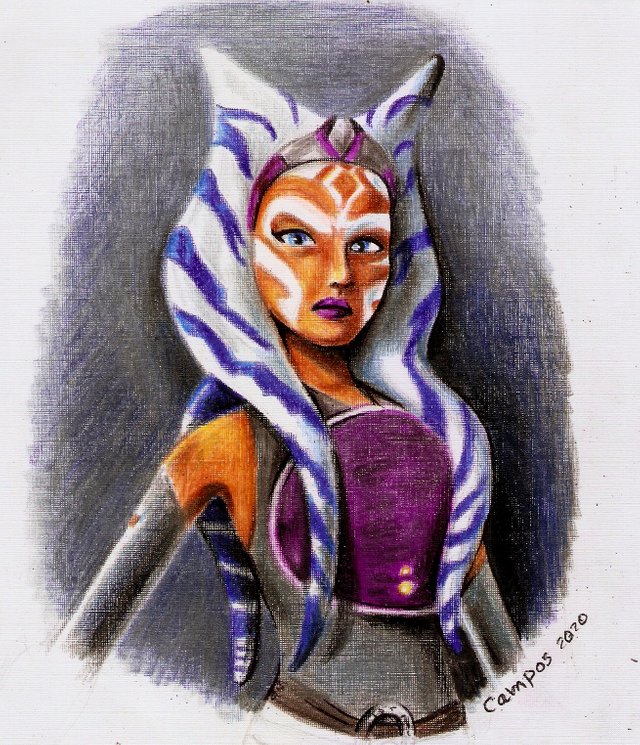 Espero hayan disfrutado de la publicación. Gracias!!/ I hope you have enjoyed the publication. Thank you !!