Hiding the noise with more noise -sand sculpture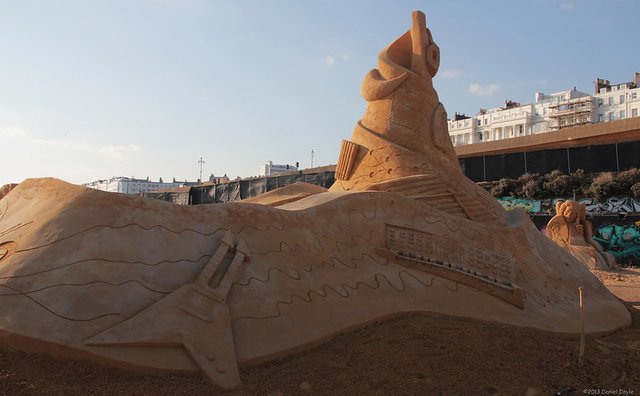 You know that thing that one sometimes does when you can't be arsed doing a proper cleaning job. You have a pile of dirt and rather than clean it away, you just sweep it under the carpet. Out of sight, out of mind! Well, this sculpture is that disgruntled carpet. Its main purpose was to hide a big pile of rubble that had been piled up while trying to make the location for this sculpture project in Brighton, England a bit more presentable. They Just coated it with a layer of sand and got someone to try and turn it into a something. I was that someone. alongside my good friend Fergus Mulvany.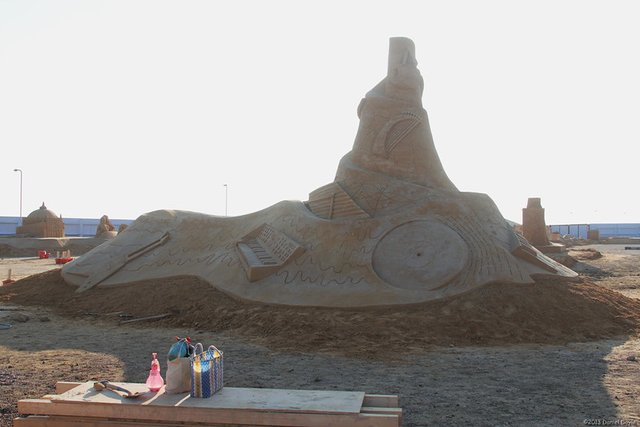 Give me patience
There was a compaction of sand at one end to try and make it more interesting but the whole thing really just looked like a big foot stamping down in the middle of the other sculptures. This compacted peak was way too steep as the organisers tried to make at least one piece in the whole event reach for the skies. This made it very dangerous to work on as we could not remove much sand for footholds. The sand was pretty weak, clay-like and still quite soft from the compaction process. We did not want to take any risks from falling or sculpture falling on us. Lots of pebbles added to the shit sandwich. (I hope I don't get cancelled for using bad language.)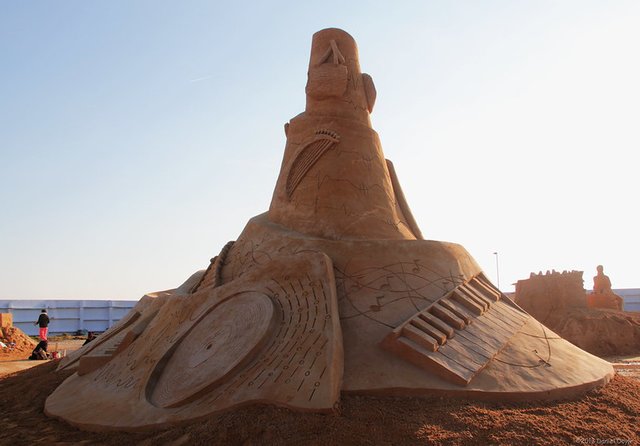 And a one and a two and a one, two, three
In some ways, it should have been a perfect challenge for the two of us. Technical challenges, which I always love to overcome but also the theme which was music. Both Fergus and I love music of all types but we were asked to do something about the history of music and keep things more representative.
Our idea was to have a spiralling form running down from the top and show on its surface different elements from the different stages of music. The first drums -----> to the digitisation of music at the end.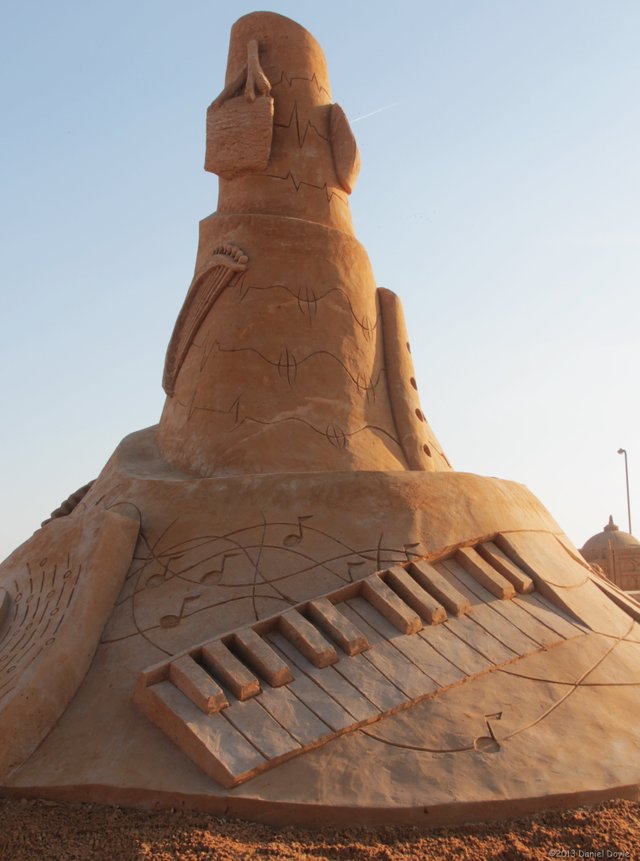 White noise
I must say I was not that inspired, neither of us was. It was cold, with sometimes Snow falling on our delicate handies and we felt that we had really been asked to create the bastard sculpture of the event. Sorry if I sound grumpy but this is how we felt. I liked the theme of the project but we had just too many obstacles to get the creative juices running.
There were several elements that I liked in the piece but overall it was just like a big cake with nice frosting here and there. We hid all the rubble, rocks, metal and rubbish but sculpturally it was not much to write home about.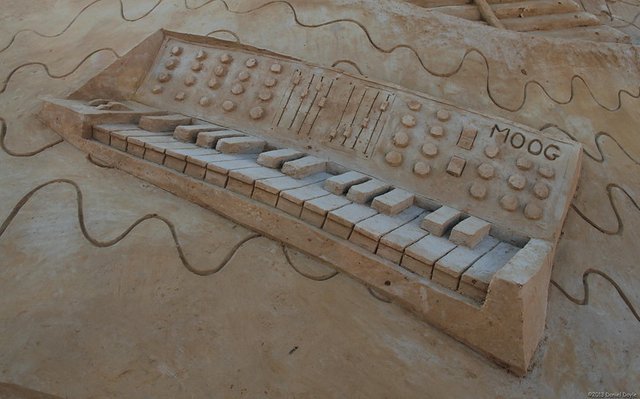 My favourite element was this Mini Moog which I carved. If you know anything about music history you will know it as the device which really helped push the electronic music scene forward. This analogue synth, with its versatility, helped many a star find their distinctive sound.
To finish off this post here is a little music. It probably says something about my mental state while creating this piece and it also has that Moog magic.