League of Movies (Second Edition | Week 02): Inside Out
*There is a english and portuguese version*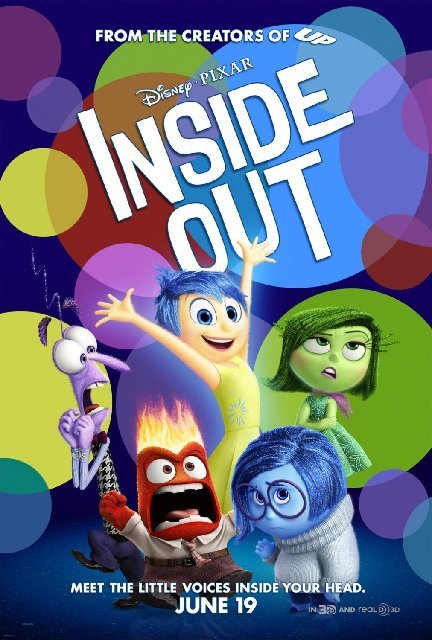 https://www.imdb.com/title/tt2096673/
English version
My choice for this week's contest is not very obvious. This is not a drama or even a sad story. The Portuguese title is "Divertida Mente", a Pixar film that premiered in 2015. In the controversial Rotten Tomatoes has 98% approval in the "tomatometer" and 89% approval by the general public. According to IMDB, production had a budget of approximately 175 million dollars and raised more than 857 million dollars. The movie is 95 minutes long.
I imagine that whoever reads this and knows that the proposal of the contest is to write about a film that made you cry must be wondering why I chose this work to write about. As I said, the story itself is not sad. For those that doesn't know, the narrative is about a little girl who moves to another town and has to deal with the challenges of this change and also of his own maturity as a person, and all this from the perspective of his emotions, which are the protagonists of the story.
We are dealing here with a story of maturity, of childhood challenges, of dealing with emotions and knowing how to accept them. I chose this film especially for a scene. SPOILERS ALERT! : D There is a scene where Joy, a protagonist emotion, carrying memories that need to be saved, is trapped in a gap of forgotten memories, along with Riley's imaginary friend. To escape, they need to fly together inside a car that Riley played when was youger. However, the weight of the imaginary friend is too big and the car cannot reach the height needed. In order to save Joy and the memories she carries, the imaginary friend sacrifices himself, staying in the gap and being, as a consequence, forgotten, erased from the memory of his creator.
I don't know for you, but this scene took me by surprise, themes like memories, childhood, forgotten memories, detachment, they are all subjects that touch me a lot. The imaginary friend's sacrifice scene tell us that in order to grow, learn and mature, we need to leave certain things behind. We can't carry everything with us, we cannot make good things last forever. Moments are not eternal, as are our lives in ways that they have been for certain periods of time. Forgetting is terrible, the loss is terrible, and in the film were shown other memories that were in the gap that would soon be forgotten, erased, would turn to dust. There were moments of happiness and emotion that would soon be gone for Riley, and that's very sad. Who can say how much of our own lifer we no longer remember? How many good things have we gone through that we will never remember? As someone once said, "we embrace the past, knowing that soon we will have to let it go."
I hope I have brought my opinion about this film satisfactorily, I wish you all a great participation in the contest!
Versão em português
Minha escolha para essa semana do concurso não é muito óbvia. Não se trata de um drama ou mesmo de uma história triste. O título em português é "Divertida Mente", um filme da Pixar que teve sua estréia em 2015. No polêmico Rotten Tomatoes tem aprovação de 98% no "tomatômetro" e 89% de aprovação pelo público em geral. Segundo o IMDB, a produção teve um orçamento de 175 milhões de dólares, aproximadamente, e arrecadou mais de 857 milhões de dólares. O longa conta com 95 minutos de duração.
Imagino que quem lê isso e sabe que a proposta do concurso é escrever sobre um filme que te fez chorar deve estar se perguntando porque eu escolhi essa obra para escrever sobre. Como eu disse, a história em si não é triste, para quem não sabe, a narrativa é sobre uma garotinha que muda de cidade e tem que lidar com os desafios dessa mudança e também de seu próprio amadurecimento como pessoa, e tudo isso sob a perspectiva de suas emoções, que são as protagonistas da história.
Estamos tratando aqui de uma história de amadurecimento, de desafios da infância, de lidar com emoções e saber aceitá-las. Escolhi esse longa especialmente por uma cena. ALERTA DE SPOILERS! :D Há uma cena onde Felicidade, a emoção protagonista, carregando lembranças que precisam ser salvas, está presa num fosso de memórias esquecidas, junto com o amigo imaginário de Riley. Para escapar, eles precisam voar juntos dentro de um carro que Riley brincava quando pequena. Porém, o peso do amigo imaginário é muito grande e o carro não consegue atingir a altura necessária. A fim de salvar Felicidade e as lembranças que ela carrega, o amigo imaginário se sacrifica, ficando no poço e sendo, como consequência, esquecido, apagado da memória de sua criadora.
Não sei para vocês, mas essa cena me pegou de surpresa, temas como lembranças, infância, memórias esquecidas, desprendimento, são todos assuntos que me tocam bastante. O que a cena do sacrifício do amigo imaginário significa é que para crescermos, aprendermos e amadurecermos, precisamos deixar certas coisas para trás. Não temos como carregar tudo conosco, não podemos fazer com que as coisas boas durem para sempre. Momentos não são eternos, assim como nossas vidas de formas que foram por certos períodos de tempo. O esquecer é terrível, a perda é terrível, ali no filme foram mostradas outras memórias que estavam no foço que seriam esquecidas em breve, apagadas, virariam pó. Haviam instantes de felicidade e emoção que logo não existiriam mais para Riley, e isso é muito triste. Quem pode dizer quanto de nosso passado já não lembramos mais? Quantas coisas boas passamos que nunca mais iremos reviver? Como diz a frase, "abraçamos o passado, sabendo que logo teremos de deixá-lo partir."
Espero ter trazido de forma satisfatória minha opinião sobre esse filme, desejo a todos uma ótima participação no concurso!
Que tal esse concurso do @wiseagent , @ronaldoavelino e @coyotelation ?
Para quem quiser, este é o link: https://hive.blog/hive-174578/@wiseagent/league-of-movies-hive-writing-contest-second-edition-or-week-02-tear-bomb
Conheça: | @brazine | @brazilians | @camoes | @coiotes | @imagemvirtual | @msp-brasil | @ptgram-power |