WEEKLY CONTEST week 7 - Healthy Game - Day 5 - The Best Natural Face Care Cream By @basky14
Hello Friends
Thanks to HEALTH REPUBLIC for organizing this contest.
I want to share with you guys the
6-Ingredient Homemade Anti-Aging Face Cream (or 5 Natural Moisturizers to Buy Instead)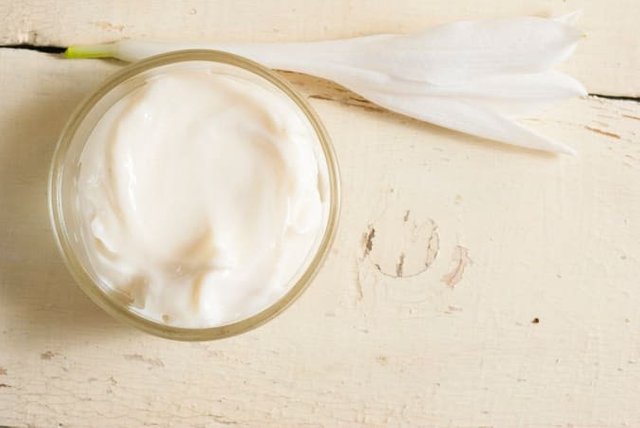 Source
The anti-aging face cream you use on the reg doesn't have to be a synthetic chemical science project. In fact, the most effective and truly anti-aging remedies happen to be nature's most simple and pure ingredients. Mix up this homemade anti-aging face cream and you'll soften fine lines and moisturize skin, revealing a fresher and younger you.
The ingredients in this anti-aging cream individually have profound affects on the skin, but together, they complement one another in terms of texture, scent, and complexion benefits.
ALMOND OIL

Source
Almond oil is an emollient, which means it makes the skin softer. It has historically been used to treat psoriasis, eczema, and scarring. It soothes and rejuvenates skin and improves complexion and skin tone.
VIRGIN COCONUT OIL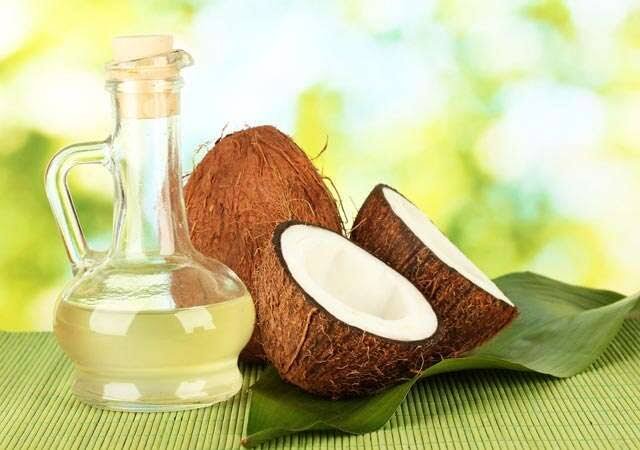 Source
one study, virgin coconut oil had the strongest scavenging effect on free radicals and the highest antioxidant activity. In another study, the antioxidant activity of virgin coconut oil was found to result in an increase of antioxidants and self-healing compounds of the body, resulting in rapid formation of cells and blood vessels in harmed areas. These studies are significant in that they indicate coconut oil's antioxidant capacity and antioxidants are known to have considerable anti-aging effects.
BEESWAX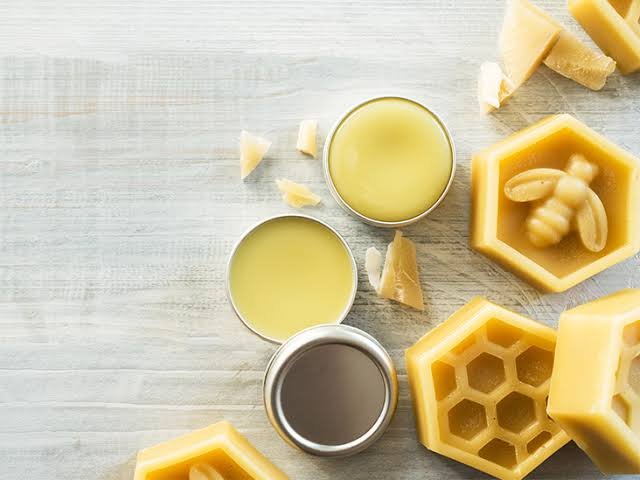 Source
Beeswax can create a protective layer on the skin. It's also a humectant, which means that it attracts water. Both of these qualities can help the skin stay hydrated. By making beeswax into a lotion bar, it will work double-duty to keep your skin soft and hydrated.
SHEA BUTTER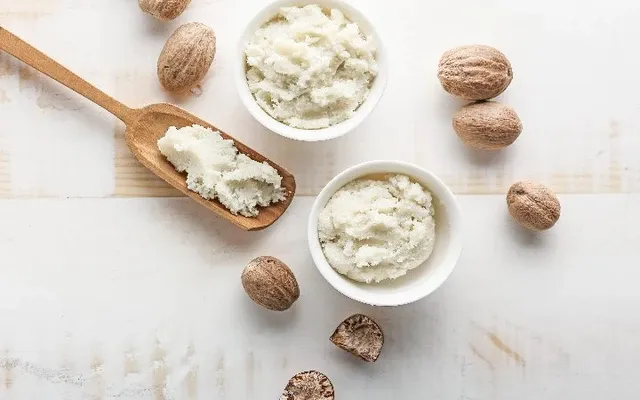 Source
Shea butter is indeed excellent for the skin. Its unique nutrition concentration works wonders on the skin. It's an impressive addition to your skincare routine due to its versatile nature - It works for both dry and oily skin, protects the skin from UV rays and sunburns, and hydrates skin.
shea butter boosts collagen production and is an excellent moisturizer. The presence of palmitic acid and oleic in shea makes it an excellent source to heal anti-inflammatory issues.
VITAMINE E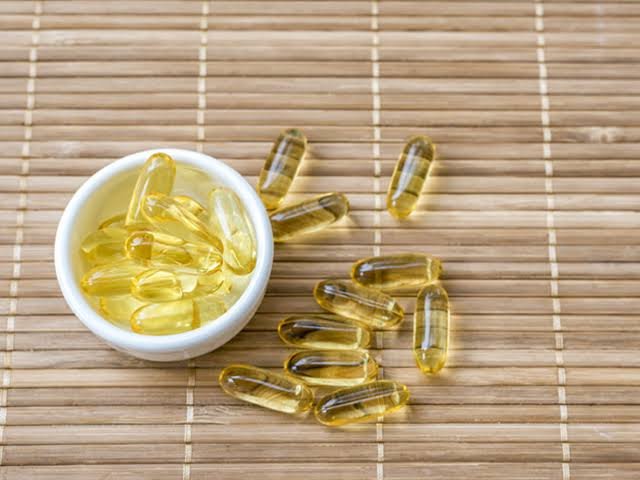 Source
Vitamin E is high in antioxidants, and it affects blood circulation. That might be why people notice a difference in the firmness and structure of their skin after topical use of vitamin E oil.
ESSENTIAL OILS
Essential oils are plant extracts made from flowers, leaves, and seeds. Some may have properties that can treat certain skin conditions.
Here you can use any Essential oil of your choice. But here i will be talking about Lavender Essential oil
LAVENDER ESSENTIAL OIL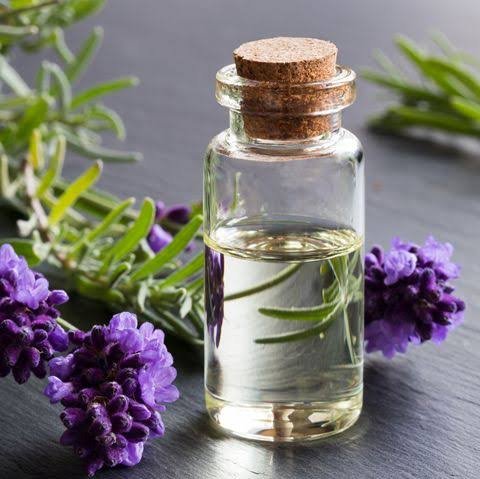 Source
You may have heard about using lavender for sleep and relaxation, but this multipurpose oil may also help balance out moisture levels in your skin. It's an anti-inflammatory that can reduce redness and a natural hydrator that can repair dry skin without making it too greasy.
RECIPE
¼ cup almond oil
2 tablespoons coconut oil
2 tablespoons beeswax
½ teaspoon vitamin E oil
1 tablespoon shea butter
Essential oils of choice (optional)
DIRECTION
Place all ingredients in a glass jar. Bring a pot filled about 3-4 inches with water to a simmer. Put the jar, without its lid, in the pot, and let it sit there until the ingredients have melted. Stir occasionally. Once the mixture has melted and all is evenly combined, pour it into a small glass jar. Let it sit at room temperature until the cream hardens, close the jar's lid, and store in a cool place. Apply morning and night after washing.
Not into DIY? 5 Pure Products You Can Count On
If you don't have the time, patience, or desire to make face cream, leave the task to the professionals.
Hit your local health food store's beauty section or peruse online skincare retailers devoted to natural beauty, such as the Detox Market. When choosing a product, check out the product's ingredients list and make sure you can pronounce all that is listed, unless you encounter the scientific name for something quite commonplace (e.g. jojoba oil can be listed as simmondsia chinensis). Opt for organic when possible.
The following five anti-aging face creams are tried-and-true favorites for many of those who keep tabs on the all-natural skincare world. Take your pick!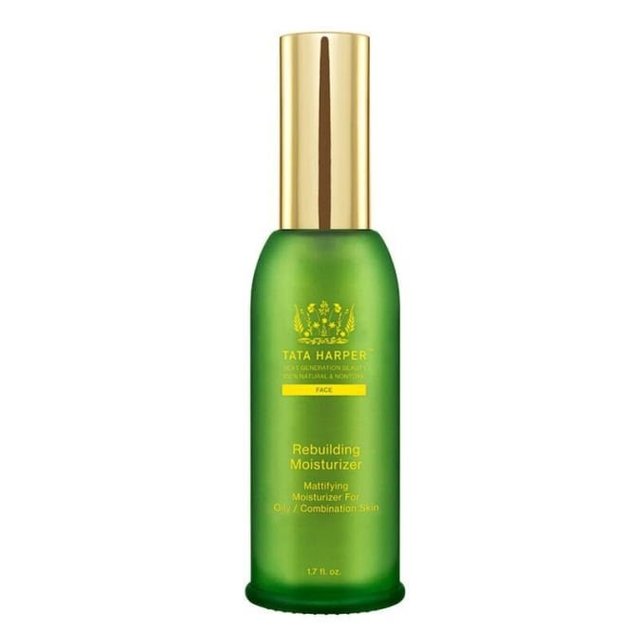 Source
Tata Harper's Rebuilding Moisturizer
Tata Harper is hand's down my favorite skincare line. It's expensive (and that hurts), but it is worth every penny. The Rebuilding Moisturizer is 100% non-toxic and made for combination skin. It's delicate on the skin and leaves the most incredible and light floral aroma.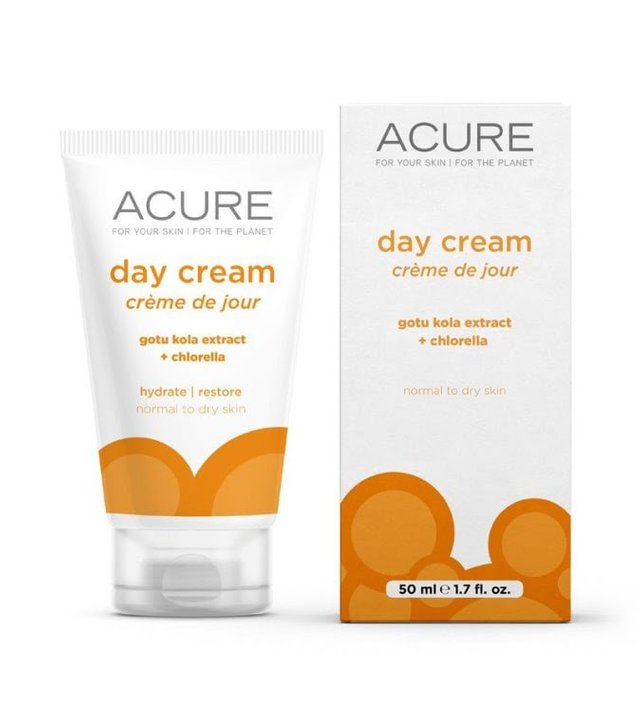 Source
Acure's Day Cream
Vegan, sulfate- and paraben-free, Acure's Day Cream ticks off all the boxes and still manages to be so affordable. Its most prominent ingredients include aloe and acai, blackberry, rosehip, pomegranate, calendula, chamomile, and rooibos leaf extracts. In other words: antioxidant overload (if there ever were such a thing)! The cream is also equipped with gotu kola stem cell and chlorella for rebuilding and protection. Its fruit aroma immediately lifts the spirits and I also find it to be just the right consistency - not to light, not too heavy - so that it always leaves the perfect matte finish.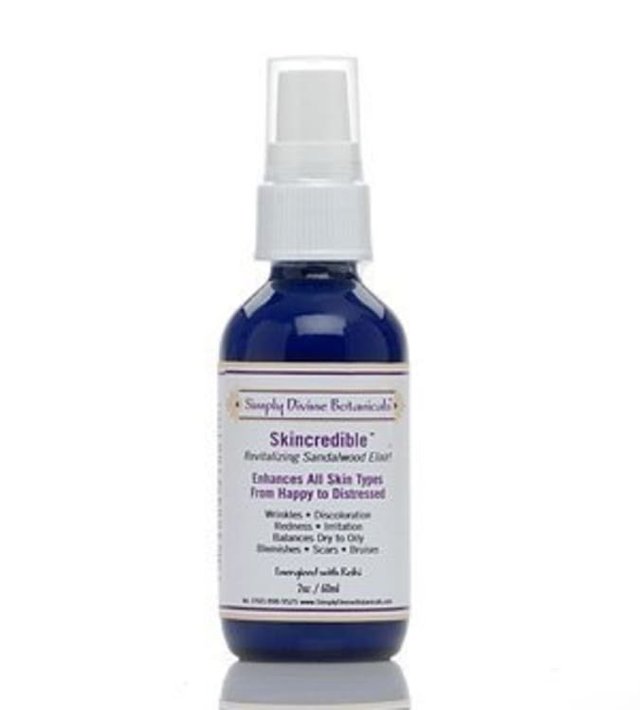 Source
Simply Divine Botanical's Skincredible! Sandalwood Revitalizing Elixir
Its namesake captures the gist of this gem. Skincredible was originally formulated as a rosacea treatment but soon was used for just about everything. The cream is lightly tinted but rubs in clear. It is based in spring water electolyzed with 24-karat-gold, organic cold-pressed tamanu oil, and organic cold-pressed rosehip seed oil, and is infused with an impressive list of dozens of essential oils. Its aroma is dominated by sandalwood, which makes the cream also fitting for the male olfactory palate. Skincredible targets discoloration, cracked skin, wrinkles, bruises, and scars.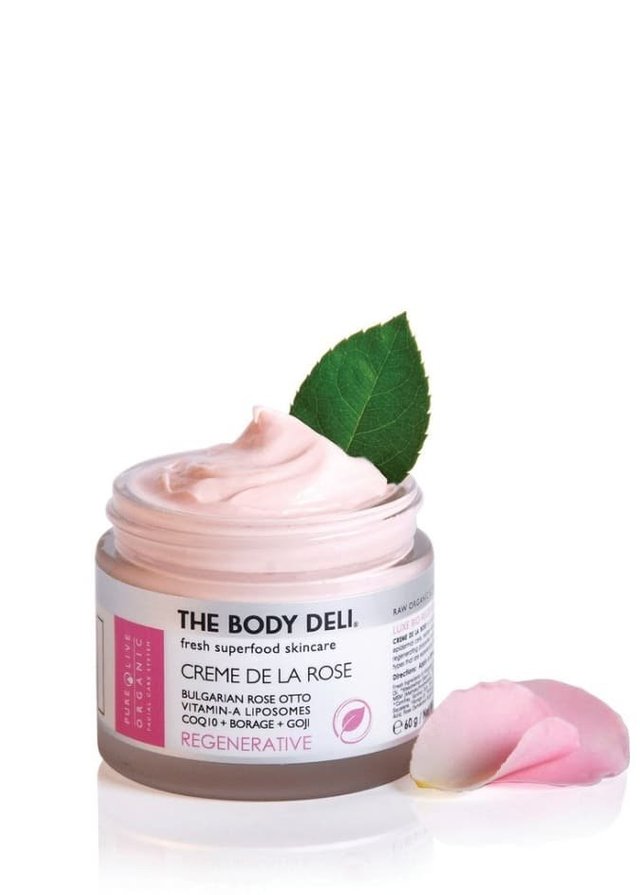 Source
Body Deli's Creme de la Rose
All of Body Deli's products look good enough to eat. Clever marketing or are they just that good? They're that good. Infused with Bulgarian rose otto, vitamin-A liposomes, COQ10, borage, and goji, Creme de la Rose regenerates and heals the skin. It is filled with antioxidants and is formulated to accelerate cellular turnover, feed epidermal cells, restore elasticity, and diminish the depth and intensity of wrinkles. Each application makes you feel as if you've just been kissed by a rose (but further from your grave).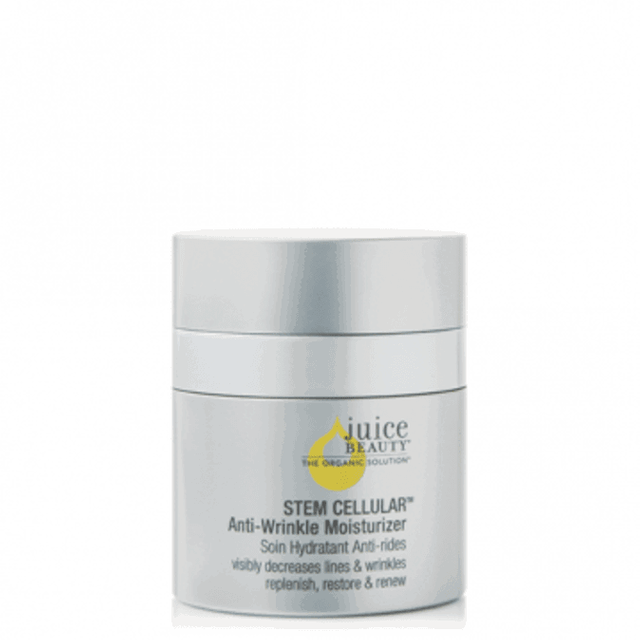 Source
Juice Beauty's STEM CELLULAR Anti-Wrinkle Moisturizer
Juice Beauty's STEM CELLULAR line blends vitamin C and fruit stem cells into an organic resveratrol rich grapeseed base to reduce the appearance of wrinkles. Its anti-wrinkler moisturizer is naturally free of parabens, petroleum, propylene or butylene glycol, sodium lauryl sulfates, pesticides, phthalates, artificial dyes or synthetic fragrances.