My Steemit Diary - Pagina 13. L'inizio di una nuova serie [ITA-ENG]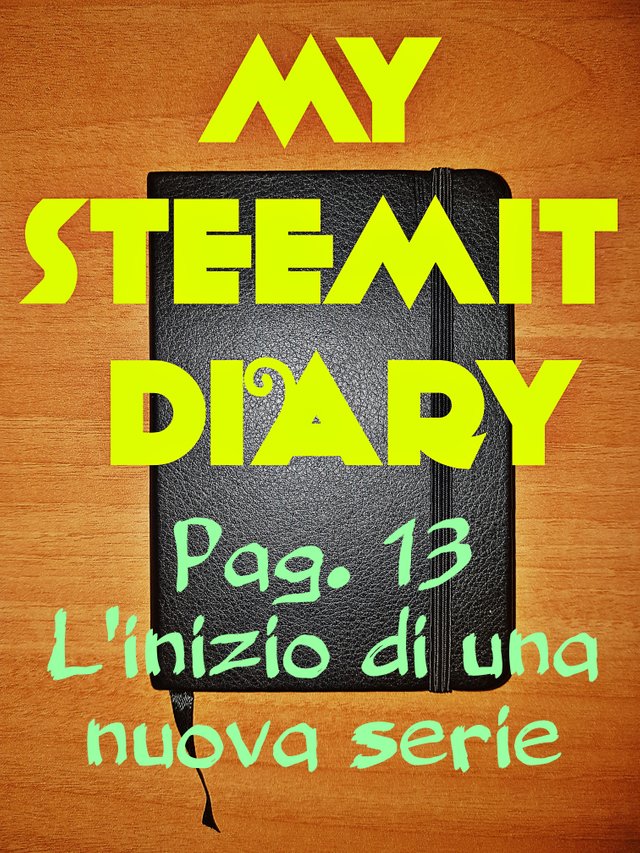 MY STEEMIT DIARY – PAGINA 13. L'INIZIO DI UNA NUOVA SERIE
Buonasera @Italy!
Come ogni sabato, sono qui a scrivere una pagina del mio Steemit Diary. Quella passata, come la precedente, è stata una settimana piuttosto impegnativa. Tuttavia, questa volta sono riuscito a pubblicare i post che volevo pubblicare e anche a seguire parzialmente l'attività della community.
La settimana è iniziata, ovviamente, con il power up. È stato un power up abbastanza elevato e, con gli oltre 11 SBDs che sono riuscito a convertire, sono arrivato quasi a 1.500 Steem Power!
Per quanto riguarda gli altri post, oltre al solito relativo alla serie Words of Life, Words of Music, ce n'è stato uno di introduzione di un'altra serie: Management Pills! Spero che l'idea di questa serie vi piaccia e che mi aiuti anche, in un certo senso, a pubblicare periodicamente. In ogni caso, trattandosi di un'idea nuova, sono aperto anche a consigli di ogni tipo!
Concludo lasciandovi i link dei miei post di questa settimana. Grazie per aver letto il post.
TheBigPas







[ENG]


MY STEEMIT DIARY – PAGE 13. THE BEGINNING OF A NEW SERIES
Good evening @Italy!
Like every Saturday, I'm here writing a page of my Steemit Diary. The past one, like the previous one, was a rather busy week. However, this time I was able to publish the posts I wanted to publish and partially follow the activity of the community.
The week started, of course, with the power up. It was a pretty high power up, and with the 11+ SBDs I managed to convert, I got almost 1,500 Steem Power!
As for the other posts, in addition to the usual one relating to the series Words of Life, Words of Music, there was one introducing another series: Management Pills! I hope you like the idea of this series and that it helps me, in a sense, to publish periodically. In any case, since this is a new idea, I am also open to advice of all kinds!
I conclude by leaving you the links of my posts this week. Thanks for reading the post.
TheBigPas