stem73 NEWS: The value of STEEM (06/02/2021) [EN] - [IT]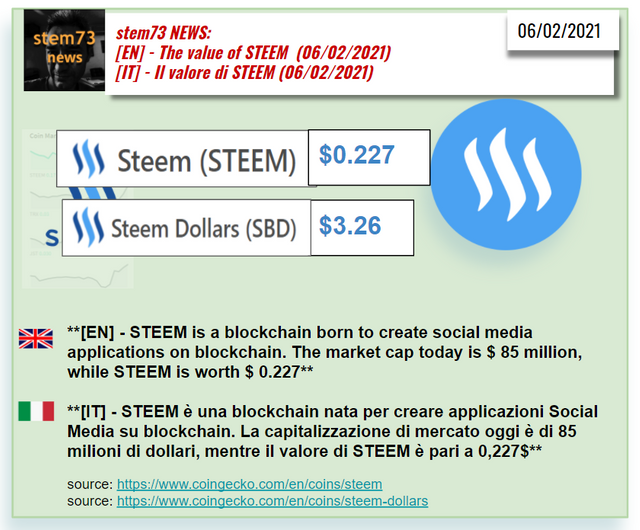 [EN] - STEEM is a blockchain born to create social media applications on blockchain. The market cap today is $ 85 million, while STEEM is worth $ 0.227
[IT] - STEEM è una blockchain nata per creare applicazioni Social Media su blockchain. La capitalizzazione di mercato oggi è di 85 milioni di dollari, mentre il valore di STEEM è pari a 0,227$
source: https://www.coingecko.com/en/coins/steem
source: https://www.coingecko.com/en/coins/steem-dollars
---
[EN] - My opinion
STEEM's price has been reacting well lately and is going up. STEEM's market cap in mid-November was $ 54 million, now the value has risen to $ 85 million. In my opinion, the price has taken the path towards $ 0.3. Also interesting is the value of the STEEM DOLLAR, with which, at this moment, you could make some rather advantageous POWER UP.
[IT] - Considerazioni personali
Il prezzo di STEEM ultimamente sta reagendo bene e sta salendo. La capitalizzazione di mercato di STEEM a metà Novembre era di 54 milioni di dollari, ora il valore è salito a 85 milioni di dollari. A mio avviso il prezzo ha preso la strada per andare verso i 0,3$. Interessante anche il valore dello STEEM DOLLAR, con il quale, in questo momento, si potrebbero fare dei POWER UP piuttosto vantaggiosi.