Let's have a look at QTUM [EN] -[IT]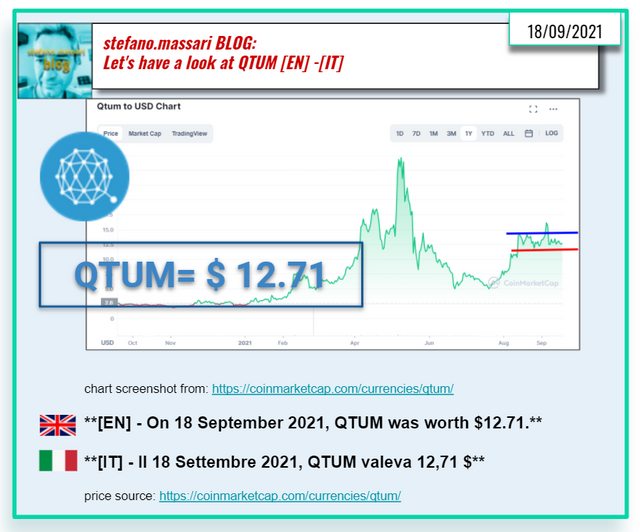 chart screenshot from: https://coinmarketcap.com/currencies/qtum/
[EN] - On 18 September 2021, QTUM was worth $12.71.
[IT] - Il 18 Settembre 2021, QTUM valeva 12,71 $
price source: https://coinmarketcap.com/currencies/qtum/
---

ENGLISH
Cryptocurrency data
Characteristics of Qtum:
Token name: QTUM
Area of application: open sourced blockchain platform with a particular governance system.
Ranking: 84
Market capitalisation: $1.25 billion
Considerations
First of all, when we hear about blockchain and we hear the word "quantum", we are listening to a debate about QTUM, in fact QTUM is pronounced "quantum".
Official website link:
https://qtum.org/en
Analysing the graph, it appears that the price of QTUM is in a sideways phase between 12$ and 14$.
The initial idea of the QTUM developers is to combine the best features of Bitcoin and Ethereum and create a more scalable blockchain. QTUM was already born with DPOS (Delegated Proof of Stake).
One interesting thing about QTUM is its governance protocol. QTUM has a decentralised governance protocol (DGP) that allows you to change some blockchain settings using smart contracts. With this feature one could practically change the block size of Qtum without the need for a hard fork.
The Circulating Supply of QTUM is 98 million, and the project has a Max Supply of 107 million QTUM. This means that there are already over 90% QTUM in circulation.
Conclusions
There are now many projects on blockchain, but I must say that for years I have seen QTUM always within the ranking of the top 100 most capitalized blockchains. The project is resisting and has not been overwhelmed by the new blockchains born in the last 2/3 years, which has happened for so many projects I was following in 2018. The circulating QTUMs are reaching the maximum issuance threshold, this suggests that the price in 2022 could have an increase....
Question
Have you heard of QTUM before? Did you already know about this project?
Previous posts
No previous posts about this topic.
Disclaimer
I am not a financial advisor, so what is written in this post is a personal opinion, not financial advice. If you want to invest, you have to do it consciously and on your own responsibility.
---
ITALIAN
Dati della criptovaluta
Caratteristiche di Qtum:
Nome del Token: QTUM
Settore di applicazione: piattaforma blockchain open sourced con un particolare sistema di governance.
Posizione in classifica: 84
Capitalizzazione di mercato: 1,25 miliardi di dollari
Considerazioni
Innanzitutto quando sentiamo parlare di blockchain e sentiam la parola "quantum", stiamo ascoltando un dibattito proprio su QTUM, infatti QTUM si pronuncia "quantum"
Link del sito ufficiale:
https://qtum.org/en
Analizzando il grafico sempre che il prezzo di QTUM sia in una fase laterale compresa tra i 12$ ed i 14$.
L'idea iniziale degli sviluppatori di QTUM è quella di unire le caratteristiche migliori di Bitcoin ed Ethereum e creare una blockchain più scalabile. QTUM nasce già con DPOS (Delegated Proof of Stake).
Una cosa interessante di QTUM è il suo protocollo di governance. QTUM ha un protocollo di governance decentralizzato (DGP) che consente di modificare alcune impostazioni della blockchain facendo uso di contratti intelligenti. Con questa caratteristica praticamente si potrebbe cambiare la dimensione del blocco di Qtum senza la necessità di un hard fork.
La "Circulating Supply" di QTUM è di 98 milioni, ed il progetto ha un una "Max Supply" di 107 milioni di QTUM. Questo vuol dire che ci sono già in circolazione oltre il 90% di QTUM.
Conclusioni
I progetti su blockchain sono ormai tanti, però devo dire che è da anni che vedo QTUM sempre all'interno della classifica delle prime 100 blockchain più capitalizzate. Il progetto sta resistendo e non è stato sommerso dalle nuove blockchain nate in queste ultimi 2/3 anni, cosa che è avvenuta per tant progetti che seguivo nel 2018. I QTUM circolanti stanno raggiungendo la soglia massima di emissione, questo fa pensare che il prezzo nel 2022 potrebbe avere un incremento..
Domanda
Avete mai sentito parlare di QTUM prima d'ora? Conoscevate già questo progetto?
Post precedenti
Nessun post precedente a riguardo di questo argomento.
Disclaimer
Non sono un consulente finanziario, quindi ciò che è scritto in questo post è un'opinione personale, non un consiglio finanziario. Se volete investire dovete farlo consapevolmente e sotto la vostra responsabilità.