UNFORGETTABLE ITALY Week 24 ǀ Fontana Di Trevi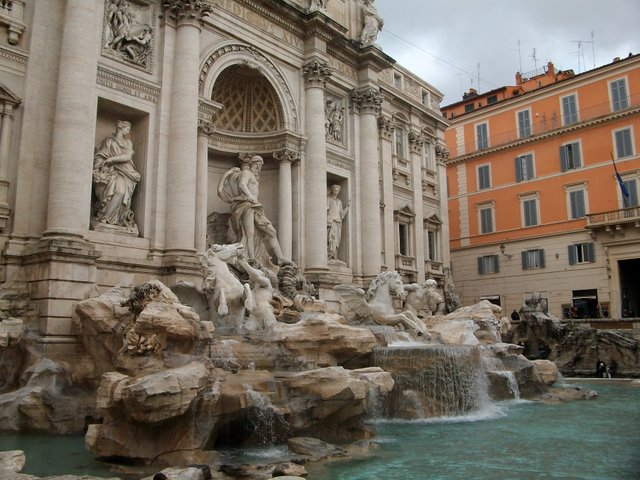 Happy start to the week, friends of the Italy community! I'm joining again this wonderful contest called Unforgettable Italy, now in its 24th week. I thank @girolamomarotta for bringing this great idea to life.
I have many fond and unforgettable memories of my trip to Italy, specifically to the city of Rome. On my second day, after strolling by the Vittorio Enmannuelle monument and Piazza Venezia, I made my way on foot to the iconic fountain known as Fontana di Trevi, which was in the middle distance. I remember passing through Piazza Colonna, between pretty little cobblestone streets until I reached the site; the fountain and its sculptures were gorgeous, just as I imagined.
The Trevi Fountain is one of the largest monumental fountains in Rome in Baroque style; it was designed by the architect Leon Battista Alberti, and is located right in Aqua Virgo, an ancient aqueduct that served the city and flowed directly to the baths of Agrippa.
In its central part, there is the sculpture known as the Ocean by Pietro Bracci; on the sides we can see the statues of Abundance and Healthiness by Filippo della Valle. It also houses the sculptures of Agrippa and the goddess Trivia, created by Giovanni Pannini.
There, I took many pictures from different and strategic angles, and of course I threw the traditional coins into the fountain, asking as a wish to return someday to this beautiful and amazing city, which with God's help and a lot of effort I hope will happen again.
The picture was taken by me with my personal camera

Technical Details:
Camera: MAXCAM S-10
Resolution: 3648 x 2736
Focal Length: 5.7mm
Exposure time: 0.0051 s (1/196)
Aperture: f/5.5
ISO: 80