Unforgettable Italy Week 23 ǀ Foro Italico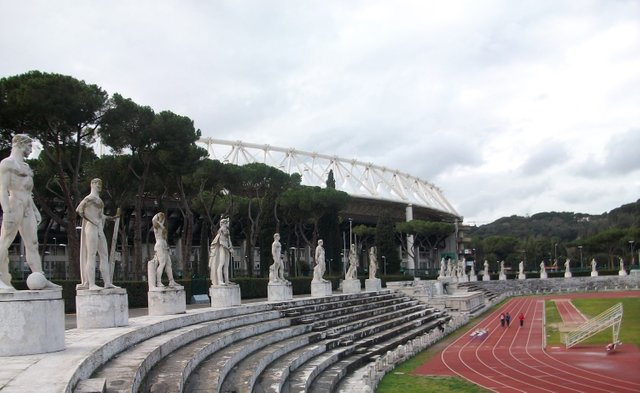 Blessed week, Italy community! We are already in the 23rd week of Unforgettable Italy, a contest created by @girolamomarotta with the purpose of showing a photograph that reminds us of Italy, whether we have visited it or not.
During my trip to the Eternal City, I could visit the Foto Italico, a sports complex located on the hillside of Monte Mario. The complex houses the Stadio Olimpico di Roma, the Stadio dei Marmi and the Stadio Olimpico del Nuoto.
The first thing I saw when I was approaching was the Roman Olympic Stadium, originally called Stadio dei Cipressi, or Cypress stadium, an imposing construction that has undergone several renovations during the years. The newest structure has a capacity for more than 70,000 people, and is home of the AS Roma and SS Lazio football teams. The venue has also housed many concerts and events.
Right next to it, there is The Stadio dei Marmi, or Marbles Stadium, where I could see citizens excercising. This place is really beautiful, adorned with many ancient sculptures of diverse athletes. I enjoyed my time there, since I could take a good rest and breath some fresh air. Nearby we can also find the Università degli Studi di Roma "Foro Italico", and it was very interesting for me to find out that it is the only Italian university dedicated to sports sciences.
This tour on the outskirts was very pleasant since it is usually thought that Rome is only the monuments and famous places in the city center, but the truth is that it is very interesting to be able to know this other area that the city has to offer.

Technical Details:
Camera: MAXCAM S-10
Resolution: 3648 x 2736
Focal Length: 5.7 mm
Exposure time: 0.002364 [2364/1000000]
Aperture: f/3.07 [307/100]
ISO: 80
The photograph was taken by me with my personal camera