Unforgettable Italy - Italia is Love
Greetings dear friends of Italy!
Perhaps you already know that from all the European countries, my own excluded, I traveled the most to Italy. I always discover something new, beautiful and breathtaking, I always feel the warmth of its nature and people! If I have to sum everything about Italy in one word, that would would be "Love", with a capital L. I hope you will agree with me by looking at one of the photos I managed to make there! :)
One of my Italian photographic travels that I will never forget was to amazing Tuscany. This region of Italy has a special place in my heart as everything that I saw, felt, tasted and photographed during those ten days, was just perfect. From the house we rented on a mountain hill with views towards Montalcino and Montepulciano (it's a sin not to taste a glass of Brunello there! :D), the several sunsets and sunrises, the fogs, the coziness of the towns and the villages we visited, the great food and wines, up to the splendid night under the Milky Way spent in the garden between vines.
One of our days there we went to visit the "Group of Cypresses" as this location is widely known. It was in the late afternoon so we decided to wait for the sunset. There wasn't many people at the time but I noticed a young couple walking on the dirt road towards the cypresses. Suddenly, I guess affected by the beauty of the area, they started kissing each other passionately. I started photographing them, of course :) I felt like a paparazzi for few seconds until they noticed me, smiled and waived friendly towards me. That's exactly how the beauty around affected them! Now and then, when I see young couples kissing, that reminds me of this special place and time of my life...
Now do you need another proof that Italia is Love???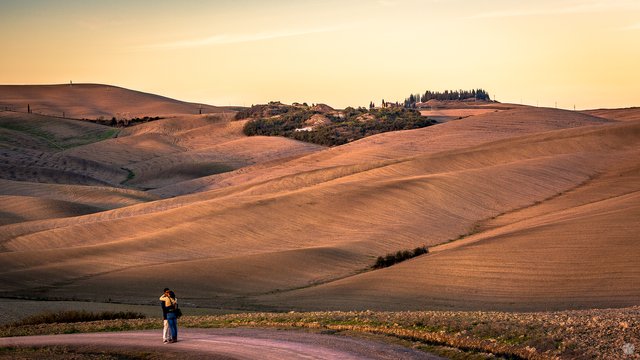 This is my entry to UNFORGETTABLE ITALY contest: Week 9 by @girolamomarotta and @italygame, thank you for this great opportunity, also special thanks to @sardrt, without you I wouldn't know about this amazing community and great photographic contest! Kudos!
EXIF (photo metadata):
| | |
| --- | --- |
| File Name | DDH_3911.jpg |
| Camera Model Name | Canon EOS 5D Mark III |
| Date/Time Original | 2016:10:16 17:52:34 |
| Shutter Speed | 1/13 |
| Aperture | 9.0 |
| Metering Mode | Multi-segment |
| Exposure Compensation | -2/3 |
| ISO | 100 |
| Lens | EF100-400mm f/4.5-5.6L IS II USM |
| Focal Length | 112.0 mm |
| Image Size | 1920x1080 |
| Flash | Off, Did not fire |
| White Balance | Auto |
| Sharpness | 80 |
| Saturation | 0 |
| Color Space | sRGB |
| File Size | 2.7 MB |
| Serial Number | 203020003615 |
---
Thank you for your time and support, please check out below few other ways to encourage me in my difficult visual art endeavor and stay in touch!
---
My photo site: https://hadjiyvanov.com/
---
My twitter: https://twitter.com/hadjiyvanov
---
My single edition unique digital art NFT on Ethereum at OpenSea: https://opensea.io/collection/art-by-lightcaptured
---
You could get a license here for some of my visual works approved by the quality review team of Adobe, Inc.: https://stock.adobe.com/contributor/206416265/lightcaptured
---
My NFT art works on EOS: https://gallery.pixeos.art/profiles/damian-hadjiyvanov
---
---
I use and recommend those services below, following my referral links is a win-win for both you and me:
---
---
Copyright: Damian Hadjiyvanov, Light Captured
For licensing my photos, please drop me a message on Discord: lightcaptured#2698

Have a great day, stay safe, stay strong and let your muse be always on your shoulder!