Courage / Valor / Coraggio. Theneverendingcontest N° 130 S5-P6-I3 [ENG/ITA/SPA]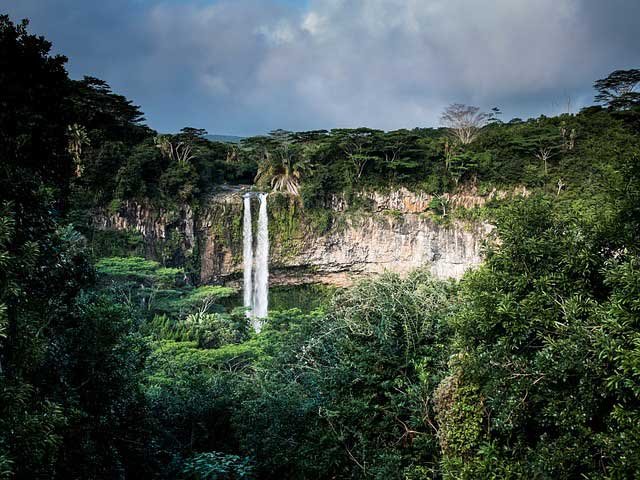 Imagen de Free-Photos en Pixabay

This is my entry for @storychain's theneverendingcontest N° 130 S5-P6-I3 contest.

Deep in the Amazon, there was a tribe that proved their worth by walking on a thin vine over a great waterfall that stretched more than 100 meters high, where the mighty Yuxu River was interrupted.
Hundreds of young warriors tried to prove their courage, however, doubt and fear took over their bodies and minds, and finally, they gave up the test. But not Waman, who was the favorite of the tribe. When summer came, the brave warrior, with a steady step, walked over the line that divided life from death.
His courage was respected among the other members of the tribe, except for Canek, who not only envied the luck he had over the females of the group but also made him worthy of the blessing of the tribe's shaman.
But the truth was different, Waman trembled with fear as the day approached when he had to prove his worth again. Uncontrolled spasms ran through his body and his limbs cramped; he wept with terror every time he remembered that he had to cross the thin vine.
He always asked Tanok, the tribal shaman, who was the only one who knew the reality of Waman, why he had to prove himself every summer.
Tanok, gentle, would invite him to his hut to drink some herbal tea, which he prepared himself.
The brew swirled impetuously like the Yuxu River in Wamán's hands.
"You are the spirit of the tribe. You represent the ideal that everyone wants to achieve. They recognize the courage through you," Tanok commented.
His continuous meetings with Tanok had become part of the ritual before he performed his duty. Tanok's words filled his heart and infused him with the courage he needed or perhaps it was the effect of the tea, still, he was glad to regain his mettle.
His fear did not leave him, but it became more tolerable.
One day, Canek, tired of hearing the great praises and myths created around the birth of Waman, who everyone swore to believe that he had been begotten by the sun god himself, decided to get up very early and, hidden from everyone's gaze, he made small cuts in the vine that hung over the waterfall.
He hoped then, once and for all, to put an end to the custom of measuring worth by exposing the very life of Waman.
Unfortunately, Canek was unaware of his little brother's desire to prove his worth that day. Waman had been injured saving an old woman from falling off a cliff, so that day they had to choose a new warrior to perform the test of courage.
Canek's brother, Quillen, was happy to be chosen that morning.
Canek's cry of pain echoed throughout the valley as he saw his brother's body fall over the cliff.
Finally, the price Canek paid was enough to make the tribal chiefs desist in their desire to prove their worthiness with such a dangerous challenge.
After the incident, Canek's fate was never known, some say that the pain upset him so much that he became a black snake and the jungle swallowed him.

See you next time, space cowboy.
---

Questo è il mio contributo per il concorso theneverendingcontest N° 130 S5-P6-I3 di @storychain.

Nel profondo dell'Amazzonia, c'era una tribù che dimostrava il suo valore camminando su una sottile vite sopra una grande cascata che si estendeva per più di 100 metri di altezza, dove il possente fiume Yuxu si interrompeva.
Centinaia di giovani guerrieri cercarono di dimostrare il loro coraggio, tuttavia, il dubbio e la paura si impadronirono dei loro corpi e delle loro menti, e alla fine, rinunciarono alla prova. Ma non Waman, che era il preferito della tribù. Quando arrivò l'estate, il coraggioso guerriero, con passo fermo, camminò oltre la linea che divideva la vita dalla morte.
Il suo coraggio era rispettato tra gli altri membri della tribù, tranne Canek, che non solo invidiava la fortuna che aveva sulle femmine del gruppo, ma lo rendeva anche degno della benedizione dello sciamano della tribù.
Ma la verità era diversa, Waman tremava di paura all'avvicinarsi del giorno in cui avrebbe dovuto dimostrare di nuovo il suo valore. Spasmi incontrollati percorrevano il suo corpo e le sue membra avevano i crampi; piangeva di terrore ogni volta che ricordava che doveva attraversare la sottile vite.
Chiedeva sempre a Tanok, lo sciamano della tribù, che era l'unico a conoscere la realtà di Waman, perché ogni estate doveva dimostrare il suo valore.
Tanok, gentile, lo invitava nella sua capanna per bere del tè alle erbe, che lui stesso preparava.
L'infuso turbinava impetuosamente come il fiume Yuxu nelle mani di Wamán.
"Tu sei lo spirito della tribù. Tu rappresenti l'ideale che tutti vogliono raggiungere. Attraverso di te riconoscono il coraggio", commentò Tanok.
I suoi continui incontri con Tanok erano diventati parte del rituale prima di compiere il suo dovere. Le parole di Tanok gli riempirono il cuore e gli infusero il coraggio di cui aveva bisogno, o forse era l'effetto del tè, ma era comunque contento di ritrovare il suo coraggio.
La paura non lo abbandonò, ma divenne più tollerabile.
Un giorno, Canek, stanco di sentire le grandi lodi e i miti creati intorno alla nascita di Waman, che tutti giuravano di credere che fosse stato generato dal dio sole in persona, decise di alzarsi molto presto e, nascosto allo sguardo di tutti, fece dei piccoli tagli nella vite che pendeva sulla cascata.
Sperava allora, una volta per tutte, di porre fine all'usanza di misurare il valore esponendo la vita stessa di Waman.
Sfortunatamente, Canek non era a conoscenza del desiderio del suo fratellino di dimostrare il suo valore quel giorno. Waman era stato ferito mentre salvava una vecchia da una caduta in un dirupo, così quel giorno dovettero scegliere un nuovo guerriero per eseguire la prova di coraggio.
Il fratello di Canek, Quillen, era felice di essere stato scelto quella mattina.
Il grido di dolore di Canek riecheggiò in tutta la valle quando vide il corpo di suo fratello cadere dalla scogliera.
Alla fine, il prezzo pagato da Canek fu sufficiente a far desistere i capi tribù dal desiderio di dimostrare il loro valore con una sfida così pericolosa.
Dopo l'incidente, il destino di Canek non fu mai conosciuto, alcuni dicono che il dolore lo sconvolse così tanto che divenne un serpente nero e la giungla lo inghiottì.

Alla prossima volta, cowboy spaziale.
---

Esta es mi entrada para el concurso theneverendingcontest N° 130 S5-P6-I3 de @storychain

En lo profundo del Amazonas, existía una tribu que demostraba su valía al caminar sobre una delgada liana que disponían sobre la gran catarata que se tendía a más de 100 metros de altura, donde el caudaloso río Yuxu se interrumpía.
Cientos de guerreros jóvenes trataban de probar su valor, sin embargo, la duda y el miedo se apoderaban de sus cuerpos y mentes, y finalmente, desistían de hacer la prueba. Más no así, Wamán, quien era el favorito de la tribu. Al llegar el verano, el valiente guerrero, con paso firme, caminaba sobre la línea que dividía la vida de la muerte.
Su valor era respetado entre los demás integrantes de la tribu, excepto por Canek, quien no solo envidiaba la suerte que tenía éste sobre las féminas del grupo, sino que también lo hacía merecedor de la bendición del chamán de la tribu.
Pero la verdad era otra, Wamán temblaba de miedo cuando se acercaba el día que debía probar nuevamente su valía. Espasmos incontrolados recorrían su cuerpo y se acalambraban sus extremidades; lloraba de terror cada vez que recordaba que debía atravesar la delgada liana.
Siempre preguntaba a Tanok, el chamán de la tribu, quien era el único que conocía la realidad de Wamán; porqué debía probar su valía cada verano.
Tanok, apacible, lo invitaba a su choza a tomar un poco de té de hierbas, que él mismo preparaba.
El brebaje se agitaba impetuoso como el río Yuxu en las manos de Wamán
"Eres el espíritu de la tribu. Representas el ideal que todos quieren alcanzar. Reconocen el valor a través de tí", comentaba Tanok
Sus continuas reuniones con Tanok se habían convertido en parte del ritual antes de cumplir con su obligación. Las palabras de Tanok llenaban su corazón y le infundían el valor que necesitaba o quizás era el efecto del té, aun así, se alegraba de recobrar su entereza.
Su miedo no lo abandonaba, pero se hacía más tolerable.
Un día, Canek, cansado de oír los grandes elogios y de los mitos creados alrededor del nacimiento de Wamán, quienes todos juraban creer que había sido engendrado por el mismísimo dios sol; decidido, se levantó muy temprano y oculto ante la mirada de todos, hizo pequeños cortes a la liana que pendía sobre la catarata.
Esperaba entonces, de una vez por todas, dar fin a la costumbre de medir la valía exponiendo la vida misma de Wamán.
Desafortunadamente, Canek desconocía los deseos de su pequeño hermano de demostrar su valía aquel día. Wamán había quedado lastimado al salvar a una anciana de caer por un risco, por lo que ese día debían elegir un nuevo guerrero para realizar la prueba de valor.
El hermano de Canek, Quillén, aquella mañana se alegró de ser el elegido.
El grito de dolor de Canek hizo eco en todo el valle al ver el cuerpo de su hermano caer al precipicio.
Finalmente, el precio que pagó Canek fue suficiente para hacer que los jefes de la tribu desistieron en su deseo de probar la valía con tan peligrosa prueba.
Después del incidente, jamás se supo del destino de Canek, unos dicen que el dolor lo trastornó tanto que se convirtió en una culebra negra y la selva se lo tragó.

Hasta la próxima, vaquero del espacio.