Unforgettable Italy Contest. Rome. Piazza di Spagna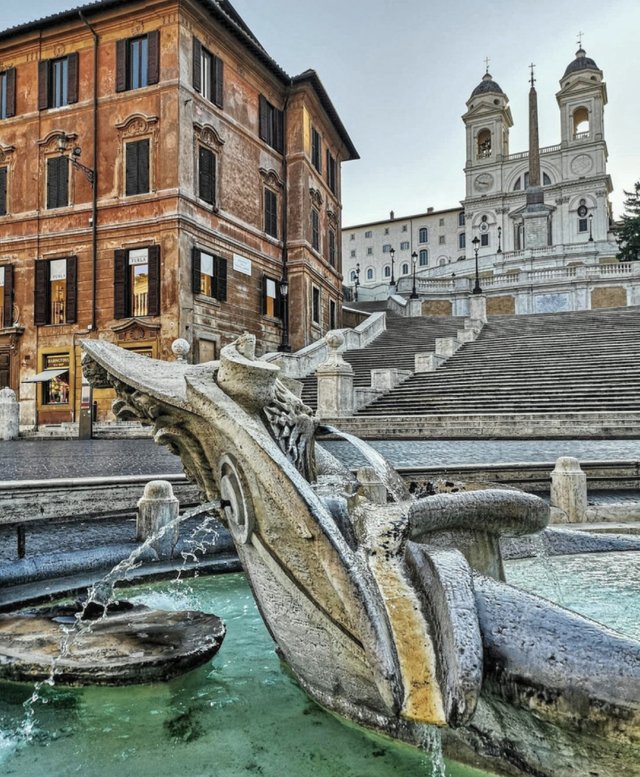 Spanish Steps. Turn left around the Trevi Fountain, following Via della Stamperia, continue on Via del Nazareno, then on Via di Sant'Andrea delle Fratte, Via di Propaganda and reach Piazza di Spagna.
We could not visit her on the day of our arrival because the ceremonies dedicated to the Day of the Immaculate Conception (Immacolata Concezione) took place here, but we visited her the second day.
The place can be recognized by the Spanish Steps, which go up to the market. This staircase is the most representative Rococo monument in Rome. We arrived here on the evening of the second day of our mini-trip, at dusk. I found this place crowded and although it is part of the main route of the Rome markets and fountains, it did not remain in my heart like other places visited. Don't get me wrong. Everything I visited is exuberant, it is grandiose, it is artistic, it is classy.
The 135 steps were built by Francesco De Sanctis for King Louis XV. Their Italian name is Scalinata della Trinita dei Monti, after the name of the Roman Catholic church at their end.
Piazza di Spagna has the shape of an hourglass and houses the Barcaccia Fountain, built by Bernini. The name of the square is given by the Spanish Embassy at the base of the nearby steps opposite an obelisk.
Means of transport: buses of line 80 and metro line red A, Spagna station.

We did not follow exactly this route that I proposed to you above because in each of the three days of our visit to Rome we visited something, passing some objectives and twice.
The itinerary in this article can be linked to the one in the previous article when I visited the Palatine Hill, the Roman Forum and the Colloseum see impressions.
The above proposed route has a length of about 4 km and I consider that the markets presented can be connected in one way.
You can extend the tour a bit if you want to visit other places in this perimeter, not necessarily following the shortest routes. So you can opt for a walk on Via del Corso, which is the main street in the historic center of Rome. You will find here many shops (including the one of the A. S. Roma club), bars, but also some monumental churches, about which I will not write anymore, but I will summarize to attach some pictures.

In this picture: Piazza di Spagna, Roma
Taken by me in HD with a Cannon EOS 5D Mark III 105mm in 2016