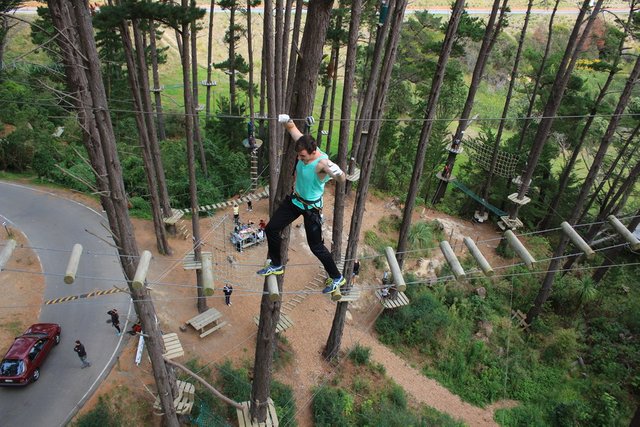 Read "Adrenaline Forest" on TravelFeed.io for the best experience
---
Welcome back.
This was an absolute Gem I found which is a short train ride away from Wellington. It's about a 10 minute walk from the train station but well worth it.
Adrenaline forest is a forest with high ropes, kind of like "Go Ape" if you've heard of that. But when I say high, I mean high. This place doesn't mess around.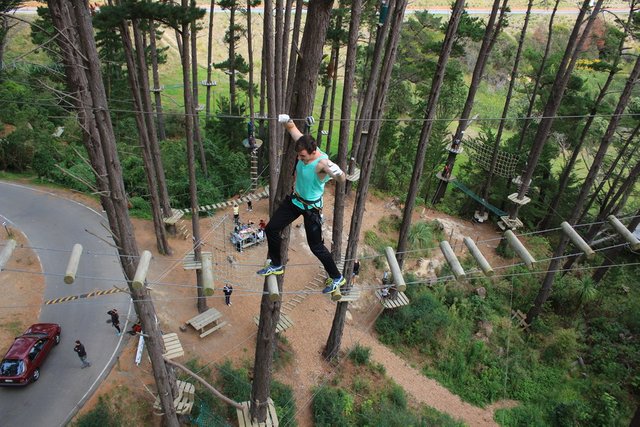 Adrenalin Forest courses feature over 100 fun filled challenges across six levels. Each level is harder than the last, with obstacles starting at 1.5 metres above the ground that are suitable for a wide range of ages and fitness levels. To conquer the whole course and claim your bragging rights, you'll be climbing, jumping and swinging at least 20 metres up in the air.
Did they just say 100 obstacles? Let's read on.
This isn't just a test of your physical skills - each obstacle can be conquered in different ways, so you'll be stretching your brain as well. Challenges include the Indiana jump, crossed logs, barrels, wrecking balls, a commando flying fox and Tarzan jump. Nerves will definitely be tested, but the revolutionary Clic-iT safety system, which ensures a continuous connection to the safety line, will keep you safe at all times."
Yeh...If you clip on properly...
Let me explain...
The way the Clic-It system works is this:
You have lot's of connecting guide/safety wires throughout the whole course. Some are on the actual obsticals, others are wrapped around the tree's. This means you have to unclip off one to move onto the next.
But don't worry, you have two clips. The idea is you unclip clip 1 and move it on to the next guide wire but leave clip 2 where it is meaning you have one clip on the old guide wire and the other on the new. With me so far?
You can then unclip clip 2 and move it along to the new wire so both clips are on the same wire again. Rinse and repeat the whole way round, even on the ladders used to climb up to the first platform of each stage.
Now you may of noticed I said wire, not rope. That's because the whole thing works on magnets. This is both good, but also potentially bad. You see, if the Magnet isn't connected properly, then that means the clip won't work and if the clips don't work then well, you fall to your death...fun right?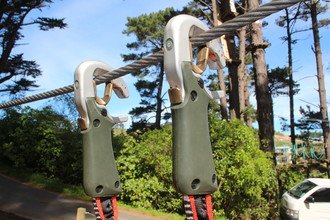 That bronze U shape moves outward. You can see the button you have to press to de magnetise the magnet inside.
How many levels are there and how high are they?
There are 7 levels in total ranging from less thsn 3 meters to 20 meters off the ground, increasing in difficulty as you get higher.
The courses overlap each other and it's overwheling when you get there. You don't know where to start the next level. Have a look at this map and you'll see what I mean.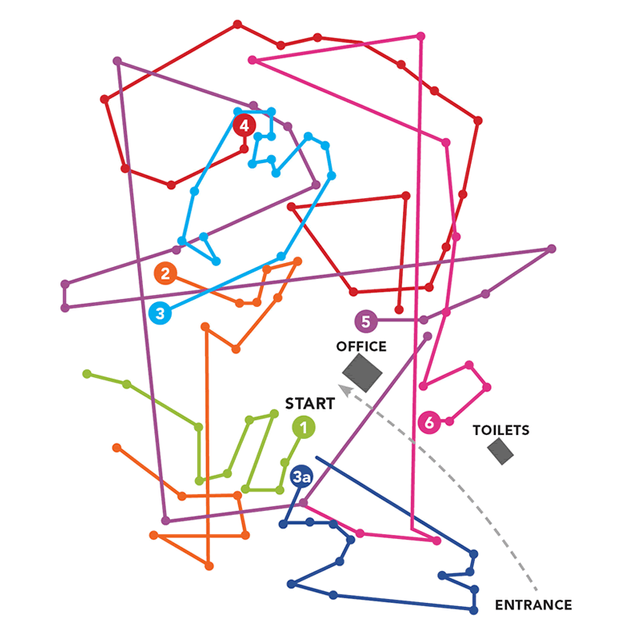 Even the lower levels are pretty scary because of the dodgy clips Sometimes it didn't clip on properly and the guide line would simply slip through. This was terrifying! Even on the practice wire about a meter high and about 4 meters long I was scared, simply because one of my safety clips didn't clip on properly. I asked the instructor to check it. She tested it on another wire and simply stated "it'll be fine, just make sure you clip on properly"
Well duh...
---
As well as clips, you also have a device that you mist use for ziplines/flying foxes. It simply sits ontop of the wire so if you bounce up and down a bit will simply come off. The other two clips I was talking about before will hopefully catch you but that's not the point. The point is that they put everything into your own hands. There's no instructors or helpers in the trees, just you, a harness and the instructions you wrre given at the bottom..
---
So I've already explained that there are 7 levels, so let's have a look at them.
Level 1 - 3 meters
Because my group were adults we were allowed to skip the first level which was about 5 meters off the ground. I didn't skip it, I used it to practice clipping on from wire to wire and felt alot more confident by the end of the first level.
Only 6 more to go...
Level 2
"Still easy but a bit higher – 13 challenges less than 7 metres
high. Here you'll come across the first of the Indiana jumps and barrels."
I got stuck in thise barrels, just wiggling myself free took alot of energy! At this point, I was starting to regret starting on the lower levels.
Level 3 A
"A great place to 'warm up' for Level 4. Heaps of fun challenges, but still a little bit easier!! Get ready to experience the thrill of the wrecking ball!"
If you're an adult and look like you know what you're doing, the instructors allow you to start here if you wish.
This was already tough, that wrecking ball was one of the most scariest things I've ever done. It's so weird to admit that because I've done a fair amount from skydiving and bunjee jumping to white water rafting and black water rafting. Not to mention absailing into the cave in the first place! Another story of course.
But that wrecking ball was a real challenge. I wasn't scared of the height. It was the fact that you had to sit and hug the rope meaning getting off is tricky. Imagine sitting on a space hopper without the handle, but instead attached to a rope suspended 15-20 meters off the ground.
Now I'm no expert in physics but I know that when an object swings back and fourth, the momenttum decreases. In other words if I didn't dismount and it swung back then there's a good chance I'd be left hanging in the middle between the two trees. Not ideal.
Level 3 B
"18 diverse challenges which will require a lot more agility and balance. The most exciting challenges are the Indiana swing and the zig zag logs. Your Adrenalin will begin to RUSH!"
18! These are really starting to add up. That Indiana swing was no joke and I was really starting to lose my grip strength in the wooly gloves. Great for protecting your hands but for a good grip? Forget it. Next time you go to the gym, try and do some chin ups with wooly gloves on. Good luck.
Level 4
19 challenges, so more strength and agility will be needed. The commando flying fox, spinning logs and snowboard will get your blood pumping!! This course is certainly the longest to complete.
To be honest, at this point I couldn't go on any further. My body was simply done. I couldn't even close my hands at this point and made it through the last few obsicals gripping by hugging with arms and legs.
Level 5
Up to 26 metres high. At this height the trees will begin to move. A long, narrow and steep Nepalese bridge will make you uncomfortable. Long and fast flying foxes will be your reward.
Level 6
Harder, stronger, higher! With a colossal rope swing and home of the enormous 100 metre flying fox, this course will get your heart pumping from start to finish.
WARNING: Risk of becoming an ADRENALIN JUNKIE!!
I'm dissapointed that I didn't make it all the way but at least it was due to physical exhaustion not being scared. I really wanted to continue but as I took a drink from my bottle of water, still with gloves on, the bottle slipped out my hands. I couldn't even hold a bottle of water without taking my gloves off!
---
Conclusion
---
I've jumped out a plane, I've bunjee jumped but nothing and I mean nothing comes close to the adrenaline rush and fear that I had to overcome here. Once you are on a course, the only way down is to complete it. Sure you can call for help and an instructor will come up and get you down (which involves absailing) but the chances of them hearing you or seeing you from that high up are slim. As an adult, shouting "help" isn't exactly a good example to the kids there.
But I seriously recommend thus place. The prices are fare and you get 3 hours to do as many levels as you want or in my case physically can.
Will I go back? Who knows. But one thing is for certain. I'm glad I went.
---
View this post on TravelFeed for the best experience.