Travel Story: Seeing Weird Things | Villa Traful | Argentina
Read this post on TravelFeed.io for the best experience
---
Woop Woop fellas! How are you? Coming up with another travel storytelling!
---
Ohhh yeah!!!! It's sunny in freezing southern Brazil and I start this post with both the cat and the dog joining me on the balcony, where we are warming-up our carcasses and fingers.
If you follow this blog you know what's up when it comes to Patagonian stories, so I'll jompsss the rambling introductions and dive into the subject.
On this post we'll go back to Villa Traful, a hidden village located between Bariloche and San Martin de Los Andes in southern Argentina. The story starts after I struggled for 2 and a half days to move 70 kilometers coming from Chile. I've slept without a tent and witnessed something weird on the sky. Ovni? I don't know....
And before anything else, thank you, all the supporters, who keep me motivated to work on the stories. You rock!
If you want to appreciate what happened before this episode, you'll have to wair for the book. Hah!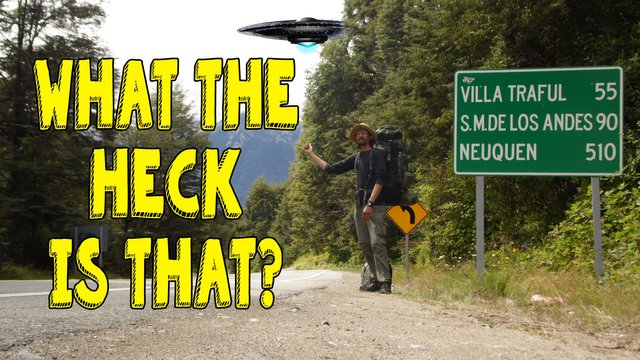 February 22nd, 2017. After two and a half days to hitchhike about 70 kilometers, I finally made it. Those days of walking and camping by a desolate road were gone. The agony was gone. There was nothing else to manage other than exposing the white carcass to a sunbath front the Traful Lake; quite a treat after the freezing nights of southern Patagonia I must say. I had hitchhiked more than 6000 kilometers thus far. Happened so fast! The Carretera Austral once fervently expected was left behind with the memories of labour, astonishing locals, unpredictable weather and friendship.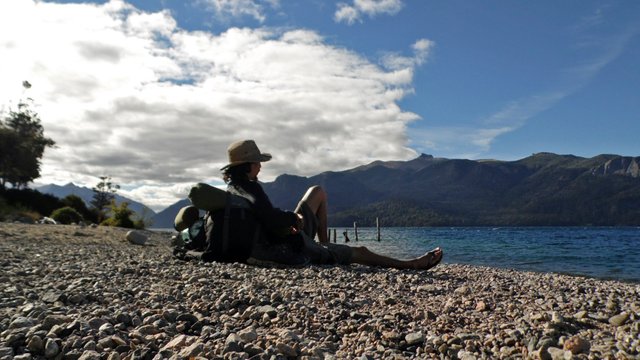 However, I missed solo moments like the one in Traful. I also missed showering; if the Department of Vagabonding statistics counted correctly, the last time some glorious water poured over me was still in Puerto Cisnes 9 days ago. Nine days without showering! Not particularly proud to admit that, but that's how wandering is… Out there, showering is not readily available at the turn of a valve as it is at home… more than enough to be thankful everyday, isn't it? Those salty days in Chiloé proved quite unpleasant. What can one do?
Jumping in a lake is not an option facing the risk of hipotermia. The secret is keeping clean clothes and maintaining the parts in order, if you know what I mean. At least the Seven Lakes region presented a summerish vibe and soon I'd be able to take care of the nastiness ― for Christ sake, please.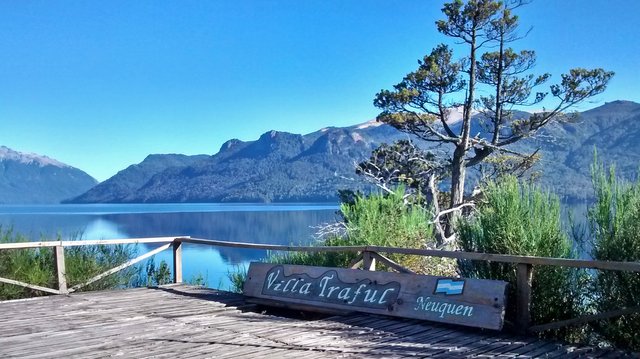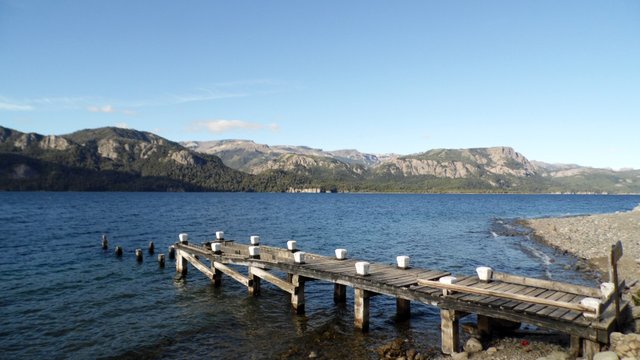 Villa Traful is concealed on a traverse access between Bariloche and San Martin de los Andes; region called the Seven Lakes (La Ruta de los Siete Lagos). This particular stretch of the Ruta 40 meanders through an epic landscape of sweeping verdant forests, snow-capped peaks and azure lakes. These lakes are the result of the glacial metamorphosis that the region experienced millions of years ago, which formed a quasi mystical landscapes ― scenery that resembled the Swiss alps, if the comparison needs to be fair. The epicness of those Andean valleys are of course motive of an affable teasing between Chilean and Argentinian, each swearing that their side of the Andes is more admirable.
― The Carretera Austral is best! ― Say the Chileans.
―No. No! Absolutely not! The Siete Lagos is best! ― Oppose the Argentinians.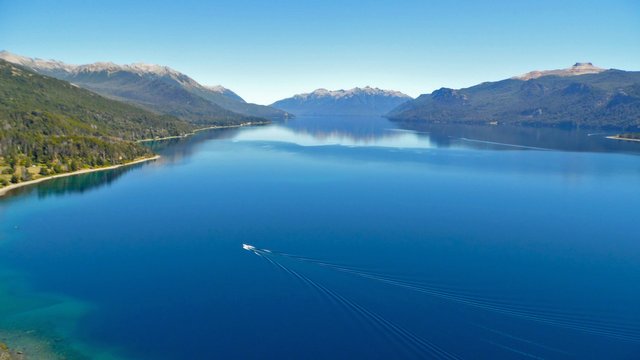 Legends and indian tales surround Patagonia. One of them encompass that the Seven Lakes Route must be traveled in the South-North direction; whoever does it in the opposite direction, will lose a year of life. However, If you travel as the myth recommends, the traveler will benefit from a year of vital gain. The origins of this leyenda remains unknown. But just in case I picked the clockwise route, from south to north… you know… just in case… not that I believe in legends at all.
I picked Villa Traful as settlement for the night when Nico, the previous ride, one of those nature aficionados, whined about some issue with tourists.
― Mira hermano… if you want peace, go to Traful… No Bariloche y no San Martin… then you can continue to the other side of the valley and the road takes you north if you plan to go to Buenos Aires. If you want to come to Bariloche, I'll take you. But you don't want to deal with those tourists, believe me! ― He said.
Only backpackers seeking for adventure roamed those roads before the asphalt brought development to the region. Those who discovered every meter of those once desolate valleys with nothing but few cans of food and fishing equipment to catch some trouts. As it always is, with the asphalt came the tourists, with the tourists came rules and camping regulations and peacefulness diminished. Not as romantic, but not less contemplative, my experience in Traful neared the ideals of those first backpackers ― freedom.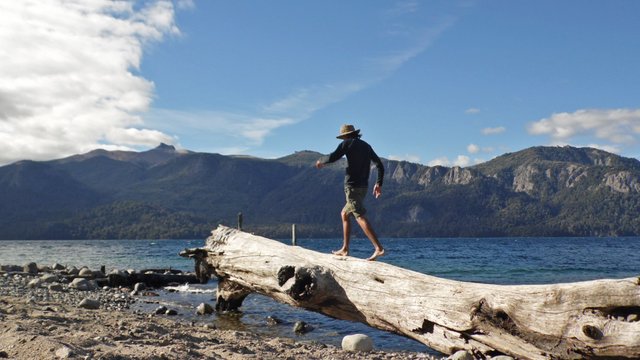 The sleeping mattress softened the rustic bed prepared over the round boulders on the shore; not tent, no nothing. On that day, cotton-like clouds painted the sky and the wind gently ruffled the water. Hidden between a few bushes and an enormous fallen tree log I organized a bubble, where I could lay down, read and prepare meals without passersby misjudging my intentions. Everything was set for a night out in the open.
Night settled, lights turned off. Wrapping inside a -23°C sleeping bag with only the face peeking out is out of this world, a feeling only understandable when experienced. The first time I've tried this rustic sleeping technique, waking up every hour or so inevitably turned out weary the other day. But you get used to it and those insects jumping around no longer bother, nor dreaming with a snake inside the sleeping bag wakes you up.
Far into the night my soul came back to the body though, eyelids still clenched searching for a reference. It took awhile for the sound of leaves moving and the smell of a rocky shore to attain my consciousness. Ah, I'm here. The absent moonshine completed the darkness, for which my eyes battled to adapt. While laying down facing the sky, I extended an arm out of the tight sleeping bag to reach the pair of glasses on top of the backpack. Now I can see. The exposed Milky Way Galaxy gleamed, encircling my field of view. On that occasion, a white pinpoint of light turned on the rest of my brain. What the heck is that? I tried to focus.
Bright as a star, but not as bright as a shooting star. That's odd. On a first instinct the obvious explanation was of a plane cruising, but planes blink… What is that?!? By the time, I was sitting and staring at the potential ovni as it was the brightest object up there. The fast-moving dot continued its course on a neat straight line from the moment it was spotted until it disappeared behind the peaks on the horizon. But… bu.. what the…?! Perhaps a satellite? I laid back down thinking of that weird object out there, observing us. Are we alone in the universe? Be whatever it is, I just wished it would not abduct me while I enjoyed the rest of the night.
February 23rd, 2017. Mist and moisture. Just like in Puyuhuapi fifteen days ago. The Traful lake enjoyed a moment of quietude before the morning winds awoken. At 720 meters above sea level, the villa remained hidden behind a thick mist that glided west to east. The sun gazed shy between two mountains and the fire-touched rays approached closer by the minute; I advanced out of the hidden spot to spread the sleeping bag and mattress to dry.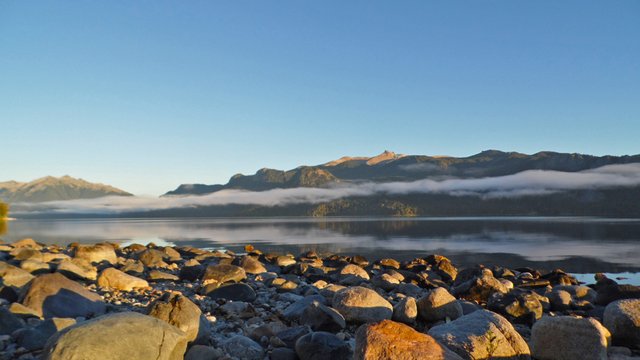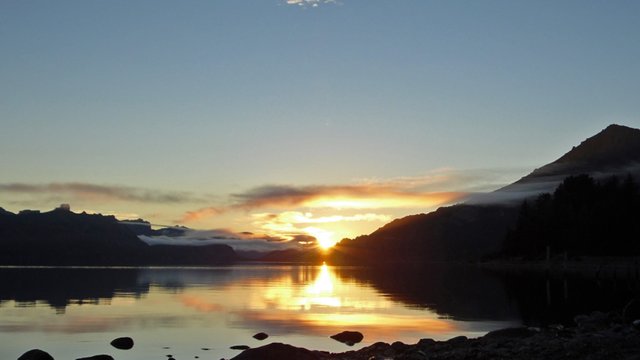 Over a flat stone the small camping stove boiled water for a much needed black coffee as I ate a banana and admired the mirror-like waters of the Traful lake. Destiny after Traful remained unknown, whereas roads led back to Buenos Aires, a journey I knew would be tenuous and not as exciting as wild Patagonia. I didn't want to think much, just enjoy life as it unfolds.
---
I hope you've enjoyed this story, and stay tunned for the up coming book!
---
What do you do to kill boredoom? Drop a comment down below!
If you liked this post, please, consider leaving your upvote for a hot coffee.
~Love ya all
---
Disclaimer: *The author of this post is a convict broke backpacker, who has travelled more than 10.000 km hitchhiking and more than 5.000 km cycling. Following him may cause severe problems of wanderlust and inquietud. You've been warned.****
---
View this post on TravelFeed for the best experience.