The best shelter our planet has to offer today is on these shores
Read this post on TravelFeed.io for the best experience
---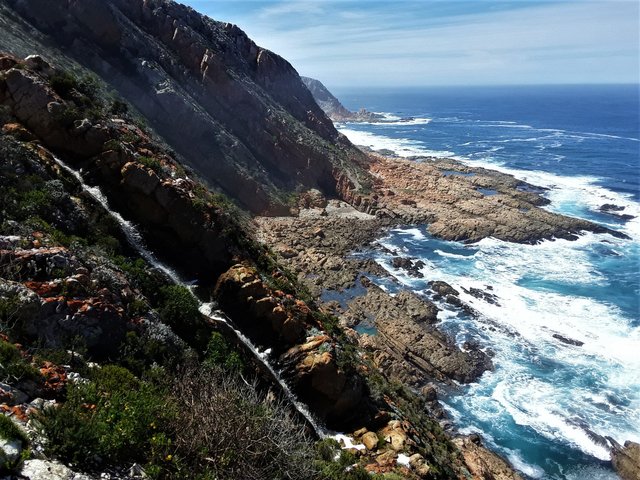 ---
If you enjoy outdoor activities surrounded by nature, then the hiking trails along the southernmost shores of Africa in the Garden Route region will appeal to you. Situated about 550 km east of Cape Town (aka The Cape of Good Hope or The Mother City) you will find a gentle and mild region filled with dense indigenous forests and exquisite long empty beaches of pure white sand. This is the most attractive region of southern Africa's coastline, which is precisely why I choose to explore its shoreline as well as why I promote it to you all.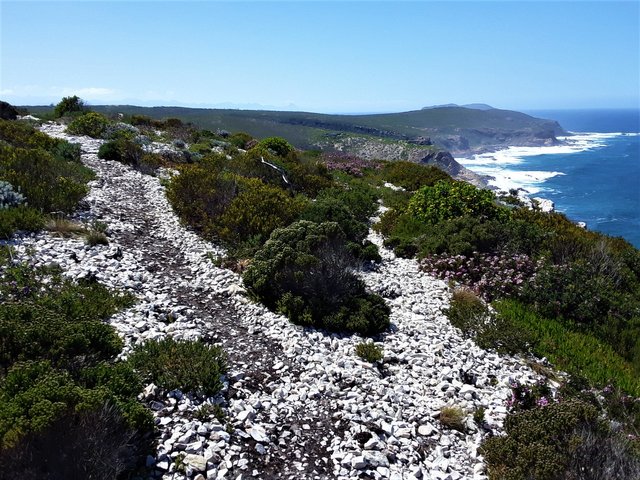 Hiking trail along the top of the cliffs overlooking the Indian ocean
As discerning travelers and outdoor enthusiasts, you may always be on the lookout for new intriguing destinations for further exploration. This is just the place for you and has a wide range of adventurous outdoor activities where you are surrounded by vast expanses of pure nature and fresh clean air. In other words this is one of the healthiest places to be for body, mind and soul.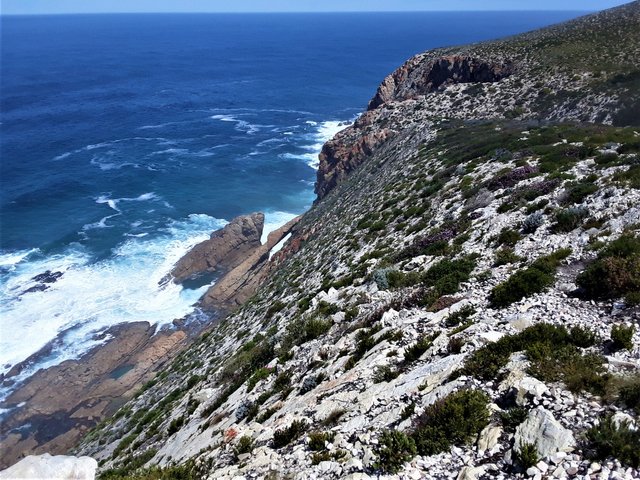 A sheer drop to the rocky shoreline below - fortunately there are hidden paths down
The warm Indian ocean stretches all along this continent's south and eastern coastline. And this particular stretch called the "Garden Route" is perhaps the most attractive, which is why you will find the heart of it – a town called Plettenberg Bay – to be the topmost place for real estate in the country. The most expensive houses owned by the top millionaires happen to be in this very heart of the southernmost coastline.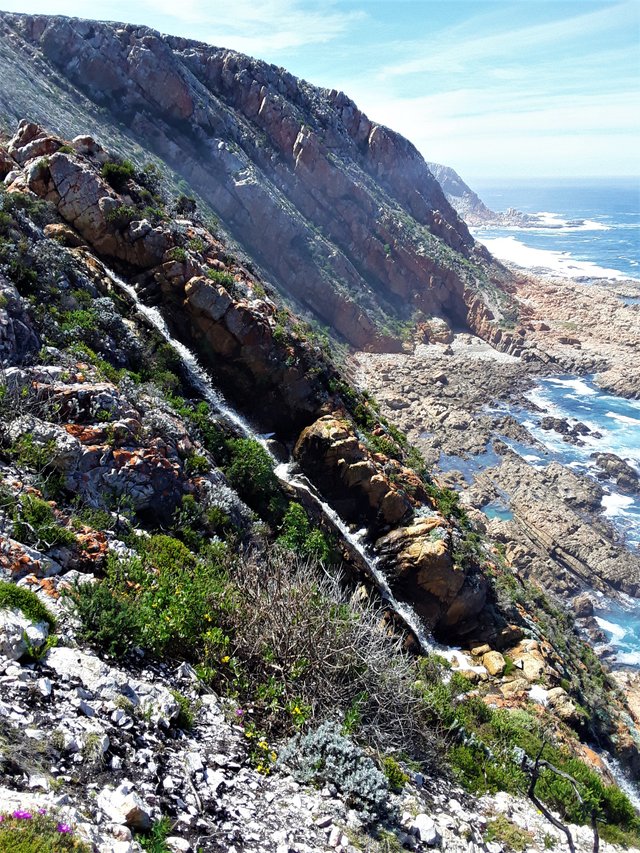 A seasonal river of rain water pours down the cliff toward the sea below. Notice the awesome cave down there
I'm not by any means a land owner of any sort here but still I'm able to live comfortably in this hidden tourist holiday hotspot because I have simple needs and live a simple life. And at the same time I can be in the most beautiful paradise of a holiday resort usually only available to the very rich. International visitors regularly visit for their holidays and some even immigrate to this very same region. They buy a house by the sea and live in paradise all year long without the cold spells of the northern hemisphere to worry about.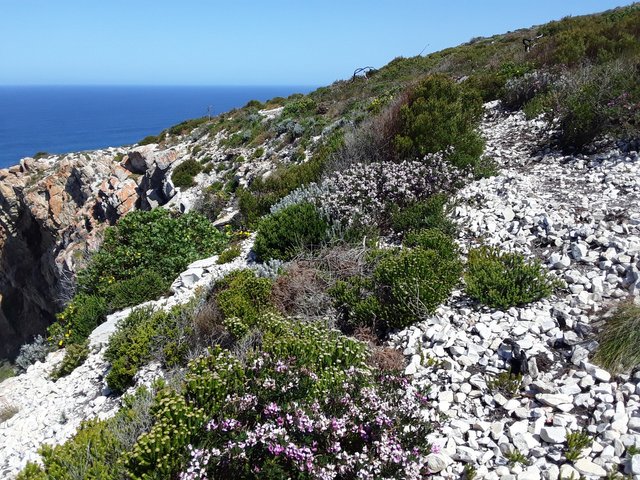 Summer flowers abound on the hiking trail 
I repeatedly hear from local residents who have traveled the world and lived in various countries that this little stretch of coastline is one of the most ideal places in the world to live. Coming from numerous sources who are well heeled travelers who could live anywhere, this simply reaffirms what I also feel about this place, called Plettenberg Bay in the heart of the "Garden Route".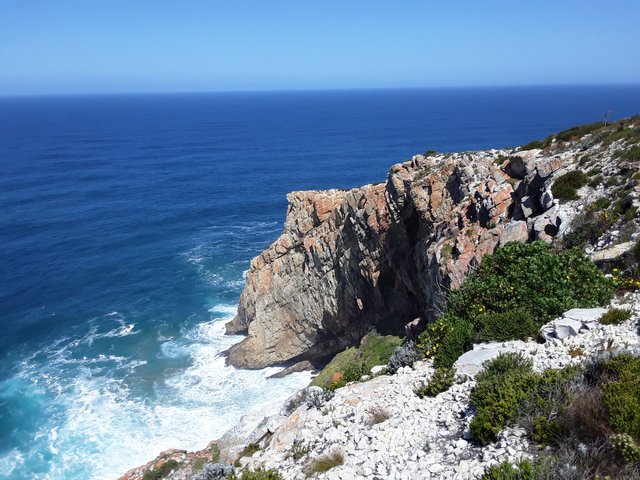 There's no way down at this point - looking south to the Antarctic
I know Australia also has some beautiful coastline, as does California and Thailand. Having spent a month traveling around multiple exquisite islands in Thailand, I can say that the beaches there are idyllic and top class. However, the tropical heat is sometimes challenging, and the government are quite strict about certain things. The same strictness is now present in Australia, where many South African's have fled over the past decades. Now it may come back to haunt them as they sit there under a repressive regime. California is also apparently a political nightmare with exorbitant taxes.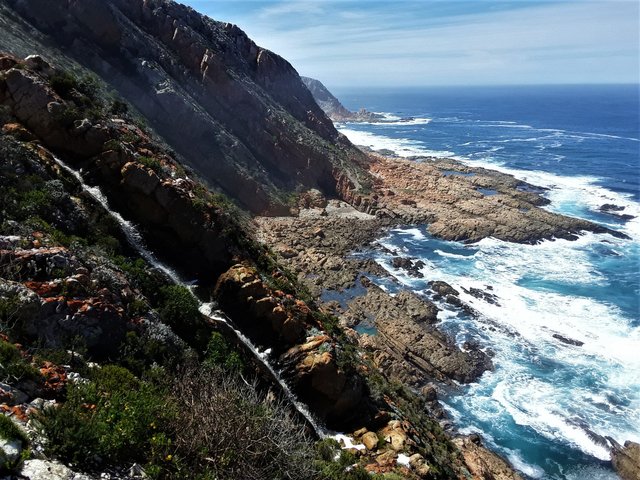 A wider landscape view of the local rain water as it falls to the shoreline
This is not a political analysis but I merely want to point out that there may be equally attractive coastlines to live a life of bliss, but they come with other challenges. South Africa also has its challenges on the socio-political level but the lifestyle is much more free and much less expensive that practically anywhere else in the world. Please feel free to let us know in the comments where you would suggest beach lovers could visit if you know of any other places on the planet. I'm always happy to learn and explore.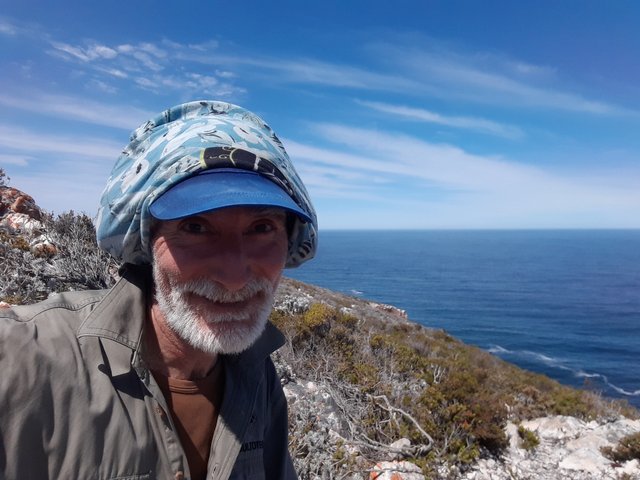 Portrait of the artist as a wandering hermit
As you can see in my photos, I have this most open and spacious coastline without any crowding and great climate all year long. It appeals to my love of the outdoors, as well as a love of hiking, rock climbing, swimming and exploring. If you enjoy this kind of lifestyle where you don't need money to enjoy these free natural treasures, then the southernmost shores of Africa are for you. Once you leave the South African shores and head up coast to Mozambique, life becomes challenged by tropical heat, Malaria and major political instability. And if you head up the west coast, you only find scorching Namibian desert. So the best of Africa is here at the furthest south. Come and enjoy one of the last safe havens on the planet in any crisis. I will be here to meet you.
(photos my own)
---
View this post on TravelFeed for the best experience.