Parque Nacional del Teide · Isla de Tenerife
Read this post on TravelFeed.io for the best experience
---

---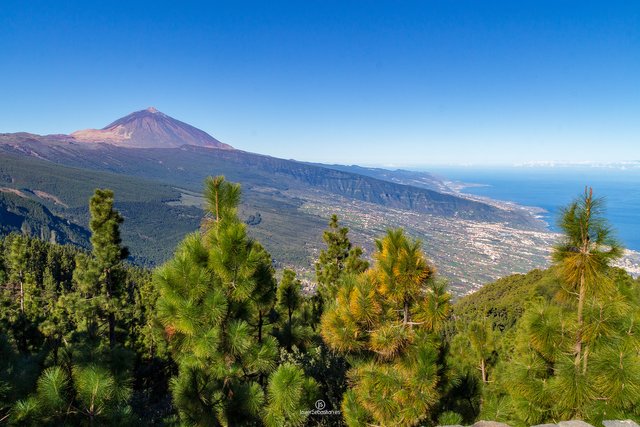 Our tour starts at the city of San Cristóbal de La Laguna, taking the La Esperanza road and making a first stop at the Montaña Grande Viewpoint, where we can appreciate the immensity of Mount Teide, with its 3718 m. Tall. The idea is to cross the Teide National Park entering from the north and leaving from the south to also visit the Los Gigantes cliffs, another of the wonders of the island of Tenerife.
Nuestro recorrido tiene como salida la ciudad de San Cristóbal de La Laguna cogiendo la carretera de La Esperanza y haciendo una primera parada en el Mirador de Montaña Grande, donde podemos apreciar la inmensidad del Teide, con sus 3718 m. de altura. La idea es cruzar el Parque Nacional  del Teide entrando por el norte y saliendo por el sur para visitar también los acantilados de Los Gigantes, otra de las maravillas de la isla de Tenerife.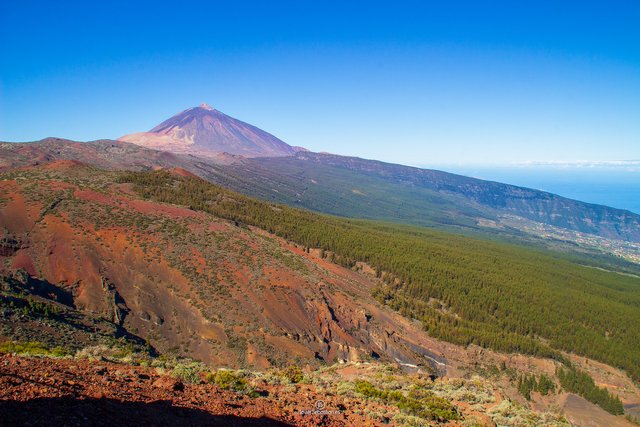 Mirador de Montaña Grande

Panorámica de Las Cañadas del Teide
Once inside the Teide National Park, which is a UNESCO World Heritage Site, it seems that we are entering another planet or a Martian landscape, where lava flows and reddish sands take us to another reality, away from the hustle and bustle. of the cities, where the sound of the wind reigns and our view is lost in a sea of rocks, bushes and volcanic cones.

Las Cañadas del Teide is a gigantic caldera of almost 19,000 hectares and about 17 kilometers in diameter formed thousands of years ago by the collapse of a great mountain, according to one of the most respected hypotheses. It has a unique fauna and flora in the world, highlighting the red tajinaste and the violet of Teide as autochthonous plants, or the black lizard, the perenquén or the smooth one as unique reptiles in their species. It also highlights its wide variety of insects and some birds such as the kestrel or the shrike and some smaller endemic species, such as the blue finch. 

Una vez dentro del Parque Nacional del Teide, que es Patrimonio de la Humanidad por la UNESCO, parece que nos adentramos en otro planeta o en un paisaje marciano, donde las coladas de lava y las arenas rojizas nos trasladan a otra realidad, alejada del bullicio de las ciudades, donde reina el sonido del viento y nuestra vista se pierde en un mar de rocas, arbustos y conos volcánicos.

Las Cañadas del Teide es una gigantesca caldera de casi 19.000 hectáreas y unos 17 kilómetros de diámetro formada hace miles de años por el hundimiento de una gran montaña, según una de las hipótesis más respetadas. Posee una fauna y flora única en el mundo, destacando el tajinaste rojo y la violeta del Teide como plantas autóctonas, o el lagarto tizón, el perenquén o la lisa como reptiles únicos en su especie. También destaca su extensa variedad de insectos y algunas aves como el cernícalo o el alcaudón real y algunas especies endémicas más pequeñas, como el pinzón azul.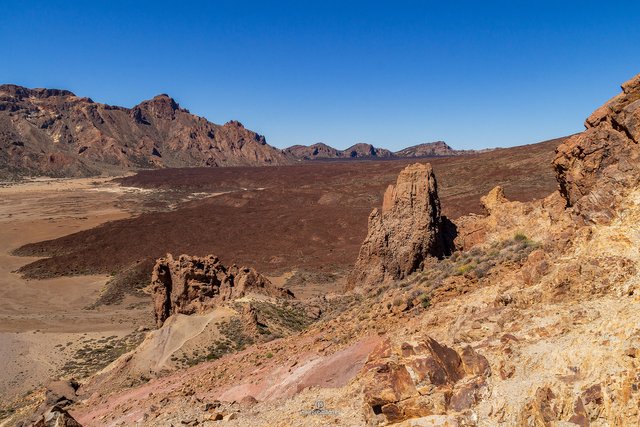 Paisaje marciano de las Cañadas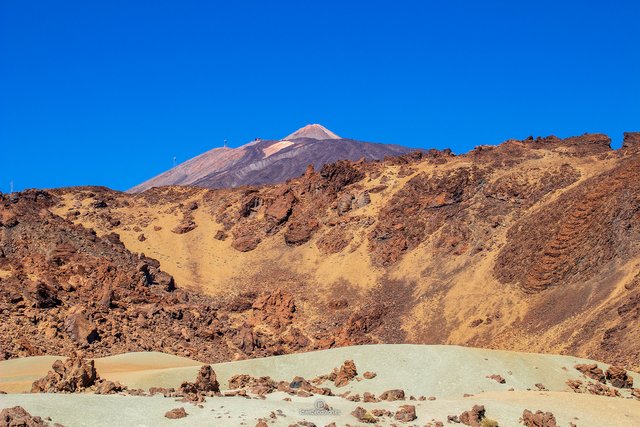 Mientras nos vamos adentrando al centro de la isla, el Teide se va acercando poco a poco y sentimos abrumados como la altura de esta montaña nos hace levantar cada vez más la cabeza para poder contemplarla.
Inside the Park you can do several hikes lasting a few hours or go up in the Cable Car to the top, to be able to contemplate the nearest islands: La Palma, La Gomera, El Hierro and Gran Canaria, as well as the entire island of Tenerife. There is a tourist information center to inform us of all the experiences that we can live here.


Dentro del Parque se pueden hacer varias caminatas del algunas horas de duración o subir en el Teleférico hasta la cima, para poder contemplar las islas más cercanas: La Palma, La Gomera, el Hierro y Gran Canaria, así como toda la isla de Tenerife. Existe un centro de información turística para poder informarnos de todas las experiencias que podemos vivir aquí.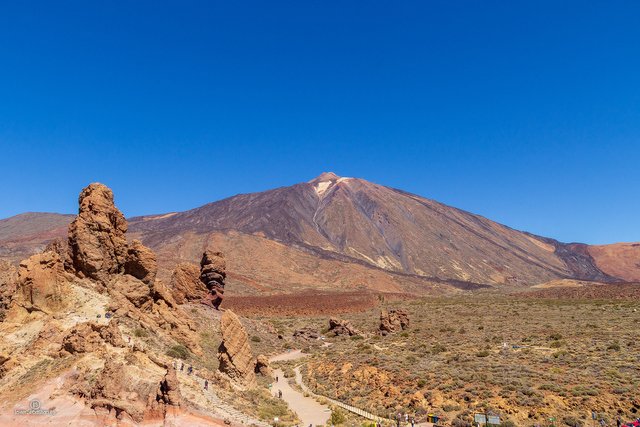 Roques de García
One of the obligatory stops is near the Parador de Turismo, to see the well-known Roques de García and its famous "Finger of God", where we can take some short walks and climb the Roques.

This stamp is well known as it appeared on the back of the extinct 1000 Pesetas banknotes, while the Canarian writer Benito Pérez Galdós appeared on the obverse.


Una de las paradas obligadas es cerca del Parador de Turismo, para ver los conocidos Roques de García y su famoso "Dedo de Dios", donde podremos dar algunos paseos de corta duración y subir a los roques.

Esta estampa es muy conocida ya que salía en el reverso de los extintos billetes de 1000 Pesetas, mientras que en el anverso aparecía el escritor canario Benito Pérez Galdós.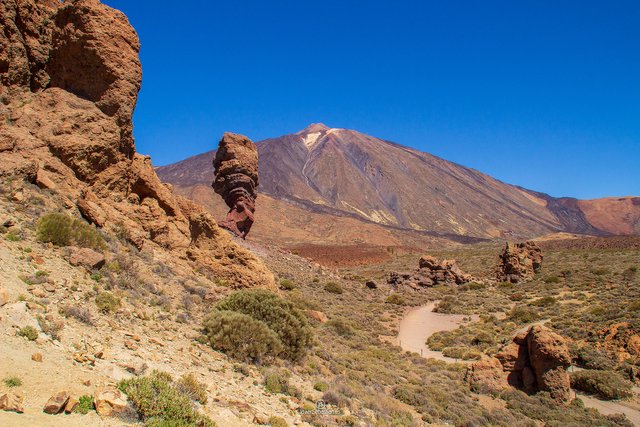 El Dedo de Dios
Image source

Panorámica de los Roques de García y el Parador de Turismo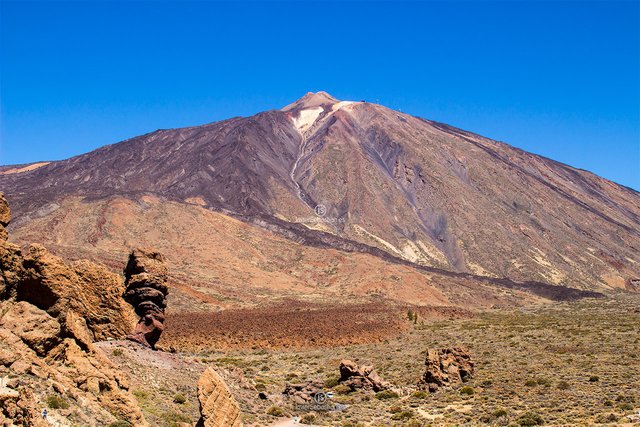 El Teide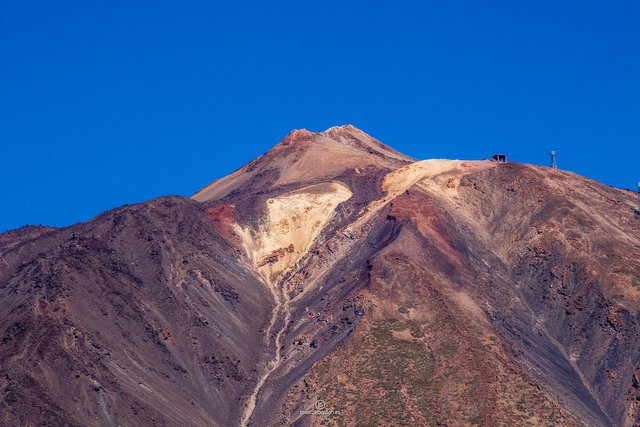 La cima o Pico del Teide
We can say that visiting one of the oldest and most visited national parks in Europe is a unique experience, due to the greatness of the place and the spectacular variety of its landscape depending on the time of year, where snows abound in winter and on sunny days. in summer they make it unmatched by any other. But without a doubt, the most unique thing is to be able to reach the sky by climbing to the highest peak in Spain to get an idea of how small this great little planet is.


Podemos decir que visitar uno de los parques nacionales más antiguos y visitados de Europa es una experiencia única, por la grandeza del lugar y por lo espectacular de su variedad paisajística dependiendo de la época del año, donde las nieves abundan en invierno y los días soleados en verano hacen que no tenga comparación con ningún otro. Pero sin lugar a dudas, lo más singular es poder alcanzar el cielo subiendo al pico más alto de España para hacernos una idea de lo pequeños en este pequeño gran planeta.


---

Copyright: Javier Sebastian, Canary Islands. All my images are original.
If you want to buy any of my visuals, please drop me a message, I'm on Discord: JavierSebastian#5816

---
Coinbase | Facebook | Twitter | Instagram | Youtube | Invite me a Coffee | Patreon
---
I use this wonderful service to trading crypto coins.
I use these services to earn token while surfing the web. These are my referral links.


I use this service to PURCHASE and WITHDRAW to my BANK ACCOUNT. This is my referral link.

---
View this post on TravelFeed for the best experience.