5 Alsatian dishes you need to try and where to find them
Read this post on TravelFeed.io for the best experience
---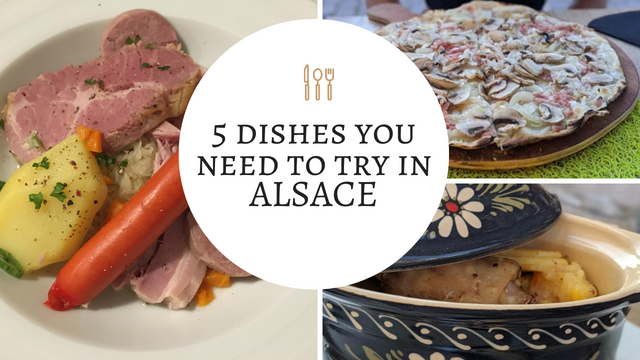 France is widely considered across the world as a cradle of good food and the quality and diversity of its regional cuisine is no stranger to that reputation. Whether you eat in southern or northern France will make quite a difference, unless you choose to order the usual suspects and go for a French staple such as a steak with fries. While being influenced by the culinary traditions of its neighbors, French regional cuisine has developed its own uniqueness all the same. In that regard, Alsace is a particularly interesting synthesis when it comes to its food scene.
Located across the border from Germany, Alsace has much in common with its neighbour. In fact, the region was long disputed by France and Germany, being in turns part of the Holy Roman Empire before being conquered by the French in the 17th century, then by the Germans back in 1870, before the end of the Second World War finally brought the region back under French rule. Inevitably, this German influence shows in many aspects of Alsatian culture, including its food. Alsatian specialties are known to be as tasty as they are hard to pronounce, and perhaps even harder to spell, and if you like heart-warming and rich dishes, this is the place for you.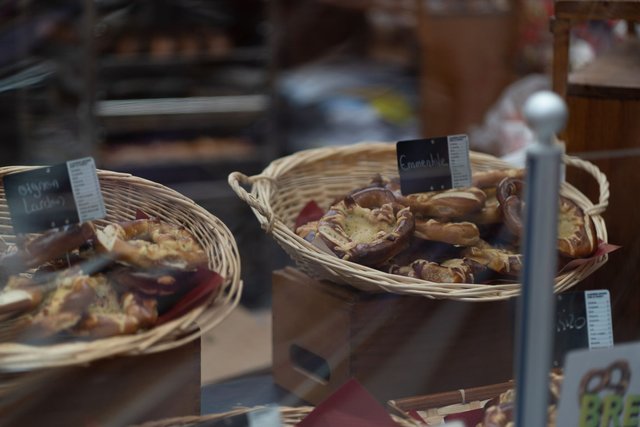 Alsatian food revolves around five major components: potatoes, meat, cabbage, cheese and some wine to complement any meal, Alsace being a major wine producer ever since the times of the Romans, who introduced vineyards in the region. A glass of Gewurtzraminer or Riesling is always a good option to explore the region's food scene in a traditional winstub eatery, from its inevitable sauerkraut to its crunchy tarte flambée, its endless array of delicatessen to its strong tasting Munster cheese, to be eaten with a nice Brätzel. Navigating between German and French traditions, Alsace forged its own culinary identity and established itself as a real foodie heaven so get ready to delve with us into the world of Alsatian food with the five following dishes and forget about any diet in the process.
Choucroute garnie
A preparation of fermented cabbage known as sauerkraut is the basis for this dish and the name will ring familiar to aficionados of German and Eastern-European cuisine. Indeed, sauerkraut did not originate in Alsace. Yet, the dish known as choucroute garnie has brought the traditional sauerkraut recipe into the next level by adding some additional garnishes to pack more flavors. Traditionally, choucroute garnie is served with a Strasbourg or Frankfurter sausage and cuts of salted pork, ranging from ham hocks to back bacon. The sauerkraut itself is also often marinated in white local wine or even in beer, adding some extra flavor to its usual sour taste. The choucroute garnie has long crossed the borders of Alsace to become a quintessential French dish but it is still considered an iconic Alsatian dish, to be found on virtually every menu throughout the region.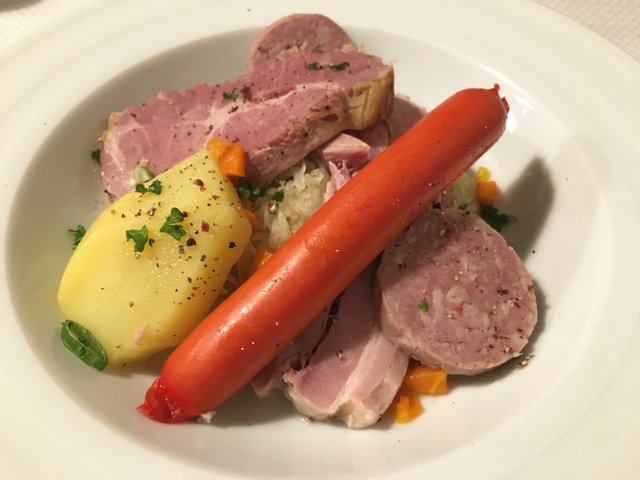 Where: Despite its popularity, finding a genuine choucroute garnie is not that easy. The meat usually makes all the difference as it needs to be tender and cooked just right. The Confrérie de la choucroute, an association that was designed to promote the dish, grants a label to its members and friends, which can point you in the right direction. D'Baecka-Ofa-Stub, in the small town of Ribeauvillé, belongs to the confrérie and can be a good place to start. La Flammerie is also a worthy contender in Ribeauvillé and you should come at least twice, once to eat its choucroute and the second to enjoy its melt-in-the-mouth ham shank marinated in beer and honey, to be eaten with spätzle pasta.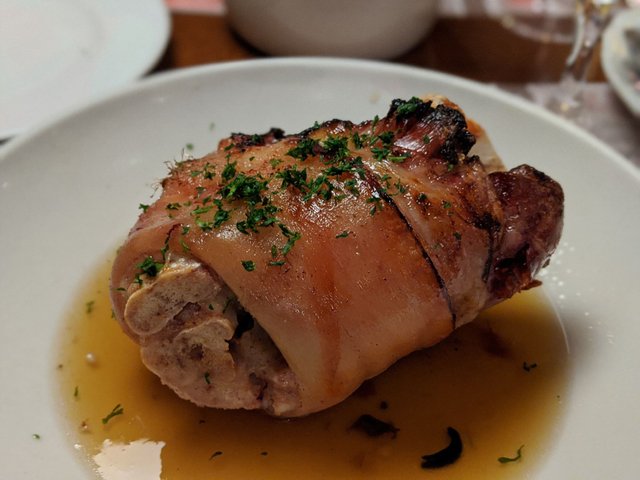 Baeckeoffe
Baeckeoffe literally means "bake oven" in Alsatian and it is a casserole dish made of sliced potatoes and onions and three types of meat, usually mutton, pork and beef, all marinated overnight in white wine and juniper berries. What makes this dish so peculiar and so flavorsome is that it is slowly cooked in a traditional ceramic casserole dish, adding to the mixture some herbs and aromatics, such as thyme, parsley and garlic. By its very nature, baeckeoffe needs time to be cooked the way it should be and it is traditionally a dish made for a special occasion, usually to be prepared for Christmas. Nowadays, baeckeoffe is often on the menu in traditional Alsatian winstubs and it can be enjoyed all-year long.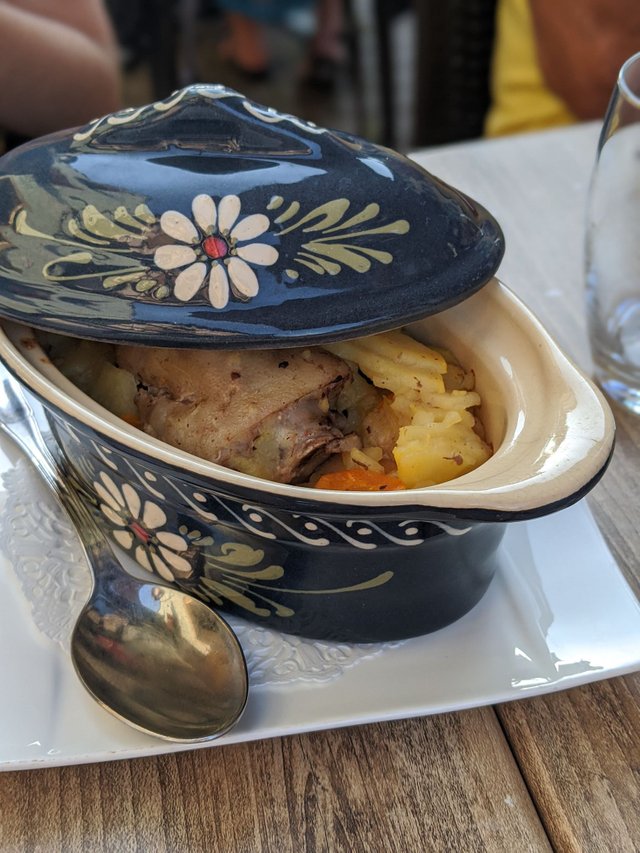 Where: The Caveau Restaurant Stewala is a bit of a hidden gem located in the small, still quite untouristy city of Turckheim. It serves a delicious baeckeoffe, served in a beautiful ceramic casserole and cooked according to an old recipe advertised as being passed on from the cook's grandmother. The restaurant also offers a good range of wine and aperitif cocktail, including some bubbly crémant d'Alsace with a fruity kir.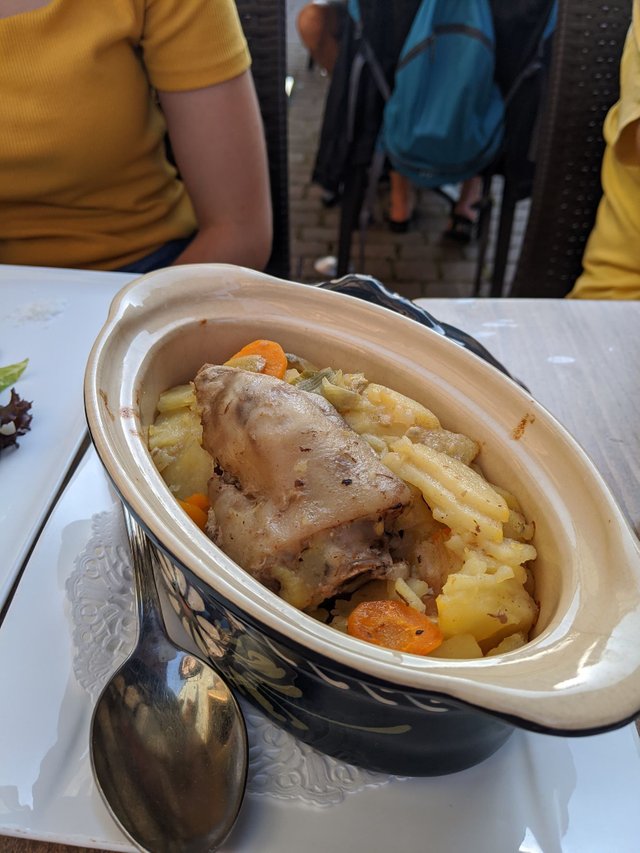 Rösti
Germany isn't Alsace's only neighbor as Switzerland lies across the border too, a mere hour away from Strasbourg by train. The name rösti comes from the Swiss country and that dish made of grated slices of potatoes has made its way quite naturally into Alsace, for it is hard to resist this crunchy potato pancake that can be accommodated with virtually anything. The Alsatians have learned the lesson pretty well and serve it in a variety of styles, from rösti casseroles with melted Munster cheese to rösti served with cervelas sausage. Most often pan-fried, rösti are not exactly diet-friendly but they're an amazing comfort food to indulge after a long day of pacing around an Alsatian city.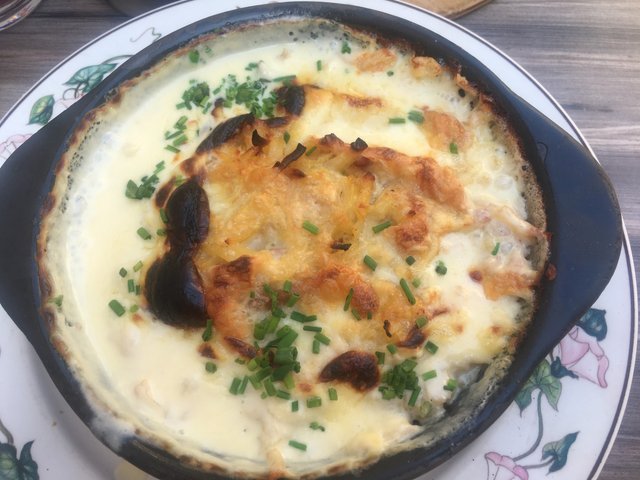 Where: As there is no definite recipe, röstis can taste very differently from one place to another. In Strasbourg, the restaurant Le Thomasien serves them in a casserole with melting Munster cheese and lardons, meaning you probably won't be hungry for a full day after eating it. If you're looking for a less sinful experience, Cuit l'eut cru offers some vegetable rösti at the Marché Couvert de Colmar, topped with a slice of melted Tomme cheese.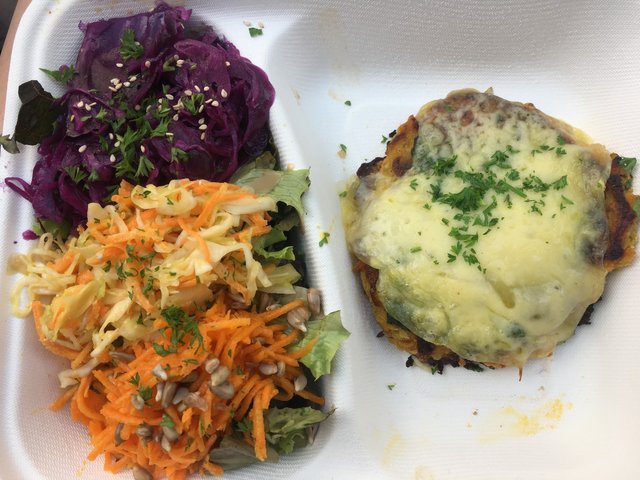 Tarte flambée
Flammkuchen, Flammekueche, Tarte flambée, no matter the spelling, this dish will always taste as good. This "pie baked in flames", as its name translates, can be seen as the Alsatian pizza. Usually shaped in a rectangle, it is made of a very thin bread dough covered with fromage blanc, thinly sliced onions and lardons. Of course, just like pizza, the traditional recipe has seen some variations over the years and nowadays, most restaurants will serve different types of tartes flambées. The gratinée comes grated with gruyère cheese while the forestière comes with mushrooms and the munster, quite obviously, comes with extra slices of munster cheese. Possibilities are endless with this go-to dish for a light lunch or a guilty pleasure snack.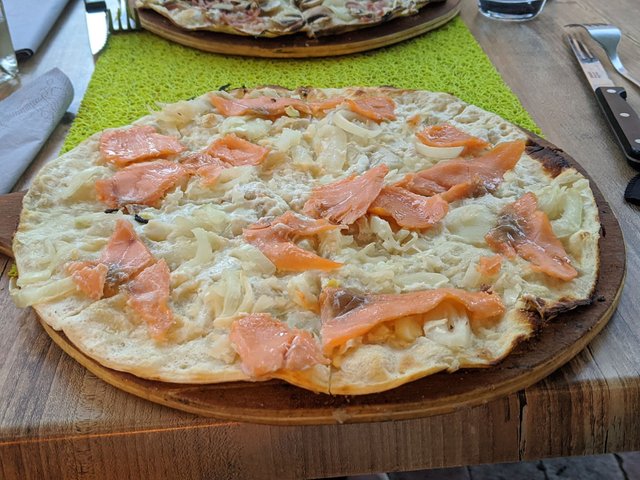 *Where: * Le Thomasien in Strasbourg offers an all-you-can-eat tarte flambée experience, which is the ultimate way to decide which version of this iconic dish you like best. Only the bravest will eat more than two tartes flambées though, but that is still good value for money. Still in Strasbourg, La Fignette is known for its original recipes, such as goat cheese and honey or dry tomatoes and parmesan cheese, and also serves sweet tartes flambées.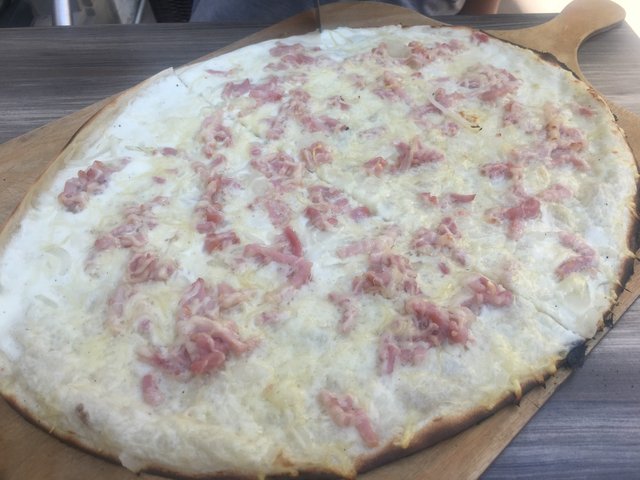 Fleichschnacka
Fleichschnackas are a lesser-known Alsatian specialty that originated in the region of Mulhouse. The name literally means "snails of meat" and this dish is indeed instantly recognizable for its unusual shape, which might even look like a dessert at first glance. Fleichschnackas are made of fresh egg pasta stuffed with meat, eggs, onion and parsley. Usually, they are served with some tomato sauce or some broth and a side of dressed salad. Their taste can be compared with their German equivalent, the Maultaschen, although the latter is a kind of ravioli. Filling yet quite light on the stomach, fleichschnackas can be a nice change of pace after a feast of hearty dishes and buttery desserts and pastries.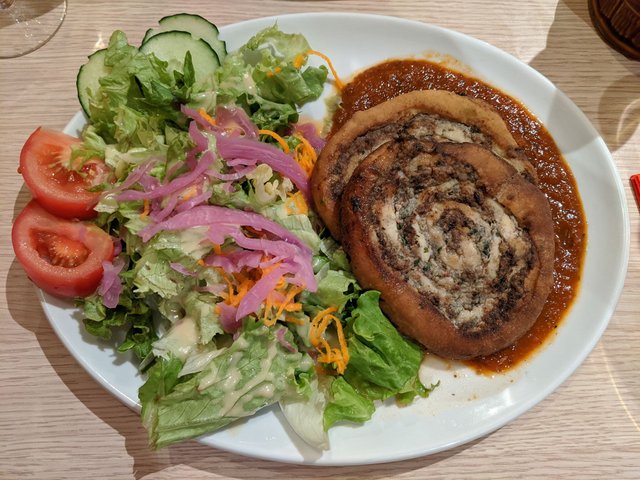 Where: Fleichschnakas are a bit of a rarity on the menu compared to the aforementioned dishes. They can be found at the Giersberg restaurant in Ribeauvillé, which also serves an original Brätzel burger and a luscious tourte vigneronne, a rich specialty from the nearby Vosges Mountains.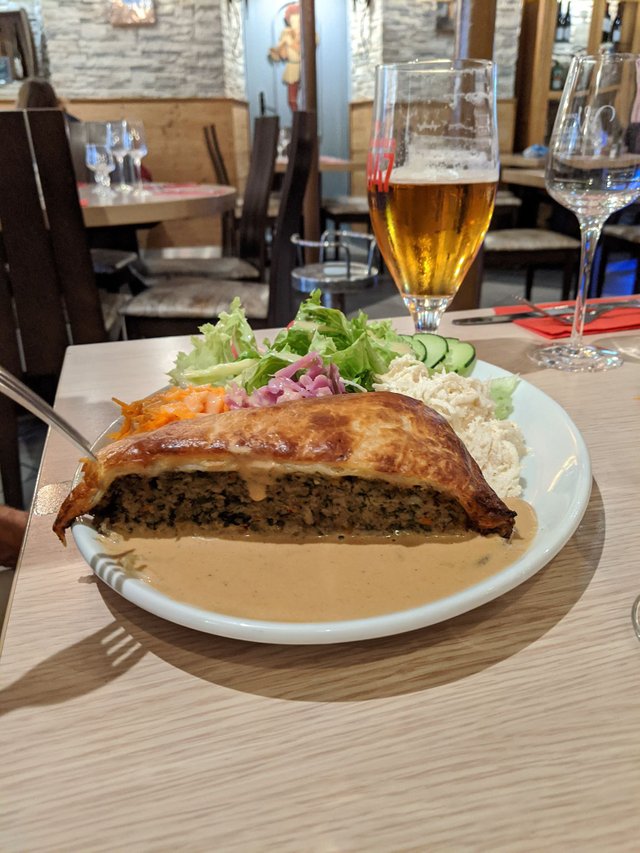 Of course, this list is not comprehensive, and we could have added a dozen more entries, especially in the sweets department, but we hope you've enjoyed this short introduction into Alsatian cuisine nonetheless!
---
View this post on TravelFeed for the best experience.