EuroVelo 7 - Wesenberg to Userin 45 km
Read this post on TravelFeed.io for the best experience
---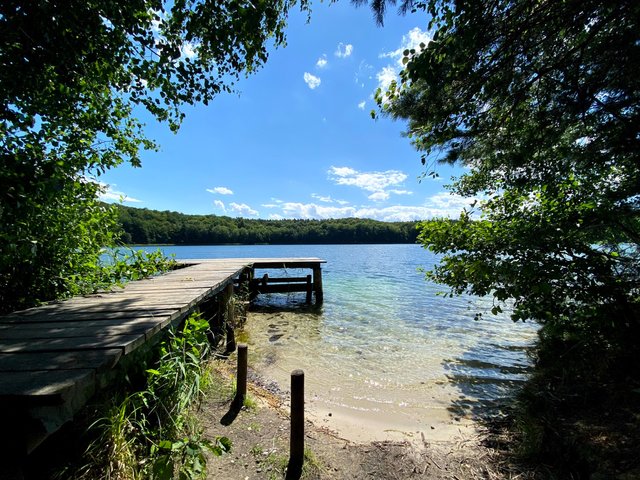 ---
After a rainy evening here comes a sunny morning and this particular one was memorable.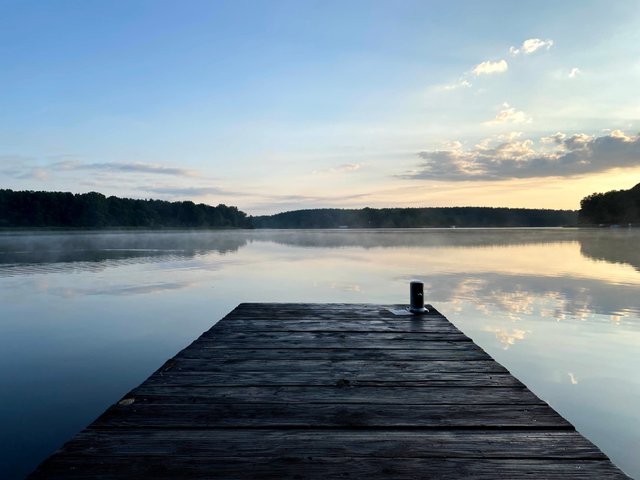 Woke up to this view today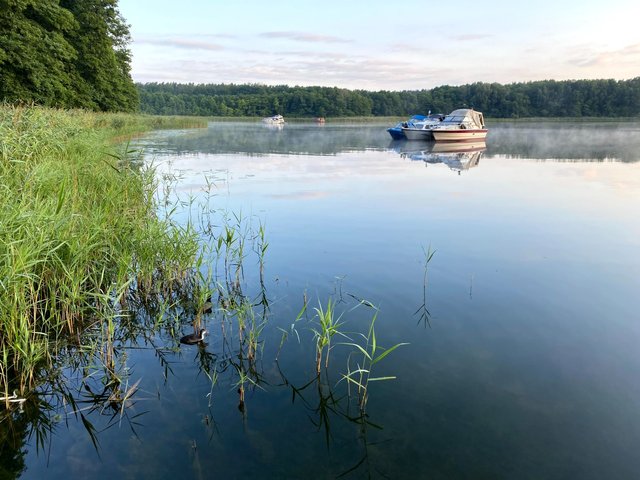 Good morning birdie!
Felt like taking my time this morning to just look over the lake for a while.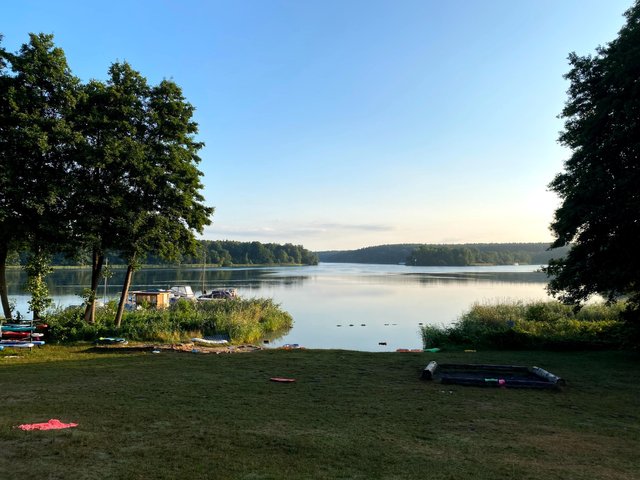 Ellbogensee lake 
Usually when I sleep in the tent I get up once I see light outside and that's around 6 AM in the summer and if the weather is good I like to get out to enjoying the silence for a while and just have a look around and observe the natural setting I'm in for the first time ever and only for a couple more hours before I pack everything and move on. This transient nature of bike touring is quite powerful in the sense that makes you feel present in your life every day.
 Also this particular camping location was beautiful and enjoyable.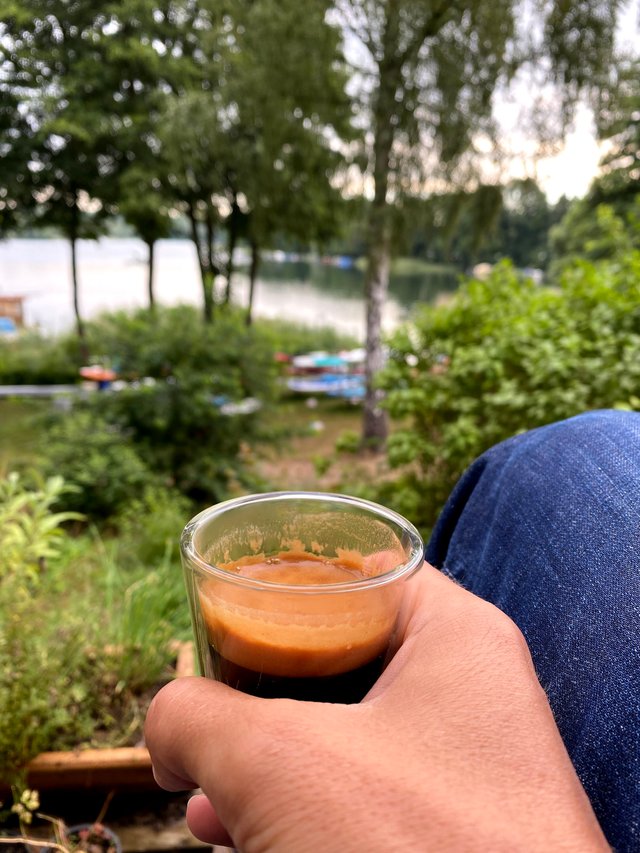 Coffee with a view
This looks like a good espresso and so it was, perfectly matched by a freshly baked croissant.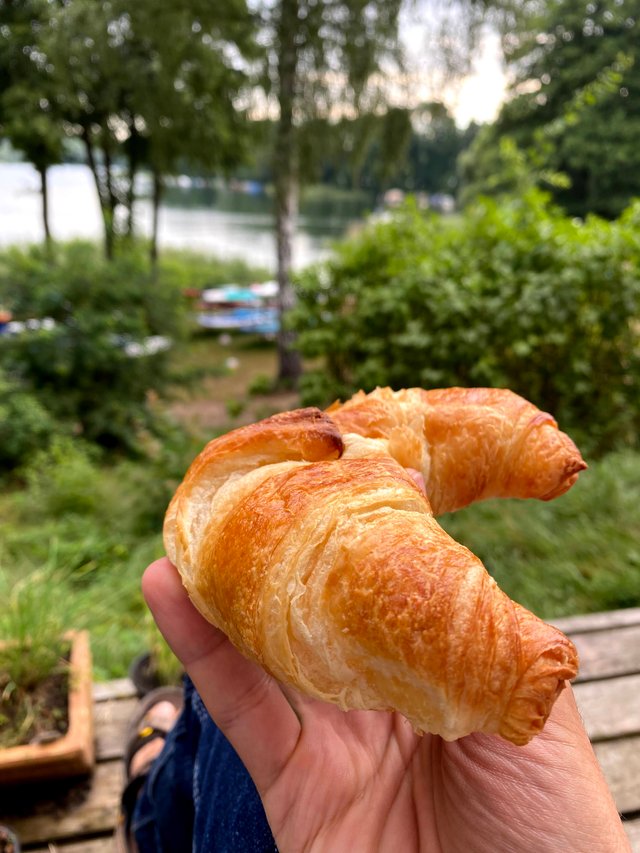 Probably the best croissant in the world
Well done Nature camping at Ellbogensee, can't ask for a better breakfast in a camping. Actually the whole set up was more like a coffee shop, the porch view being a bonus for the early birds.
Tip: Get up early to catch a front spot in the queue (service starts at 8 AM), then you'll probably find a free table on the porch to enjoy your coffee and the lake view.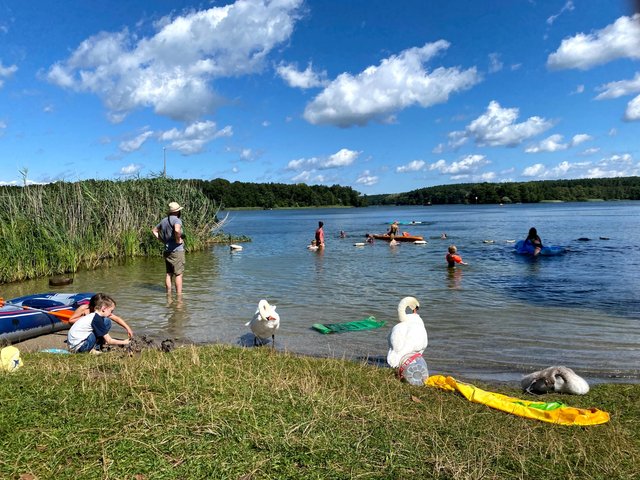 Harmony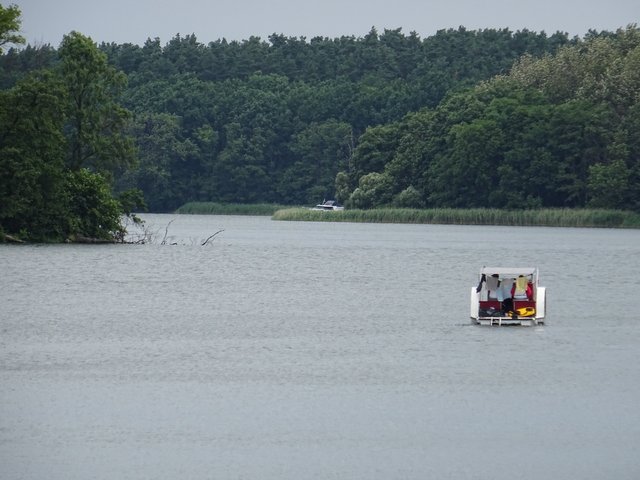 Touring with a hydrobike? Here it is!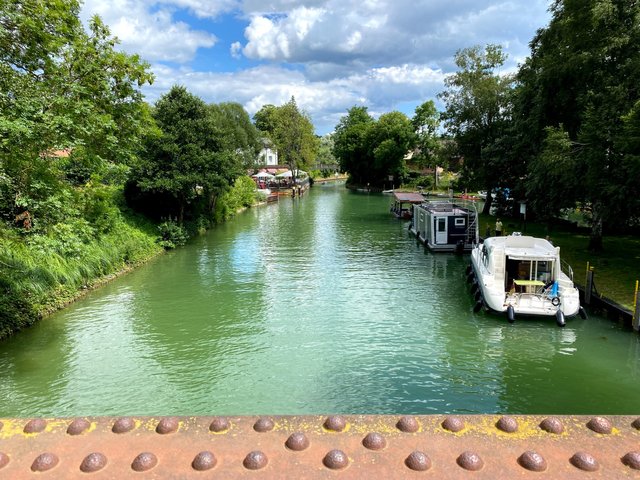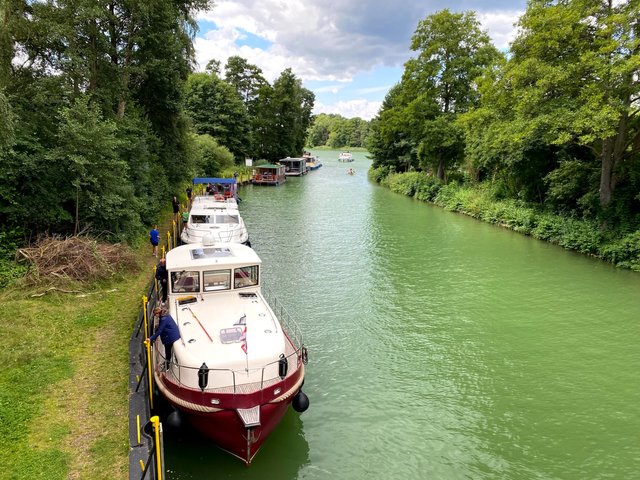 Leisure boat traffic on river Havel in the summer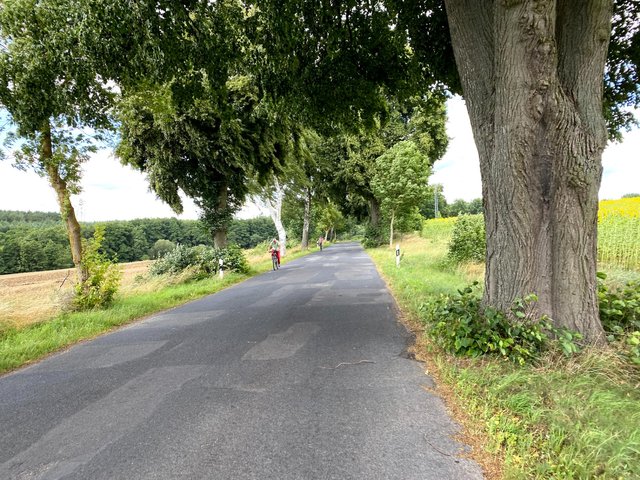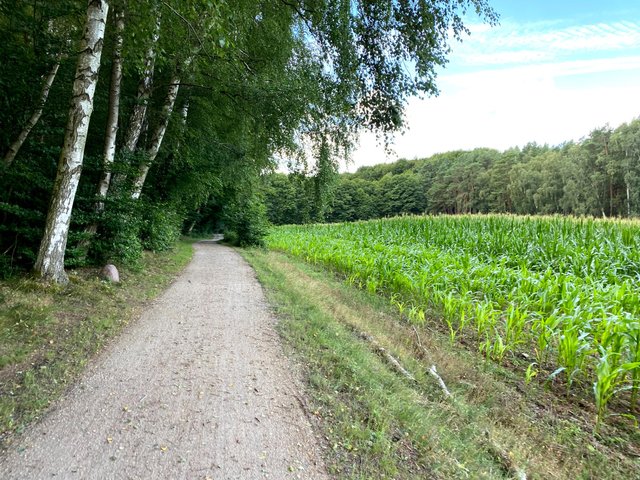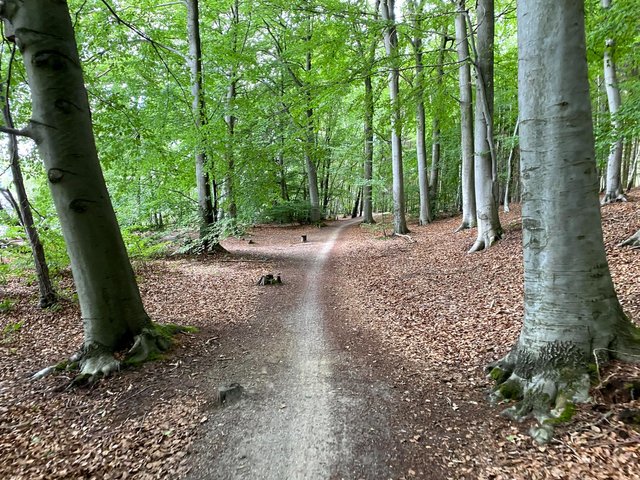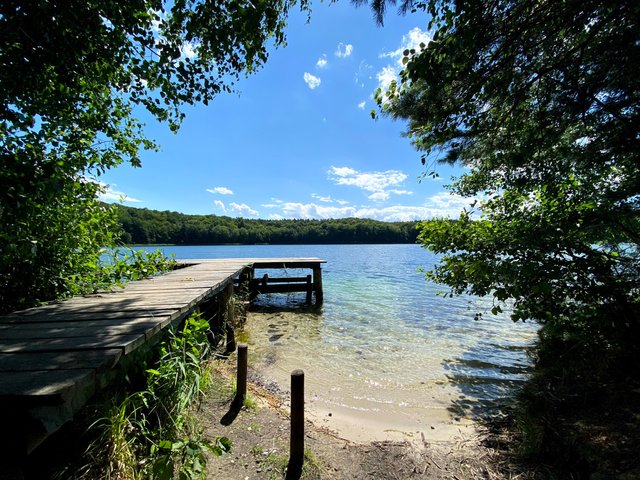 Trunnensee Lake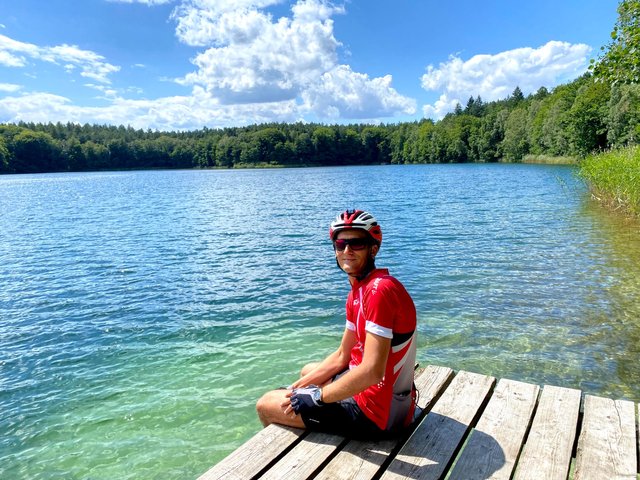 This looks like a happy Dan :)
This part of EuroVelo 7 along the Havel river is a special gem, it has a bit of everything I've seen so far in all the other countries combined, cycling along the canals like in France, along rivers like in the Czech Republic or Austria, it has beautiful lakes with clear blue water like the Rhine has in Switzerland, clean sandy beaches where you can take a dip anytime (that's a local bonus), I can fully recommend it for beginners or for families with kids cause it's mostly flat terrain, easy and with plenty of playgrounds and activities for kids along the way and also with a multitude of quality campings along it. Yes, you can do it!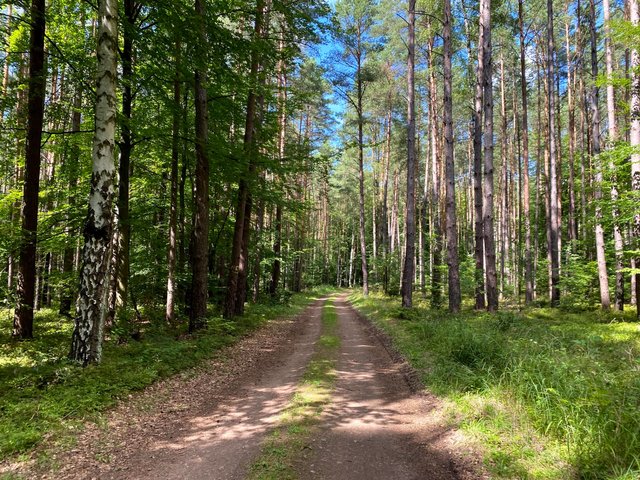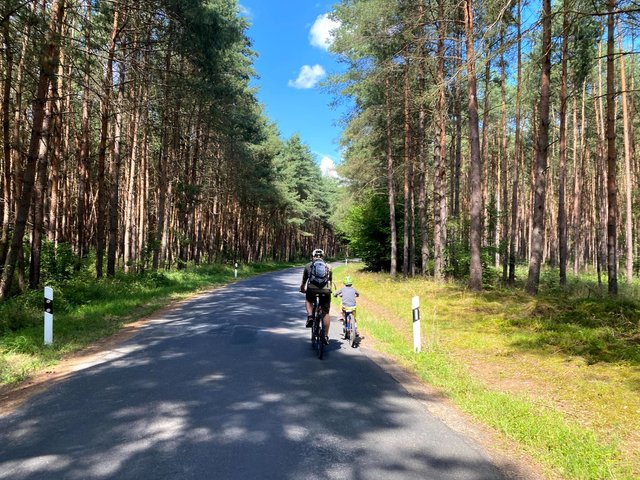 This is something I want to do this year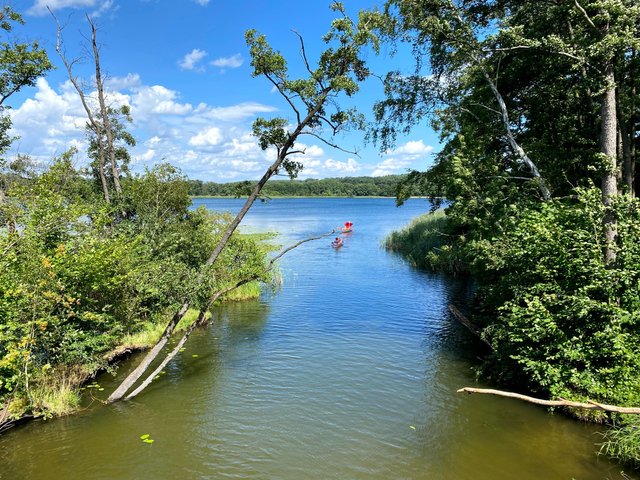 Crossing between the lakes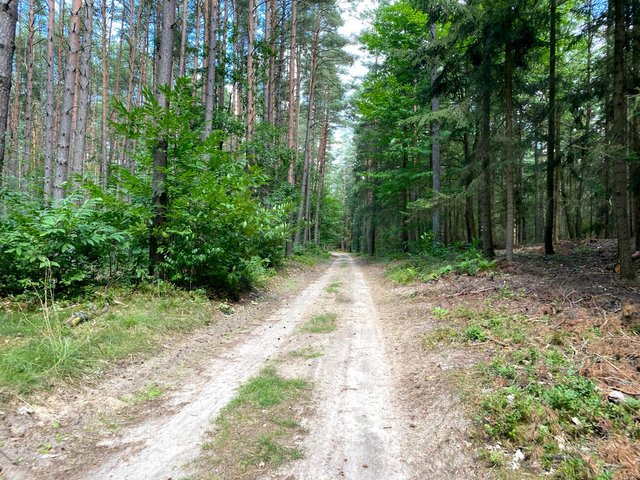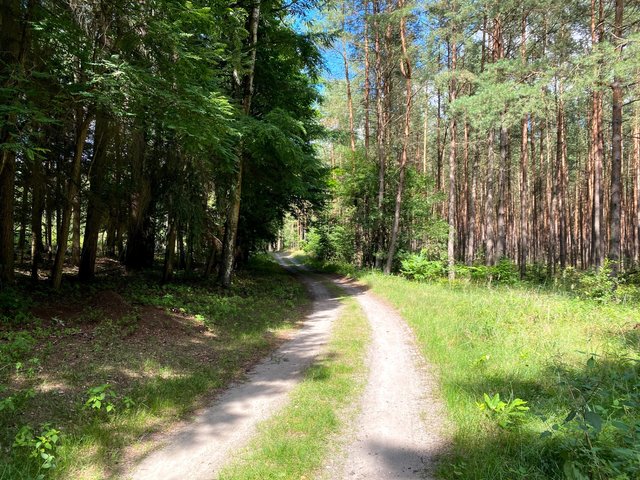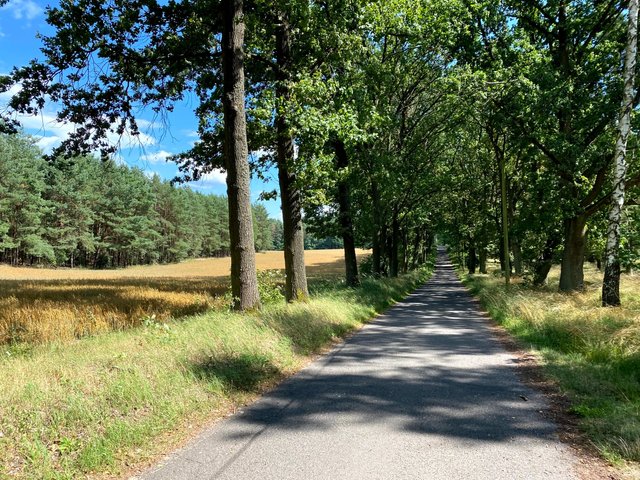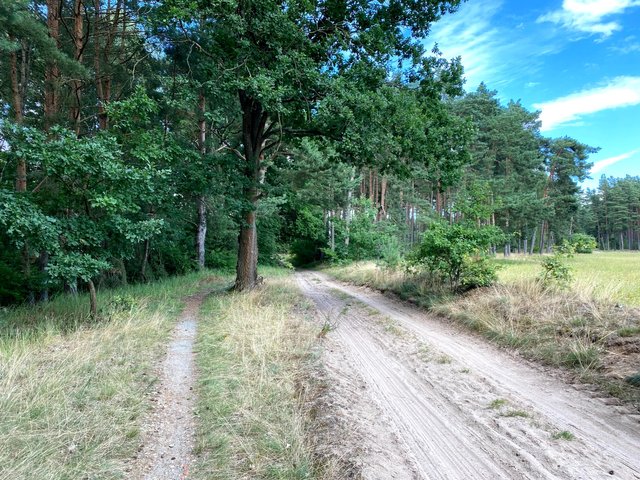 Too sandy for my heavy bike but there is always a sideway solution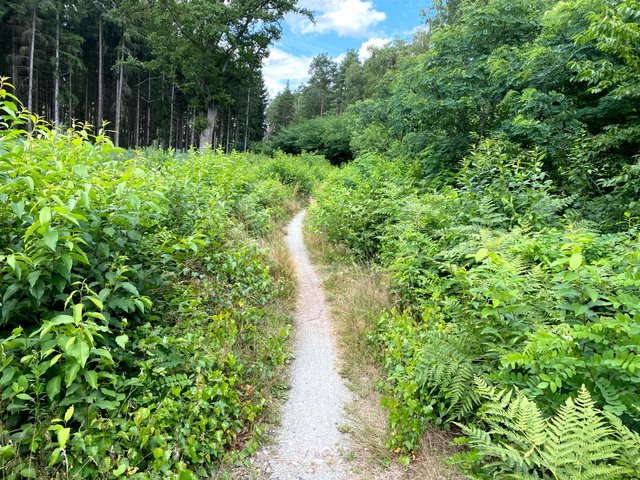 I kinda liked this narrow trail through the bushes, felt like Indiana Jones. :)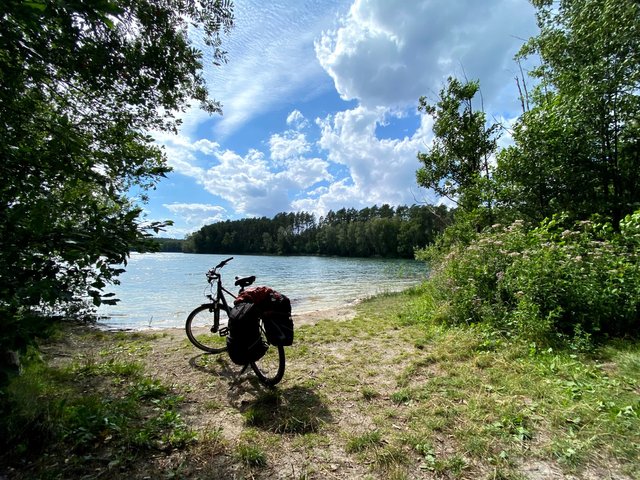 Just another lake view break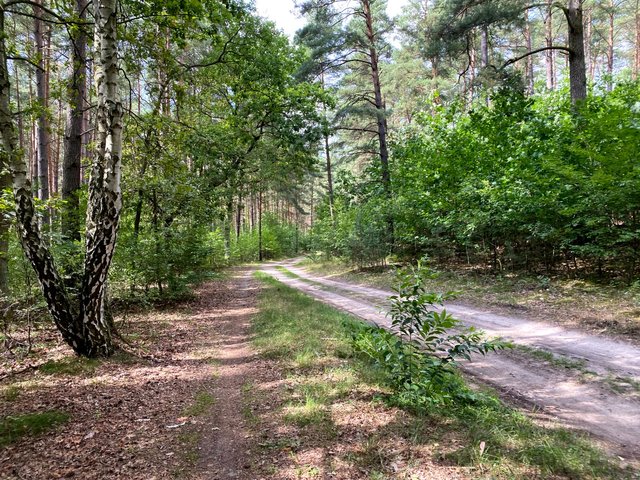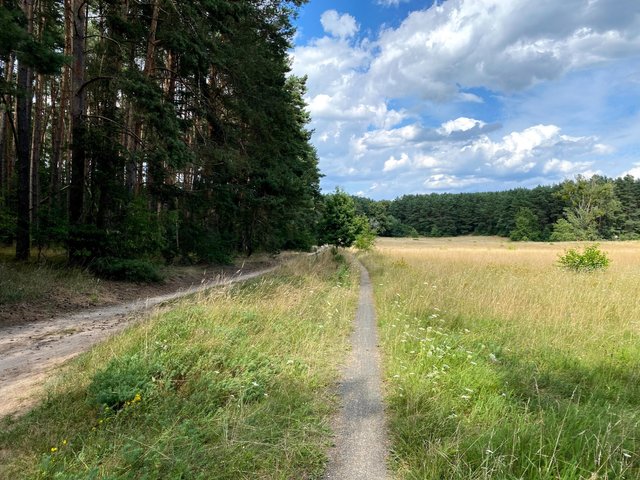 Mind the nettles later on this section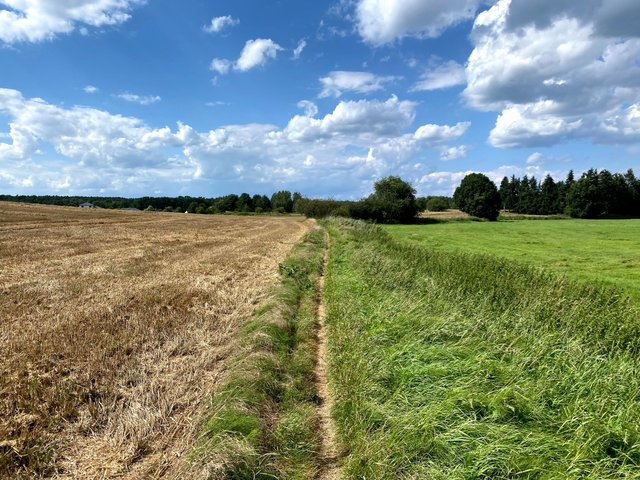 This is getting interesting
Arrived in Wesenberg just in time for lunch. Found a local biergarten near the lake and ordered the menu of the day of course which was "sehr gut"!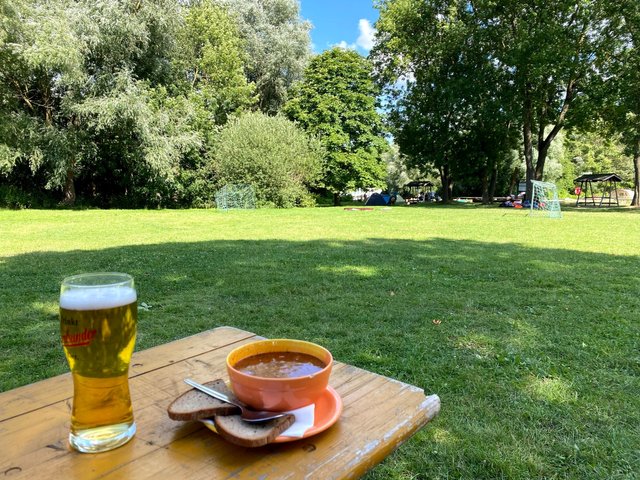 Authentic german lunch done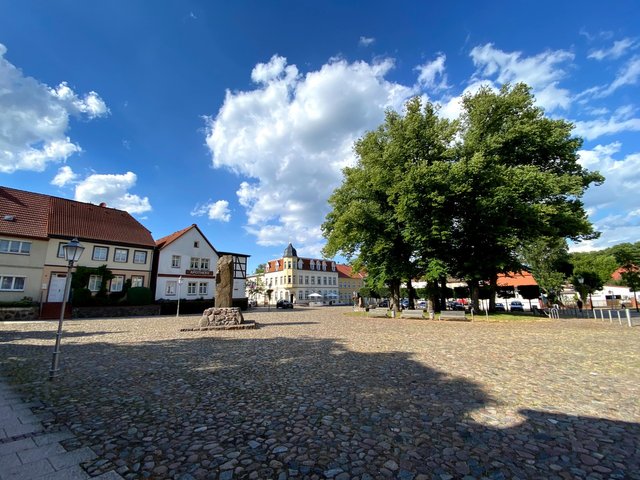 Wesenberg main town square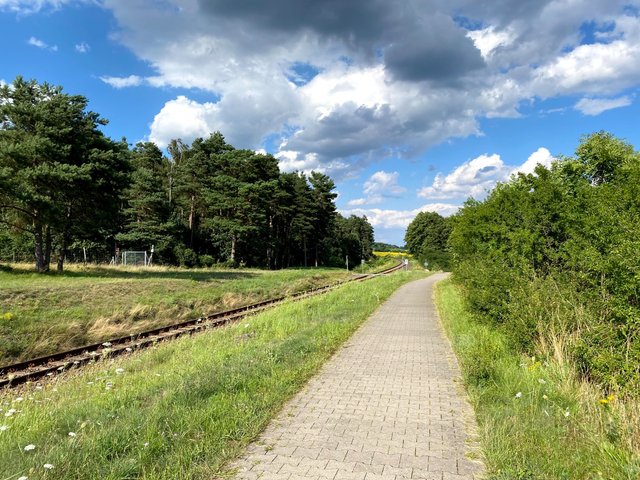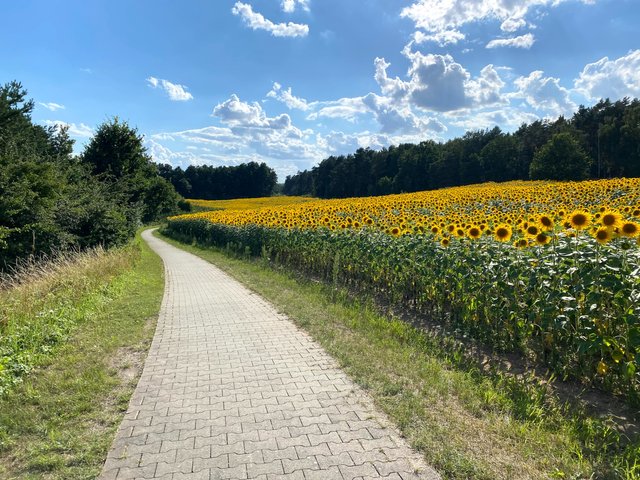 For a bit of color cycle with sunflower :)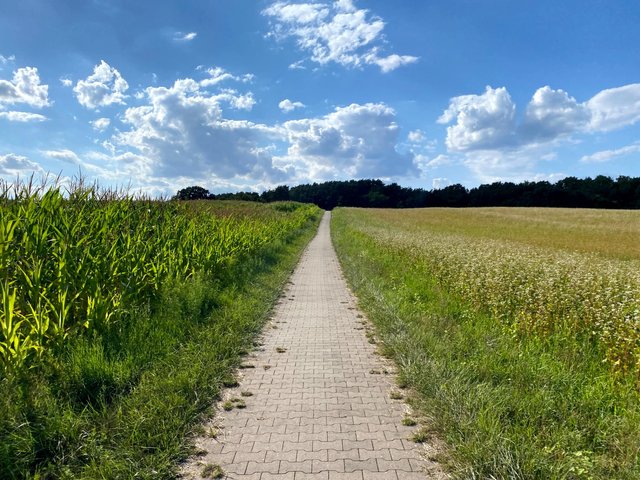 For a bit of hill cycle with cornfiled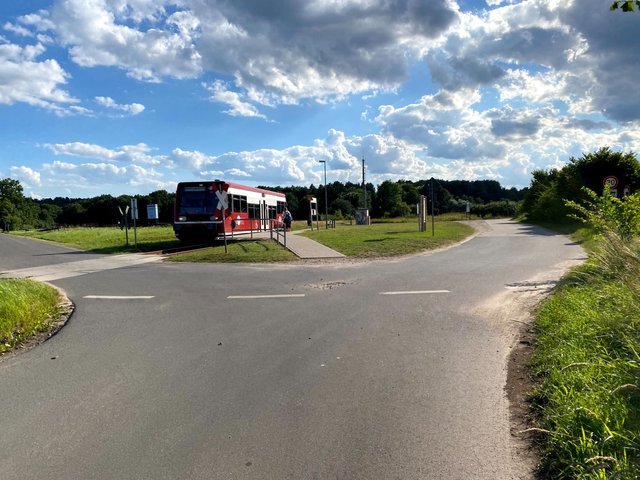 If you don't like cycling take the local tram for a swim in the lake but please don't stay indoors in the summer.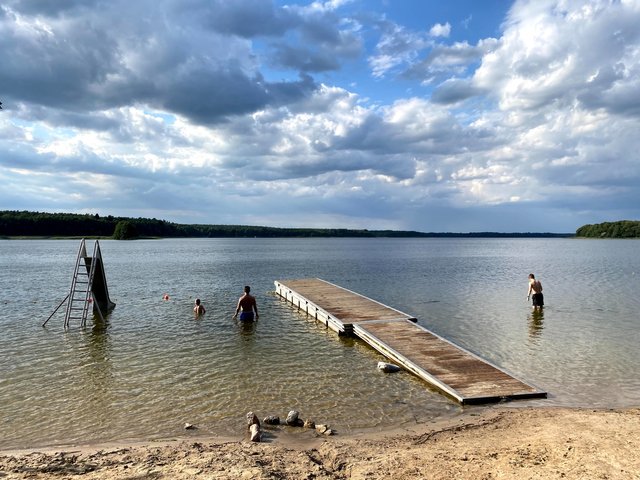 Another swimming opportunity along the route for everybody, free entrance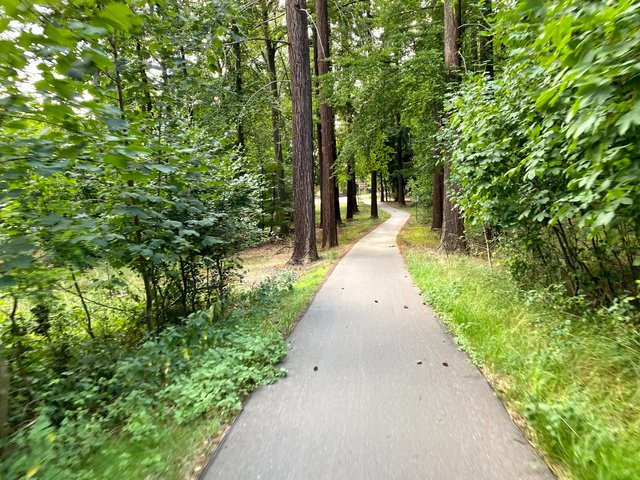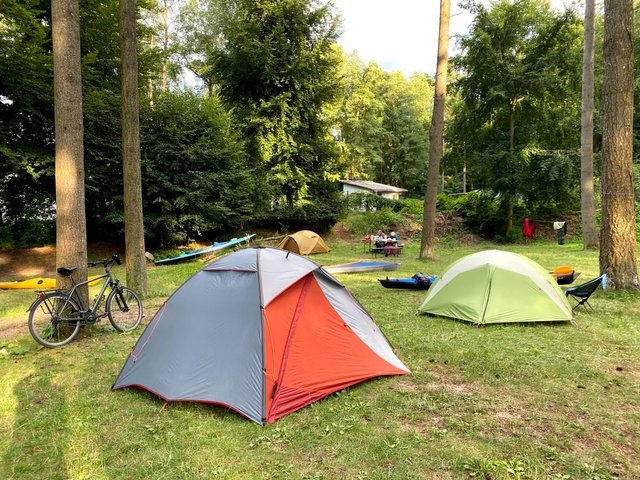 Arrived a bit earlier to the camping this evening and headed straight for the lake.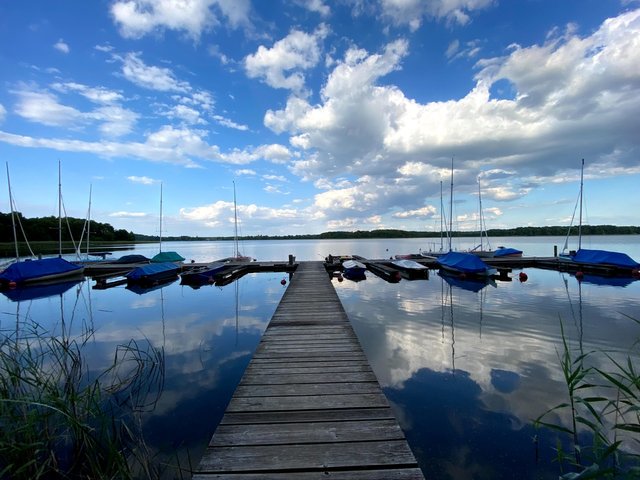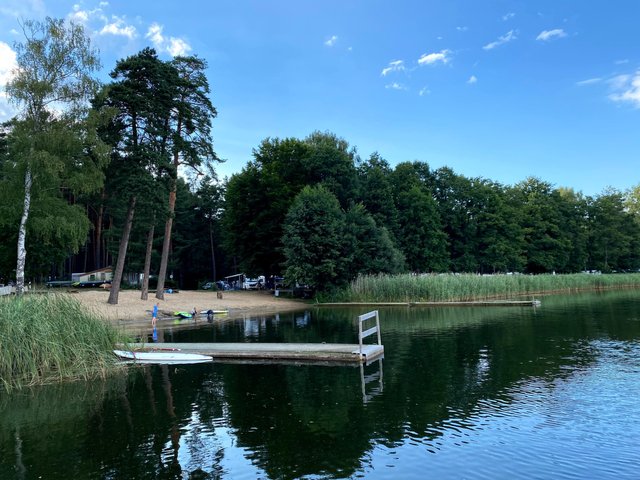 This exotic looking sandy beach is on a fresh water lake front which I think it's even better.
 The water temperature was just right at the end of July and I took a long refreshing swim that evening which I thought about all day. I was surprised there was not much vegetation or leeches in the water and also no mosquitos when I got out, was just like the seaside without salty water.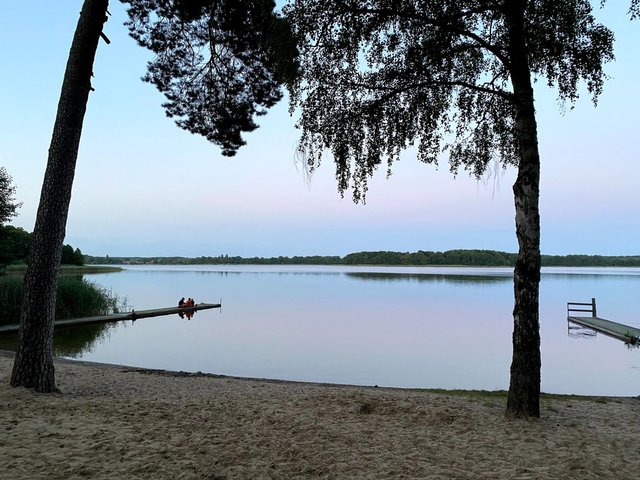 Useriner See
And there are days like this while bike touring when you wake up with a stunning lake view and go to bed with another. Cheers!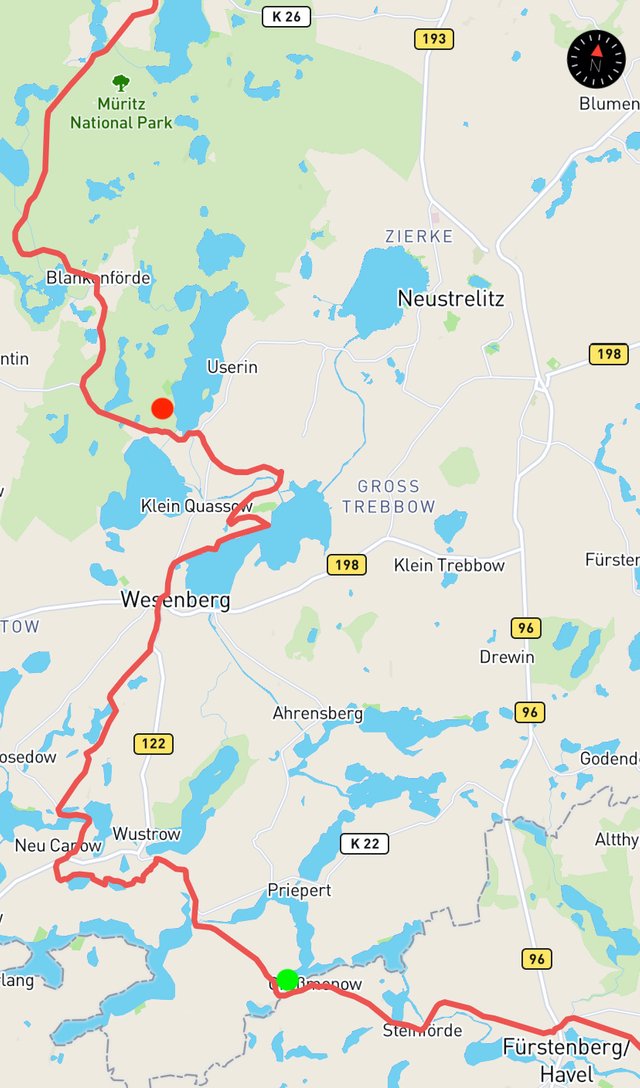 Day 4 map
I'm sure you found some inspiration in today's post to help you with planning for your next cycling holiday, see you soon for our fifth day of bike touring on EuroVelo 7 along the beautiful Havel river exploring the Mecklenburg Lake Plateau in Germany.
Until next time,
©Discover EuroVelo
---
All photos were taken with my iPhone 11 and Sony DSC-HX60V camera.
EuroVelo, the European Cycle Route Network are registered marks of ECF asbl.
I have no affiliation with EuroVelo or other organisations mentioned here, I am just a traveller sharing his views and opinions.
---
View this post on TravelFeed for the best experience.