Singapore – The beauty of nature in a city
Read this post on TravelFeed.io for the best experience
---
This small city-state has a lot to offer: From street food in Chinatown to nightsafari or fun on Sentosa island. Singapore has a rich historical heritage as well. Once it belonged to the Indonesian empire, but also to the British empire, which has left it's mark on the city. It was Sir Thomas Stanford Raffles who turned the city into a trading office for the East India Company in 1819. The Raffles Hotel is still here and you can still have a Singapore Sling in the Long Bar where the drink was invented. In recent years the city is being transformed into a «Garden City». The development around Marina Bay is aiming at making the city one of the greenest cities in the world.
I have been visiting Singpore several times, but only for short stays as a stop over from Europe on the way to my final destination in Asia. Each time I have focused on different sides of the city, since it's impossible to see everything in a few days. One of the attractions that might have helped making Singapore an even more popular destination, might be the development of the Gardens by the Bay. This area is comprising of several distinct spaces. Together they make of a real gem for nature lovers. This area might still keep devloping, making up Singapores «Garden City» and fulfilling its goal.
We chose to spend an afternoon visiting the conservatories that feature a collection of plants from all over the world. In addition to these greenhouses, a number of artificial trees have been built connected by footbridges. It started to rain when we arrived, so it was nice to be able to start indoors. The entrance tickets included both Cloud Forest and Flower Dome.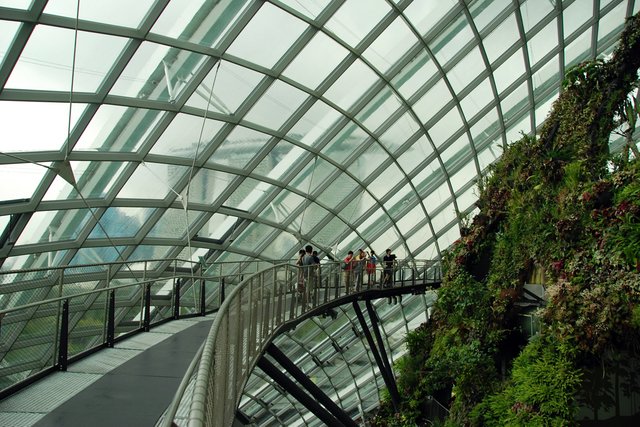 A large greenhouse with plants from the world's higher lying tropical mountain areas and with a 35 meter high waterfall, that is the tallest of indoor waterfalls (at least at the time I was there).
In here you can walk around the mountain in a mist typical of a tropical highlands. This planted mountain has blooming flowers – orchids, carnicorous picher-plants, begonias and a lot more to give a good idea of the kind of plants grows in these areas of the world.
Then it was time to explore the Flower Dome. We learned that it houses almost 30.000 plants and over 700 species. As we wandered around the 9 different gardens, we also went through five continents. The flowers and plants come from Asia, Europe, Africa, America and Australia.
Here you can walk among 1000 year old olive trees from the Mediterranean,baobab trees, cactus and so many plants and flowers I didn't know of. An impressive place. It's like our planet put together into one huge greenhouse.
As we left the Flower Dome , the rain had stopped. That suited us perfectly, as we were going to the Supertree Grove, which means we had to be outdoors. This area is filled with large artificial trees. To get «up» into the trees you have to buy an additional ticket.
I will definitly recommend doing that. Taking a stroll on the OCBC Skyway 22 m. above the ground to see Singapore from another perspective, is quite spectacular. But the trees themselves are quite interesting to get a closer look at too. At night there is a display of light and sounds, powered by solar energy. We did n't stay for that, but saw it from a distance on our second visit.
An even more spectacular view is from the Sky Park observation deck on top of the Marina Bay Sands hotel. Even though you don't stay at the hotel it's possible to go in there and take the lift to the top. This hotel has become one of Singapore's iconic landmarks. The building itself, the location and the fact that it has the world's largest infinitive pool has probably contributed to that. I read somewhere that the architect was inspired by a deck of cards.
Since this was our first time in the city we decided to take a beer in the bar on Sky Deck to enjoy the view before heading back to our much smaller, but cozy hotel in Chinatown. The view of the city is certainly an amazing sight.
Please do follow if you want to keep up with my next travel story. Any upvotes or resteems are hugely appreciated!
Latest travel stories, check out :
Scotland – Taking a step 5000 years back in time (Orkney, part two)
U.J
Kristiansand, Norway
All the photoes are mine, Ulla Jensen (flickr, Instagram and facebook)
[//]:# (!pinmapple 1.363156 lat 103.870480 long Singapore – The beauty of nature in a city d3scr)
Read about us? // Main page!
Latest content: Travel, Art, Food, Article, Poetry


---
View this post on TravelFeed for the best experience.