Park Hotel: Leipzig (GERMANY)
Read this post on TravelFeed.io for the best experience
---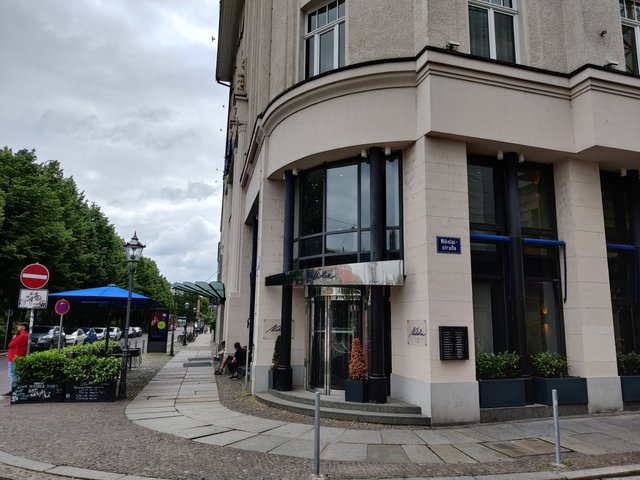 Every year in Leipzig, there is a pretty famous Bach festival due to the fact that the famous Baroque composer called Leipzig his home and place of employment for a good chunk of his life. One of the groups that I play with has played in this festival on a pretty regular basis... and so I find myself in this city quite often. Also, I used to have friends that lived here (no longer) and I would come to visit them... so, I feel like I know Leipzig quite well now!
Well, at least the central area... the areas further away from the train station are still a bit of a mystery to me!
The Park Hotel is the place that I normally stay, as that is the one that is booked by the orchestra. I've come to grow quite fond of this place... it isn't anything flashy at all... but it just across the road from the Leipzig Hauptbahnhof (main train station) which makes it perfect for travelling to and from the city with the awesome European fast train network! To get to the Netherlands is just a single stopover... and around 8 hours.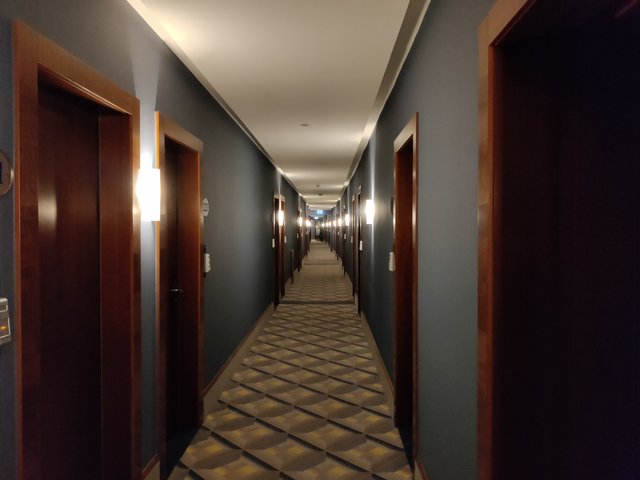 The decor of the hotel is a bit reminiscent of decades past... I wonder if it is a deliberate choice to evoke an older East German style? Unfortunately, the hotel has endless corridors with not much lighting... not that big a problem, as you won't be spending lots of time in the corridors... but it does lead to a bit of a bad first impression!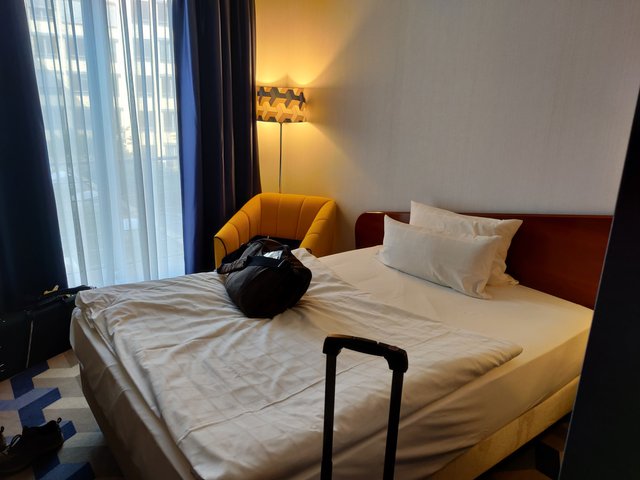 The rooms themselves are relatively small and dominated by a double bed... however, most hotel rooms that I've been in... well, you don't really need much room anyway... so, it is more important that you have a comfy bed and some decent Wifi. Speaking of Wifi... it is a pretty good connection and speed from most of the rooms that I've been in here... but as always, I rarely connect to the hotel wireless!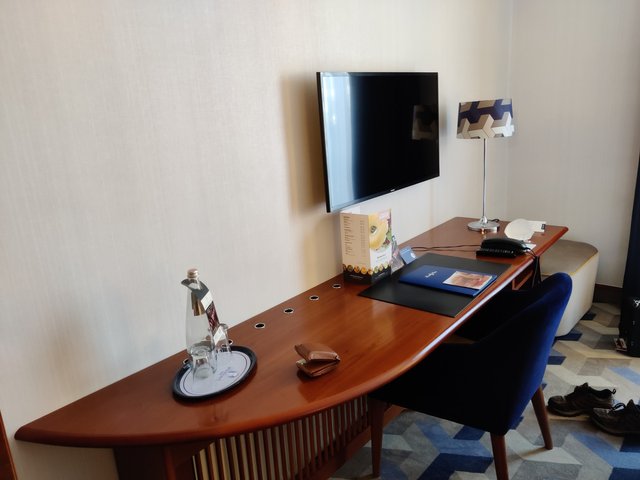 I really like the darker wood accents of the room, and the curved TV is interesting... but I didn't use it much. Often, I do wonder if I should just bring an HDMI cable with me on tour so that I can use the TV screen as a huge monitor for playing games or streaming Netflix!
One downside that I did notice with particular room setup was the fact that a video call with he computer on the desk leads to the bed being the background behind you. Not a problem when calling your family... but when you are giving a student a lesson, it might be a touch inappropriate!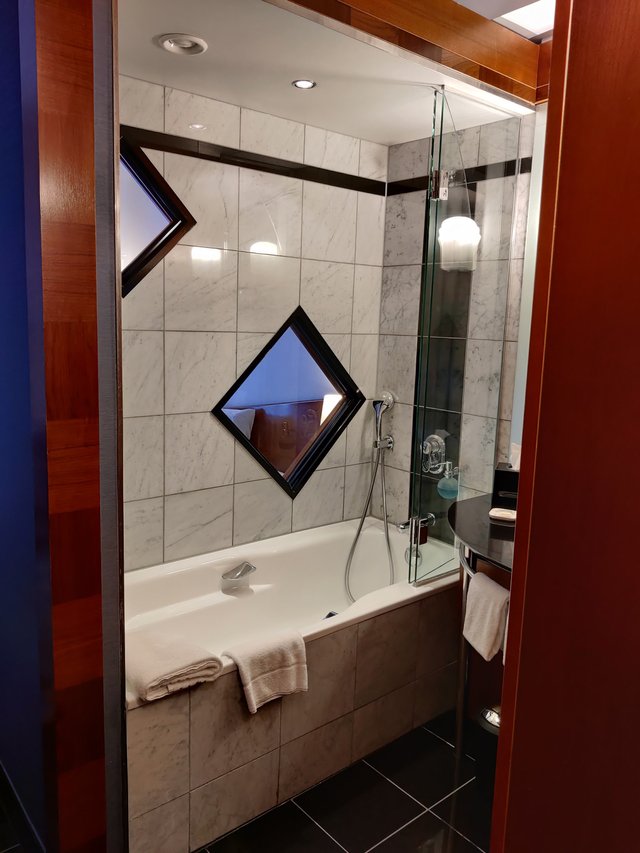 Not all rooms come with a bathtub, but my one did this time... however, the downside of this is the fact that the glass panelling doesn't fully cover the spray from the shower.. it is my special ability to manage to flood quite a few hotel bathrooms floors while having a shower. Does anyone else ever do this? Or am I doing something wrong...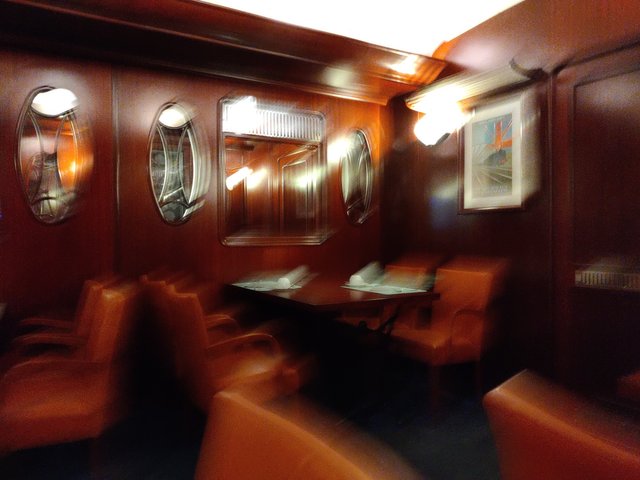 Apologies for the horrific photo here... but I hope you manage to get the gist of it. The attached restaurant is called the SteakTrain which is also where the breakfasts are served. It is below ground, so there is not great lighting... but everything is done up in a pretty weird wooden and old-fashioned train style decor! They even have screens that display train information! It is sort of cute... even if it is a little bit strange!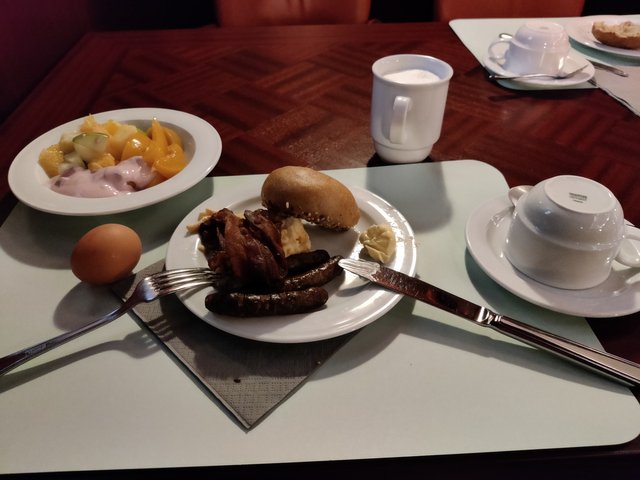 Breakfast is a mix of warm and cold food... there isn't anything special on offer, no real national dishes or anything like that for the buffet. However, there is something for every type of diet... I always like to start with a warm dish followed by some healthy fruit salad with yoghurt. My wife does always complain that I only seem to eat fruit when I'm on tour... but it is hard to turn down when it is all cut up in small pieces for you!
So, that is my little tour of the Park Hotel in Leipzig... unfortunately, I have no idea how much it costs, as it is always just booked for me. I do enjoy staying here though, close to the city centre and literally across the road from the main train station.. it is also a very short walk from the two main Bach churches and the famous Leipzig zoo! Definitely a place that is worth considering as accommodation when you are in this historic city!
---
View this post on TravelFeed for the best experience.