My Travelfeed of "U Maung Rhee Buddhist Temple".
Read this post on TravelFeed.io for the best experience
---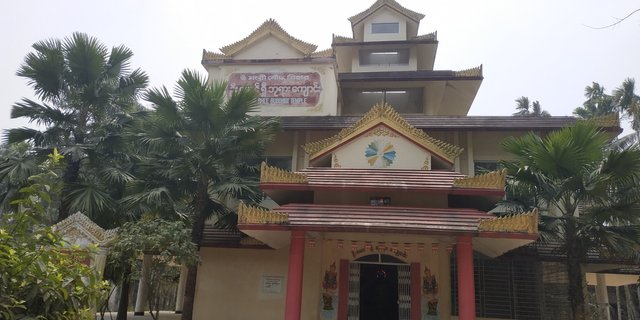 ---
Hello
I hope you're having a great day.
Welcome back to my travel feed blog.
I'm back with another blog post where I'll show a fantastic part of our beautiful country Bangladesh.
It's the past 6 months that we're in the corona situation and from the very beginning of it, we are unable to travel to beautiful places in our country.
But we can show our memory which we didn't show yet, right?
This one is about U Maung Rhee Buddhist Temple of Cox's Bazar, Bangladesh.
This is the main building/temple of this place which is named U Maung Rhee Buddhist Temple.
It was my honeymoon trip and of course, there was my wife with me on this trip.
This was the second day of our honeymoon trip.
After having our buffet breakfast, we left the hotel to check out cool places around.
I went to Cox's Bazar for 3/4 times but I never visited these places that I did this time.
We went to Ramu Area to see some temples.
I already talked about 100 Feet Lying Statue of Gutama Buddha before.
This time I'm here again with a new temple.
U Maung Rhee Buddhist Temple is situated in Ramu Para of Cox's Bazar, Bangladesh.
We didn't need to pay anything to enter in this place.
We simply entered and the first thing that I noticed that is a big and fat tree.
There were many things all around this tree.
Pursuant maybe places their wishes here although I'm not sure about it and I didn't ask anyone about it.
From here you can learn a brief info about this temple.
Let me translate.

At first, there's the name of the temple in three languages and you should understand the one in English.

Placed: 1883

Re-placed: 2013

Architect: Mong Khenhen Rakhine

Location: Bouddho Mondir Road, Ramu, Cox's Bazar, Bangladesh.
There were these nice buildings.
There were actually many buildings and I think every building is there for devotees.
The more walked the more we could see.
This building is called Ramu Moitri Bihar.
I don't know what that means but that definitely means something.
And that building was under construction or under re-construction.
We walked more and we saw more.
I don't know what these elephants are for.

There were two elephants like this and some dwarf buildings around.
Then there was this place where there's something written in Bengali which is "Placed: 1358, Shree Oporna Choron Borua Mohajon" and maybe this is the name of this small place.
An interesting thing was inside this building.
This is a panorama shot that I took with my mobile phone and this photo shows a good part of the inside of this building.
I had to take a panorama shot because the range was too big to capture in one normal frame.
There you can see something big is taking rest and devotees all around him were doing something, maybe protecting him or something like that.
I liked these statues.
There was water and maybe some foods also before these statues.
It was almost all about this place.
When we were coming back to leave this place... I've seen something.

Some flowers in some colors that I've not seen before.
This flower in yellow, I don't think I've seen this before.
My wife also didn't see this flower in yellow.
Then we left this place and went to another temple and I'll talk about that in another post on another day.
"The End"

That's all for now. I'll come with an interesting post again.
Hit the upvote button if you like this post and leave a comment if you wanna say anything about this post or any other posts.
Please support me to keep having more of my works and you can follow me so that you can see my future posts and you're always welcome to my blog.

"Be Good, Think Good and Do Good"
"Stay Home, Stay Safe & Let's Beat Corona".
---
View this post on TravelFeed for the best experience.