TFC Chess Tournament : Play, Fun & Win Prizes !!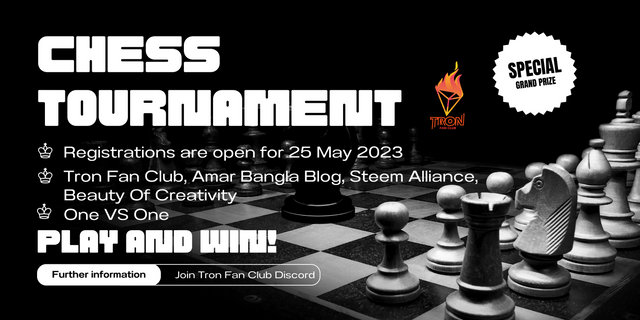 ---
---
Greetings everyone. Let's hope everyone is having a good time in the community. And things are about to get better.
---
Today, we are announcing our very first tournament in this community. And it will be a chess competition. The only reason for this tournament is to cheer up the environment of the community and have a good time in the process. Hopefully, every active user of the community will participate in this tourney and help make it a success.
---
The tournament is free for all authors of the four communities mentioned below in the requirements and not exclusive for only Tron Fan Club. Any interested individuals can register to start from today in order to play in the tourney. The matches will be hosted in the discord server of TRON FAN CLUB.
And the best part is no third-party chess app will be required to play in this tournament. As some of you might know that there have been some updates made in the discord activities section. You can play various types of games and do other activities too in that section. The prizes of the contest and how to join/host a match tutorial will be provided later on.
---
---
---
The minimum Steemit account reputation of each user/player should be 55 or higher.

You must be an active author of any four communities below... #Tron-fan-club | #Amarbanglablog | #Steem-alliance | #Beauty-of-creativity

You have to mention your Steemit account name in the comments and re-steem this post in order to participate in the contest.

Registrations are open till 31 May 2023.

All the matches will be hosted in the Tron Fan Club discord server. So, join the discord server if you are not joined already.

The in-game rules and the contest prize will be published shortly. So keep an eye on the Announcement channel of the discord server.

The participants list with all match schedules will be provided along with the rules and prize post.
---
---
The registrations for the contest starts as of now. Hopefully, most of you will join the tournament and make this tournament enjoyable for all.
--P.N: Special guest of this tournament is the founder of this Community.--
---

---
We're die-hard fan of Tron Blockchain
---