"Tron Fan Club" Tron Based Review Constest - My Contribution | Review of Sunswap dApp by @srrebullient
---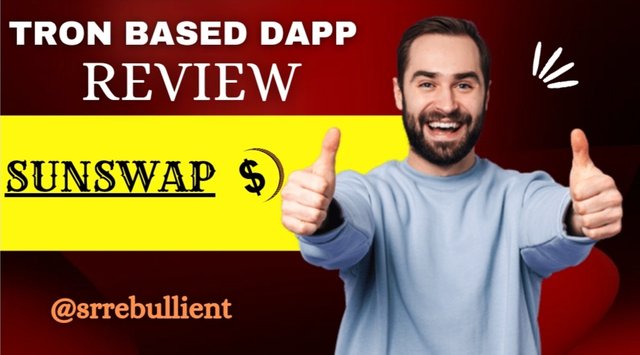 MADE WITH CANVA
---
Good day everyone,
I am actually new to this community and I am glad to be taking part in what I be the begining of my contest run in the community.
The contest which is title Tron Based DAppp Review is one I found interesting and for that very reason, I will be reviewing a Tron based DApp known as Sunswap.
---
SUNSWAP
---
Sunswap is one of the numerous Tron based DApps and it is basically used in trading TRC20 tokens.
It is a permissionless trading protocol which was launched in the year 2020 and it is aimed at providing automated liquidity.
---
HOW TO SWAP USING SUNSWAP
---
In other to swap using sunswap, we have go first log into TronLink Pro wallet, click on discover then click on sunswap.
---
On Sunswap, make sure you are on swap then input the coin or token you want to swap on the top side with the and coin or token you want to swap to at the bottom side and click on swap.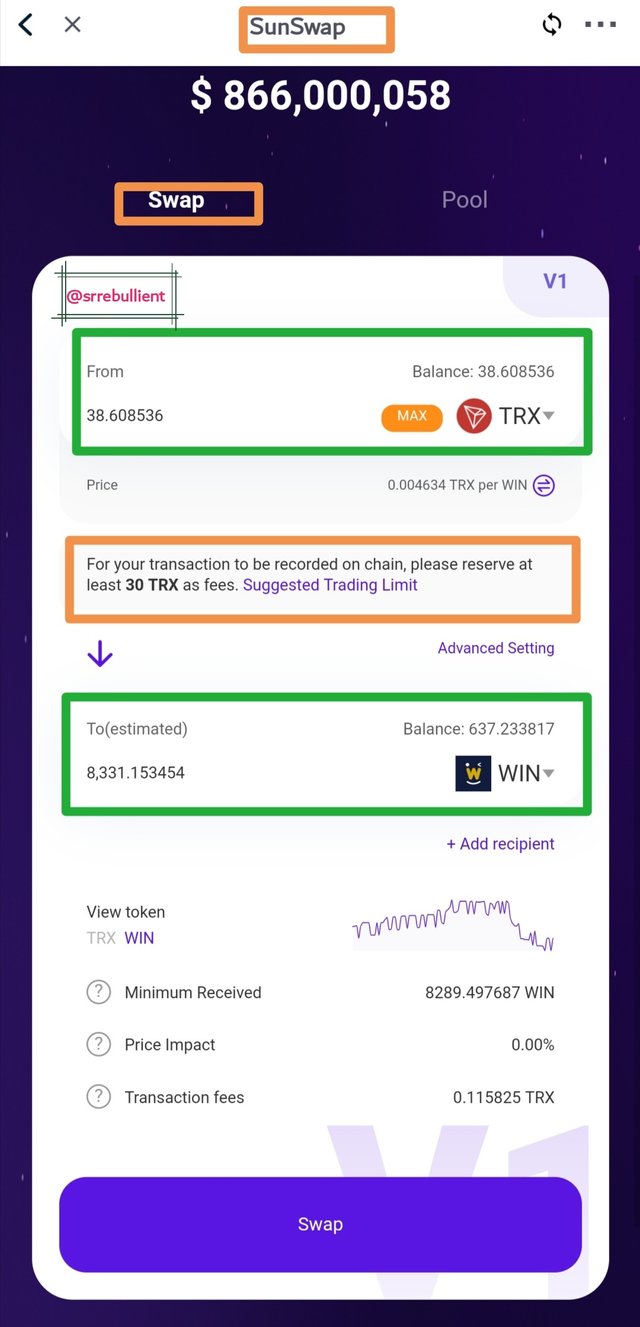 source
---
You will be directed to a new interphase where you will have to confirm swap details then click on confirm swap.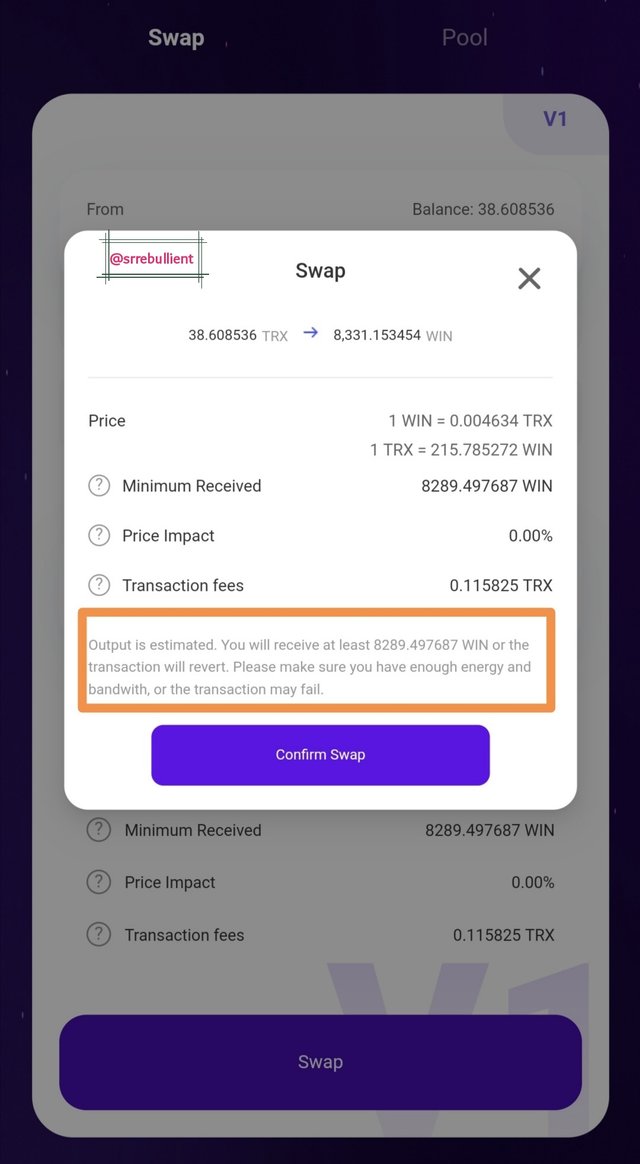 source
---
After confirming swap details, we will proceed with the last swap action which is last confirmation.
Here, I was warned about the possibility of lossing my trx asset if there are no enough energy to carry out the swap action using smart contract.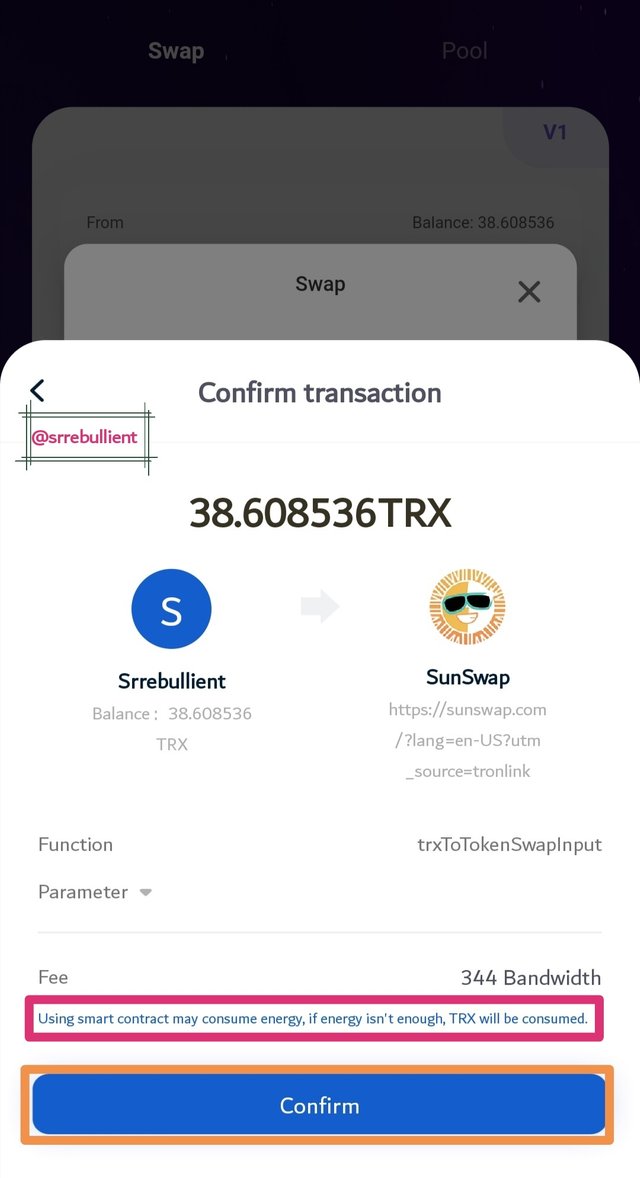 source
---
BENEFITS OF SUNSWAP
---
There are numerous benefits of Sunswap and I will be listing some of them below.
Users are allowed to provide liquidity on various TRC20 pair and earn incentives in form of trading fees.

Transactions performed on Sunswap do not involve any form of intermediary thus making transaction private.

There are minimal charges on transactions performed due to lack of third-party involvement.

The lack of involvement of a third-party almost hastens transaction on Sunswap as there are no various form of verification required.

Sunswap do not only allow users to quickly swap their tokens but also provide liquidity and earn passive income.
---
CONCLUSION
This contest in one that had lead me into making research on different DApps on Tron ecosystem. The Sunswap is one I picked out from many interesting ones and it happened to be the largest exchange built on Tron blockchain.
The benefits on Sunswap cannot be overemphasized and with its ever growing effeciency, I believe it will someday be rated as the largest exchange protocol not just on Tron but in the entire cryptocurrency world.
(10% to Tron-Fan-Club)
---
Thanks for reading.