NFT-ART : HAPPY NEW YEAR 2023 NFT Championship || Card art.
🔻Today Is Saturday.
31/12/2022
Hello, Everyone!
Assalamualaikum.I am @KaziAmanat01 here.How is going on all of my friends?I hope you guys are doing well.I am fine as well. First of all, HAPPY NEW YEAR everyone. This is my last post on 2022. New day,new content is my theory. Always I try to come up with different ideas.Today there is no exception as well.Today I have come up with a very interesting content which is a Digital Artwork.As we know,The tron fan club always suggests creating something new So,I have drawing a very unique digital thing. You guys will find something different in my content.Stay with me I am going to describe how I have made this amazing Digital art with some informative information.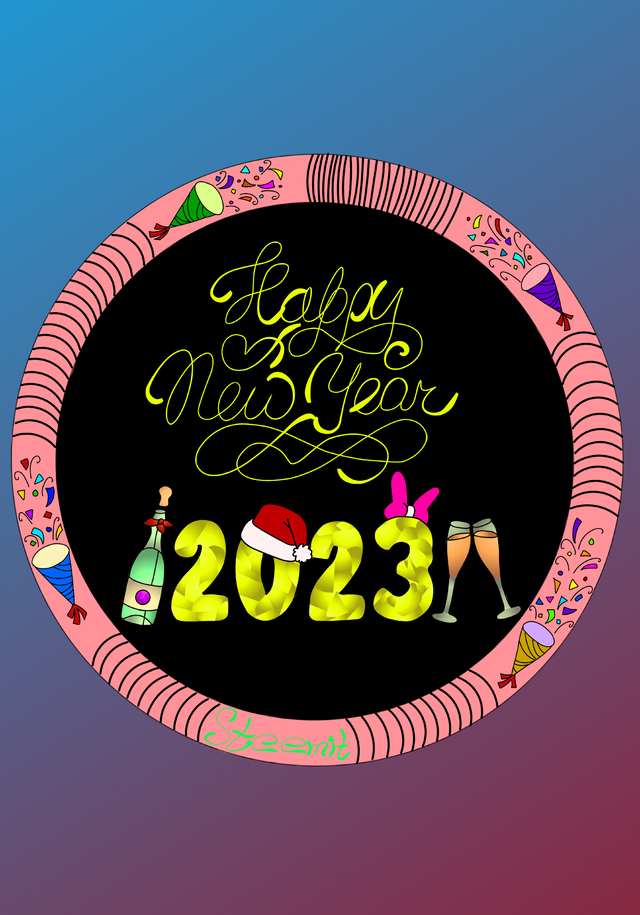 Art is one of my favourite work. There are some sketches that I am very happy to see. Today's art is about "Happy New Year".I have done this work slowly over a long period of time. I think everyone has so many memories in this year.It is very sad to goodbye this year. Above all, art has fascinated me. The sketch was not as easy to draw as it seemed. I had to put a lot of effort and time behind the sketch. This sketch took about two hours to make the shape. After that I had to transform it into digital art. I named it" Happy New Year 2023 ".

*.)Mobile phone.
*.)Infinite Design Android app



【S】【T】【E】【P】【:--】
【0】【1】
At first I selected the lazy tool of my infinite app.Then I draw 20 and give a santa Christmas hat on it.
| | |
| --- | --- |

【S】【T】【E】【P】【:--】
【0】【2】
Then I draw the full 2023. Then I add a bottle & two glasses besides it to create enjoying moment.

【S】【T】【E】【P】【:--】
【0】【3】
Then I write the "Happy New Year " on the top of the 2023.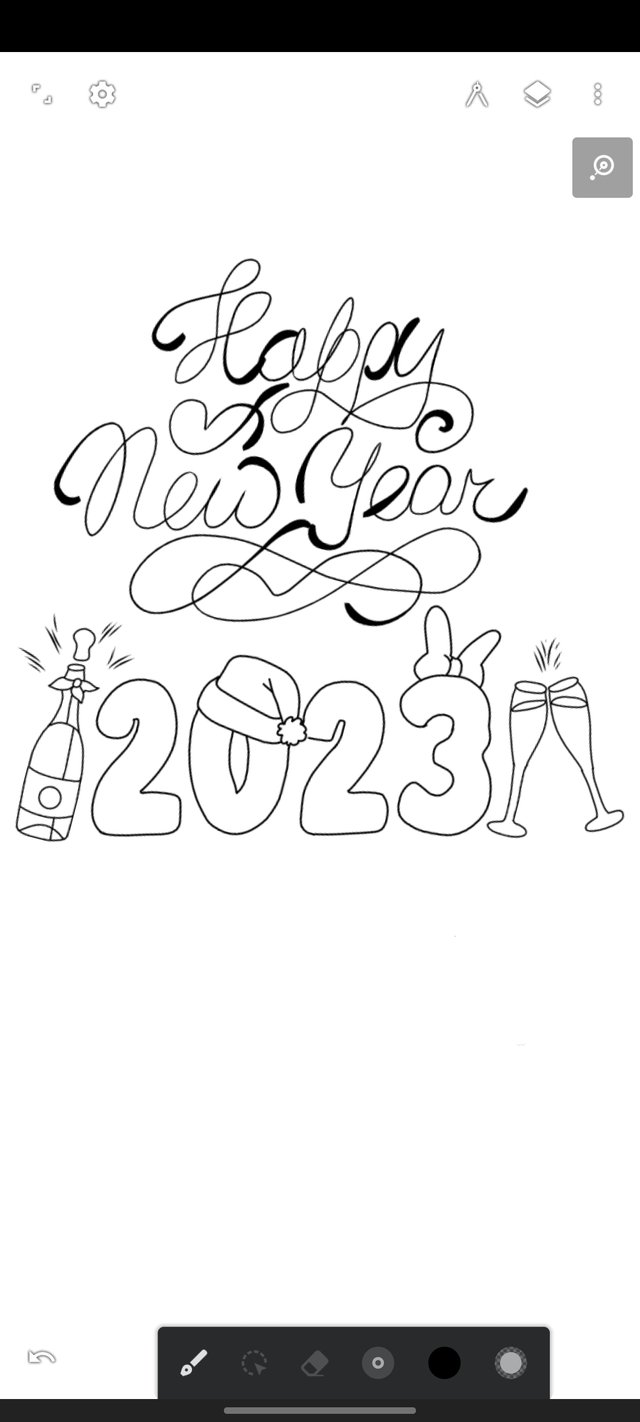 【S】【T】【E】【P】【:--】
【0】【4】
Then I add circle body frame around it.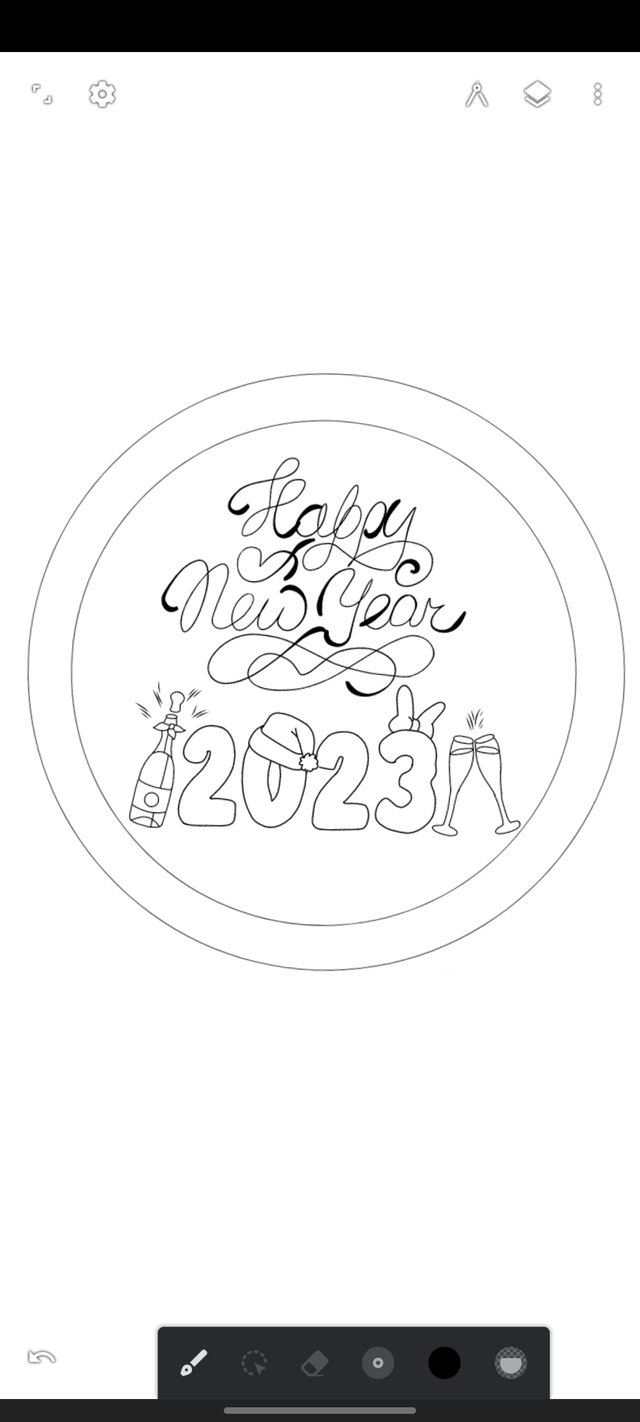 【S】【T】【E】【P】【:--】
【0】【5】
In this step I add some design on the circle frame.

【S】【T】【E】【P】【:--】
【0】【6】
In this step I started to colouring. At first I coloured the 2023 & the circle body.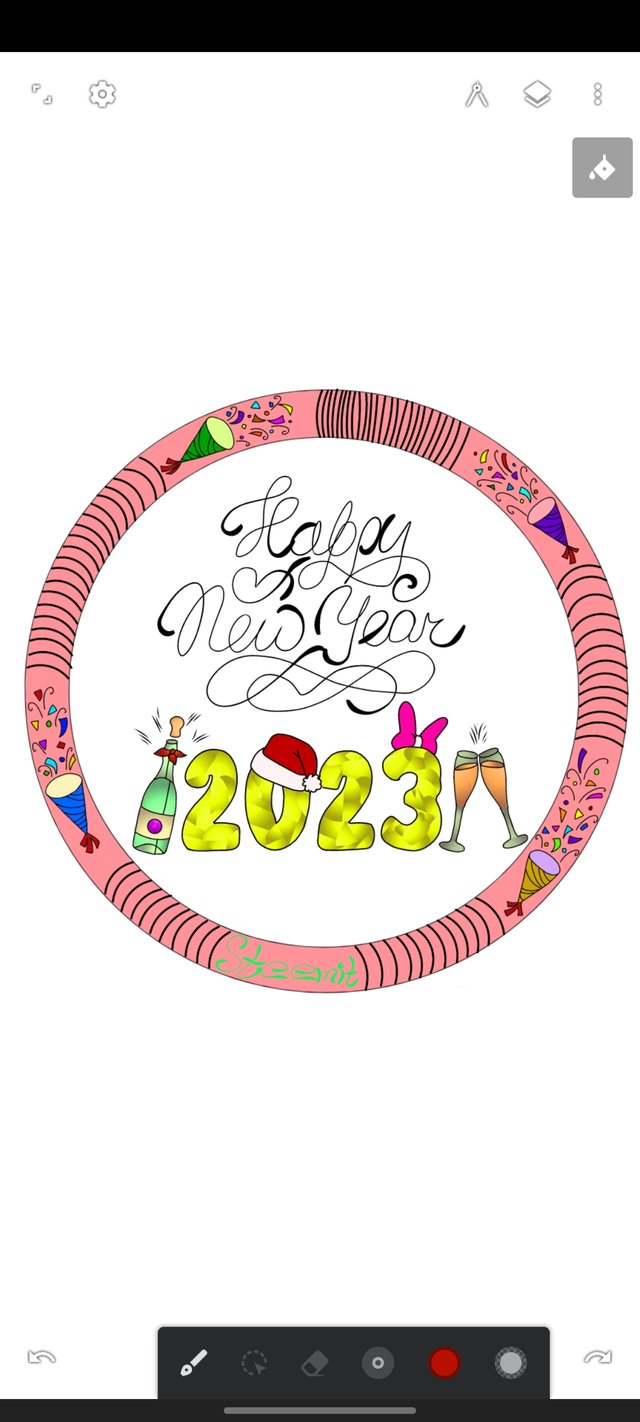 【S】【T】【E】【P】【:--】
【0】【7】
Then I coloured the Happu New Year.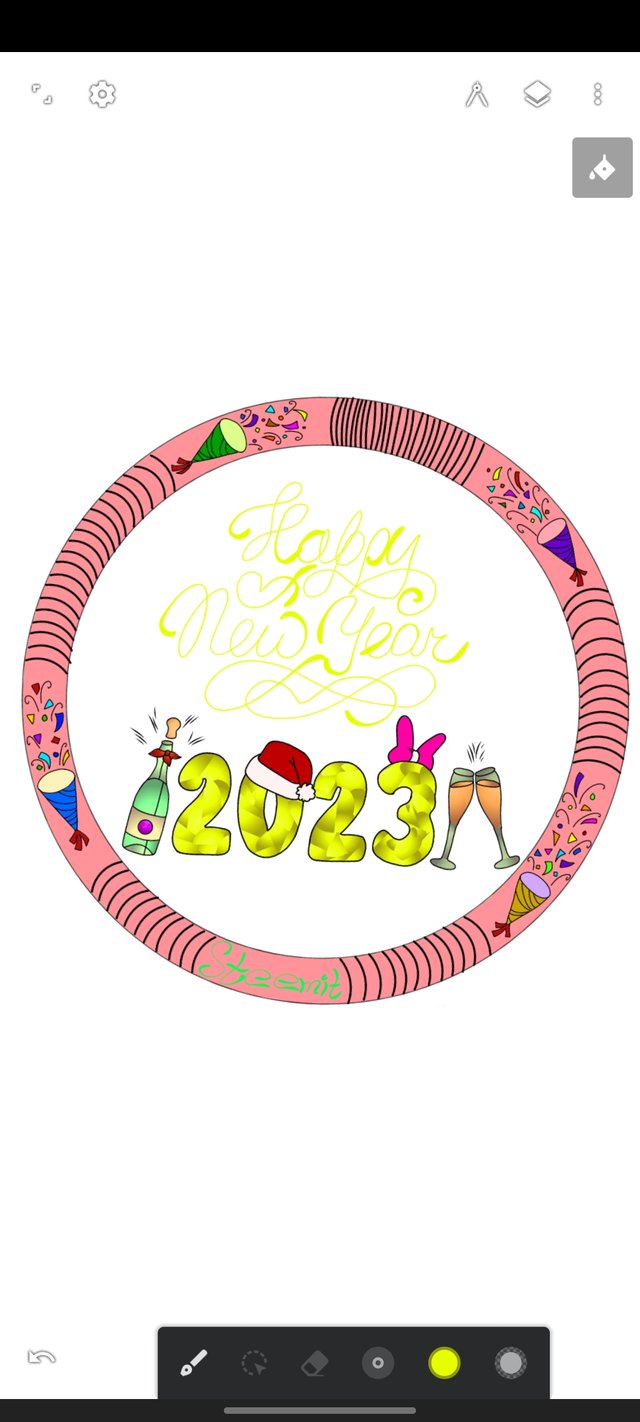 【S】【T】【E】【P】【:--】
【0】【8】
In this step I add a black background in the circle frame.Then a add a mixed colour background behind the hole artwork.

Final Outlook (With signature)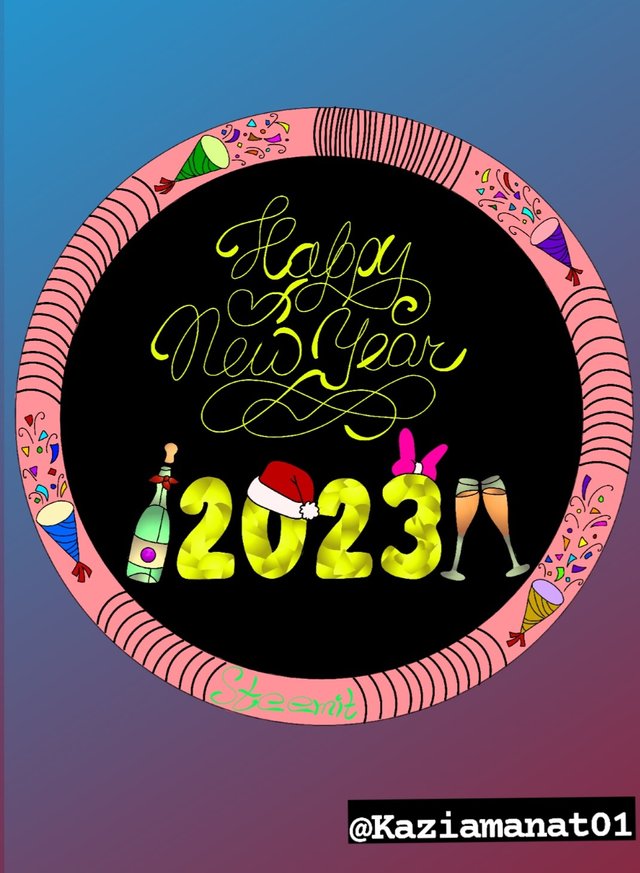 We think about certain things all the time. I think it is possible to express our thoughts through art. Thoughtful people are always capable of doing something creative. I will share today On the occasion of New Year, we are busy with different ideas at different times.New Year's Day is one of the best days in everyone's life. Everyone moves forward into the new year by cherishing the memories of the old year. Everyone's old year is spent with both happiness and sadness. But referring to this new day of new year, I have created today's NFT. I express my wish to wish everyone through this NFT. I did my digital art today a little differently. I used different colors in it. By doing this Arti has emerged beautifully. Hope everyone likes my art. Happy New Year everyone.

Note:-
I published this art in the OpenSea Marketplace. Below is his link. You can purchase this art from me if you want.
Opensea Link
https://opensea.io/assets/matic/0x2953399124f0cbb46d2cbacd8a89cf0599974963/53005308445354273763985187487860001875678923060879299109117306467030933700609/




A
B
Categories
NFT-Art
Artist
@kaziamanat01
Devies
Samsung A51
Art Time
2h+
Software
Infinite Design Android app
No more today stay safe with your nearest and dearest, also take care of yourself.Have a good day.
Best Regards
@Kaziamanat01

A Few Words About Myself:-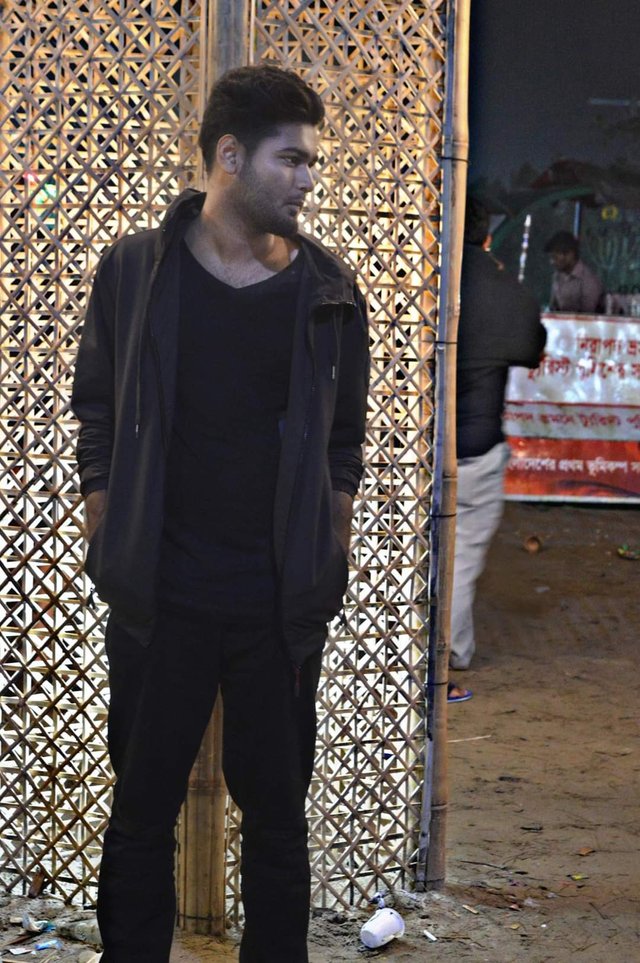 I am kaziAmanat.I am 25 years old.I am from Faridpur city which is situated on Dhaka,Bangladesh.I am Bangladeshi.I am Muslim.After graduating from high school & collage,I have decided to study at one of the university in my city.Now I am studying in honours 4th year(Finance and banking)Govt.Rajendra College at Faridpur,Dhaka,Bangladesh.I am also a NFT creator. I creat a variation of nft on my way.