Nutbox Parachain Slot Auction平行链插槽拍卖平台:Polkadot.nutbox.io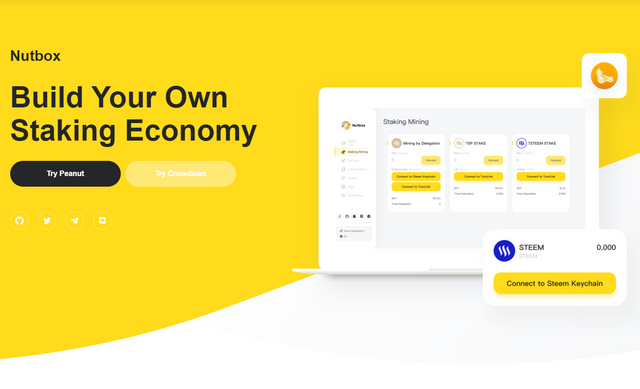 From last week translation article, a deeper cooperation between Nutbox and multiple communities in participating Polkadot Parachain Auction was mentioned in 'Polkadot blockchain to China - Xi'an station' conference.
Original articles are listed below:
English: (06/07) Polkadot blockchain to China - Xi'an (ENG Ver.)
中文: June 7: Polkadot Blockchain to China-Xi'an Station (Translation)
The first partner, the Bluemountain Labs (BML) community, has joined on the auction platform.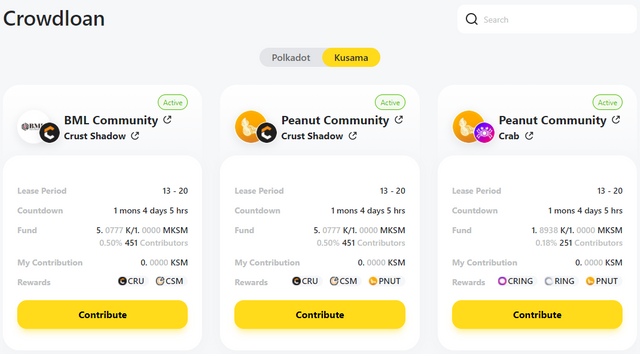 The Nutbox's auction platform module lists all the communities that use the platform; and Supports of each community can easily navigate through the graphic user interface in browsing through their supported communities.
For any one, who requires a little refresher on about the basic knowledge of Polkadot's Crowloans and user guide, please see the link provides below:
Supporters, who vote on their beloved communities/projects by locking their $KSM will bound their crypto to the Kusama blockchain.
The locked crypto currency will be returned to the original amount If the auction fails; Otherwise all funding will be returned to the supporter's own wallet after the end of the lease period obtained by the auction after the successful slot auction.
In return, all supporters will receive community native tokens and Kusama chain rewards during the locking period.
---
上一周,在翻译的6月7日:波卡区块链到中国 – 西安站(翻译)的文章中,提到了多个项目和Nutbox合作,将使用Nutbox的平行链拍卖平台。
第一个合作伙伴Bluemountain Labs (BML) 社区已经在拍卖平台安家落户。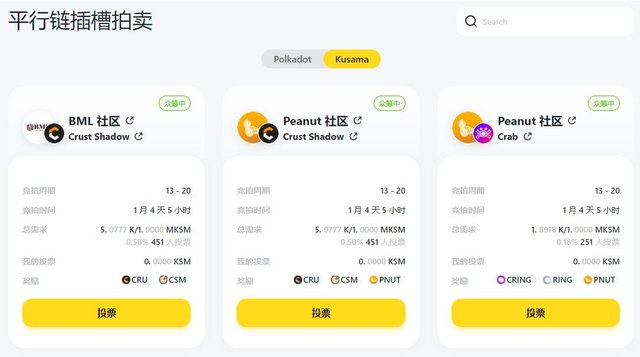 Nutbox的拍卖平台模板清晰地罗列出所有使用平台的社区,用户在列表中寻找自己支持的社区,将自己的$KSM投票其名下。
如果想要了解插槽拍卖的基础知识和操作方式,请看
用户投票使用的$KSM将被Kusama锁仓。
如果竞拍失败,锁定的虚拟货币将原数返还;如果成功,锁仓的虚拟货币将在竞拍得到的租赁期结束之后回到支持者自己的钱包。
作为回报,所有的支持者将会在锁仓期间获得社区原生币和Kusama链的奖励。
---
Source
English(英文): (06/07) Polkadot blockchain to China - Xi'an (ENG Ver.) by @timbae
Chinese(中文): June 7: Polkadot Blockchain to China-Xi'an Station (Translation)
English/Chinese(英文/中文): Beta Test Nutbox/Polkadot Platform: Crowdloan | 测试平台平行链拍卖
Spanish(西语): Nutbox apoya a la comunidad de Bluemountain Labs (BML) que participan en la subasta de Crowdloan Kusama Parachain by @ale.aristeguieta
---
Official Community
Steem:https://blog.nutbox.io/@nutbox
Discord:https://discord.gg/zPkMuGY
Twitter:https://twitter.com/NutboxDao
Medium:https://medium.com/@nutbox
Github:https://github.com/nutbox-dao
Telegram:https://t.me/nutbox_defi