SoCal Steemit Meetup - Surfside, California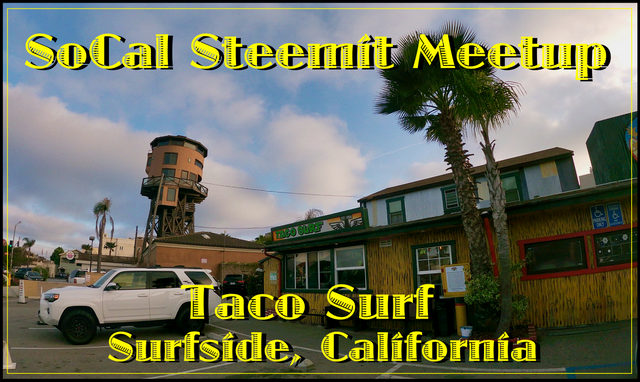 Last friday @socalsteemit had another Meetup!!
For this meetup @steemseph and @steelparade invited us out to Surfside for some delicious Mexican food and happy island music at...
Taco Surf!!

I was talking with Joe (aka @steemseph aka tetrahedroseph aka Jesus on the bass), who is one of the most dedicated and long standing members of SoCal Steemit, and we decided it had been too long since our last meetup! Joe is the bass player for the steel drum band @steelparade and every first friday of the month they put on a show at the Taco Surf Mexican cantina in Surfside, CA. We had a meetup there back in 2018 and it was so much fun. So as soon as Joe made the offer to host another meetup there, we picked the date and started promoting it! We made posts on Steem inviting people, we spread the word with our tweets on Twitter, I created an event in our Facebook group, and an event on meetup.com!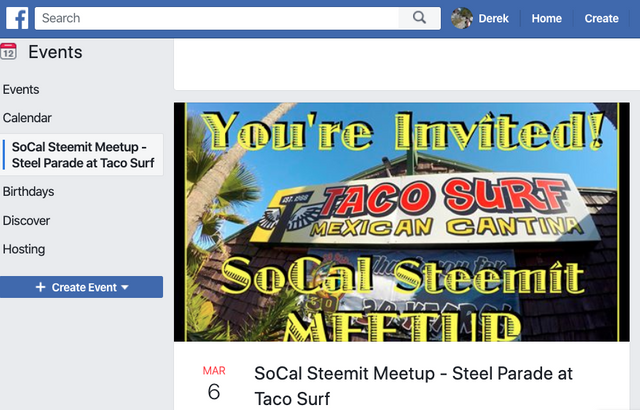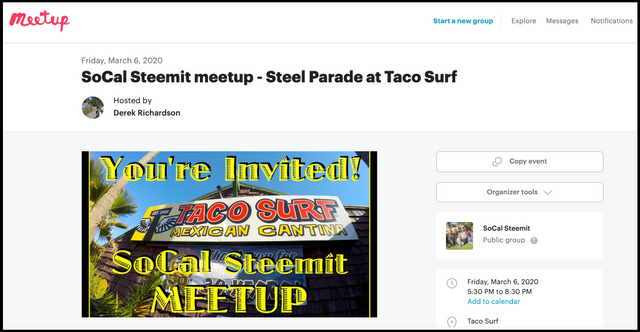 As the day got closer I got more and more excited. And with all the recent changes/updates/drama going on with Steem I was extra excited to get to chat with other Steemians IRL!
Finally the day came. I made a small sign to mark our tables, grabbed a stack of SoCal Steemit stickers, and headed out on the freeway towards the beach. Traffic wasn't bad, but it still took me about an hour and a half to get to Surfside. I was there early, so I snagged a front row table for the group! I setup my sign and set out some free stickers for everyone to grab. Then I ordered some Veggie Enchiladas. And Mmmmmmmmm.... they were so good!!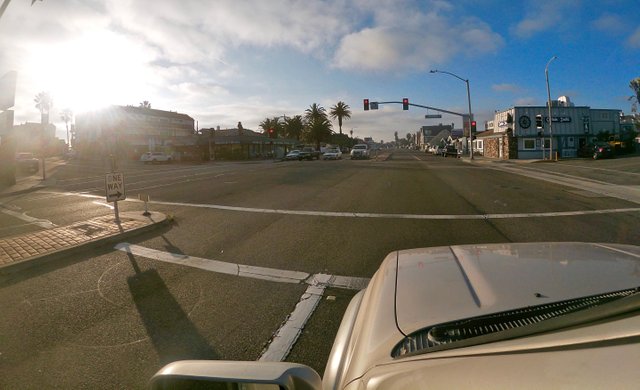 On the Pacific Coast Highway in Surfside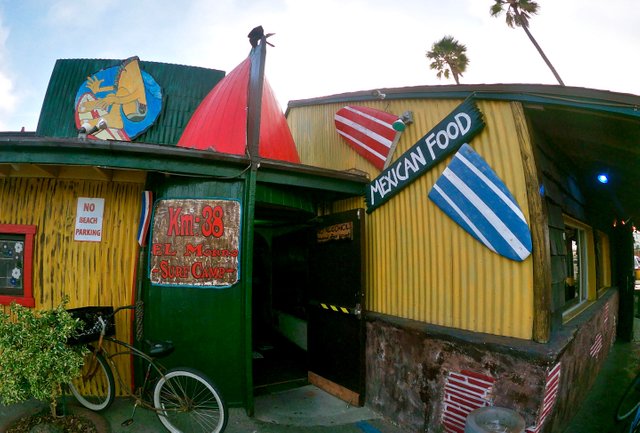 Arriving at Taco Surf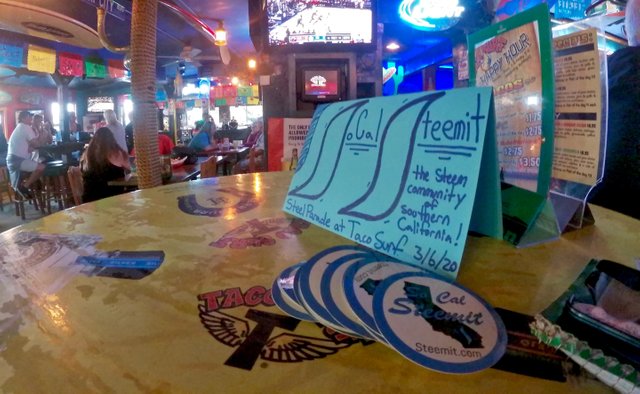 The table setup
The band showed up shortly after and started setting up their instruments. I started chatting with a Taco Surf "regular" named Don who told me stories about doing LSD with The Who in Hollywood back in the 70's. I told him he should blog about it on Steem and told him all about how he could earn Steem by writing posts about all his wild stories. He has all my info so hopefully we'll be seeing Don here on Steem soon!!
@brian.rrr arrived as the band was finishing setting up, and @stever82 and his wife showed up just as the band started playing. They ordered more delicious looking food, and we had some drinks while enjoying the upbeat grooves of @steelparade and lots of great conversations!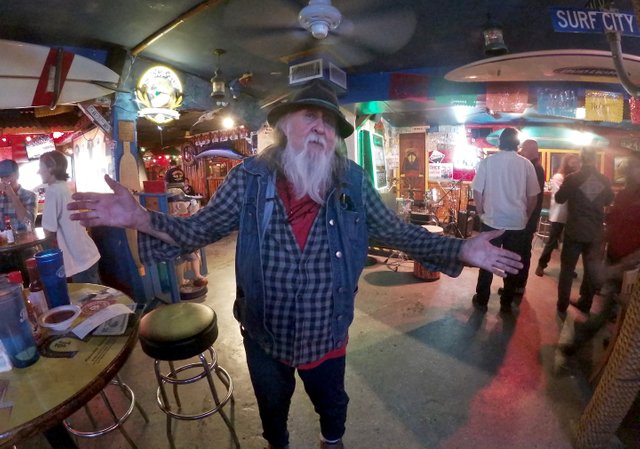 Don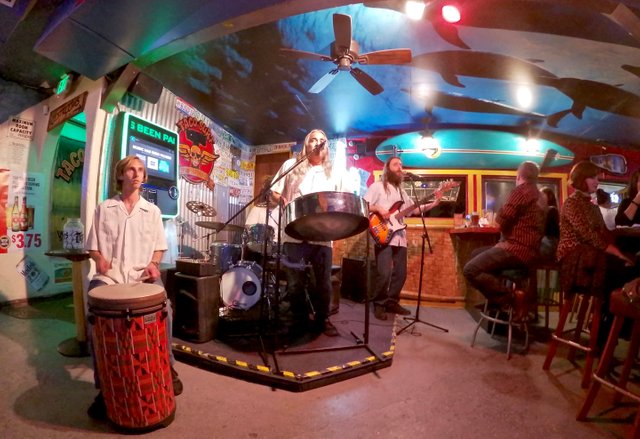 Steel Parade on stage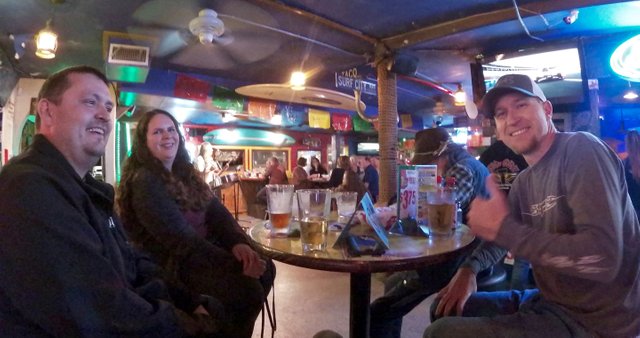 @stever82 and his wife, and @brian.rrr
After playing a ton of awesome tunes the band finally took a break and were able to hangout and chat with us for a little bit. And while they were on their break they offered us the opportunity to check out all the instruments... so of course I had to play around a bit on the Steeldrum!!
After the break the band hit the stage again with more island vibes. As it got later people started to leave, but I stayed to the very end and had a great time hanging out with all the guys in the band after the show. Joe(bass/vocals), Phil(steeldrum/ lead vocals), Max(drums), and Trevor(hand percussion) are all not only really awesome musicians, but also super chill dudes that are lots of fun to hang with!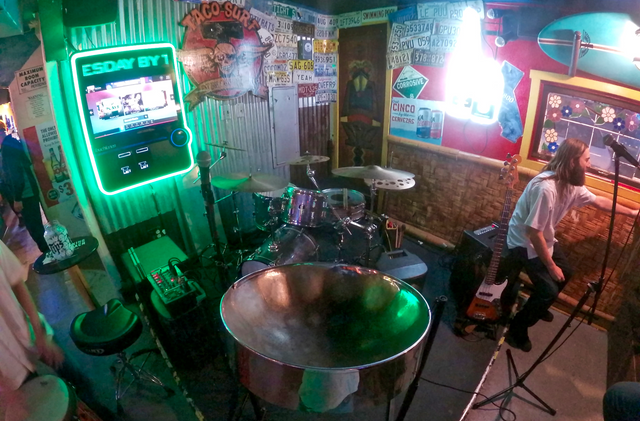 The Steel Parade setup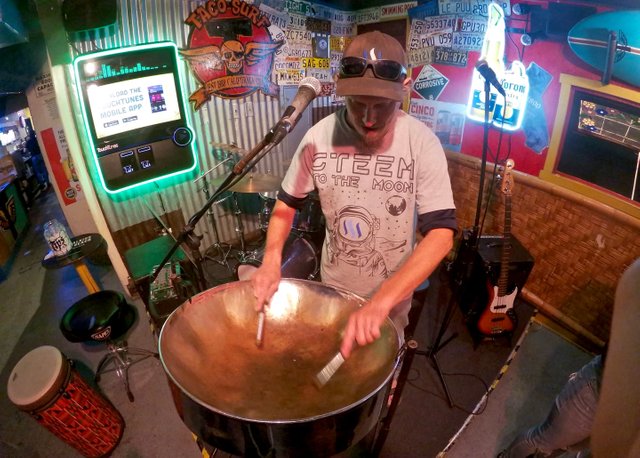 Me playing the steeldrum during the break
Video Recap
All in all it was an AWESOME meetup!! Huge thanks to @steemseph, @steelparade, and everyone else who came out!!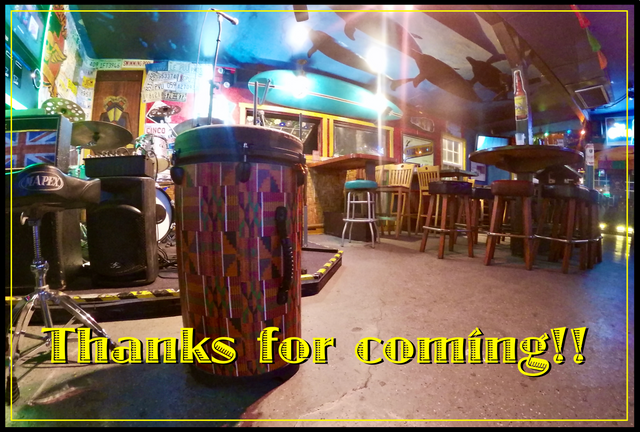 Would you like to help us support the SoCal Steemit community?
Consider giving a delegation
5SP
10SP
20SP
50SP
100SP
200SP
500SP
1000SP

all photos by @derekrichardson
[//]:# (!steemitworldmap 33.724653 lat -118.078766 long Taco Surf d3scr)
Steemit World Map

https://www.californiamountainadventure.com
Contact me on Discord


#SoCalSteemit is building and supporting the Steemit community of Southern California. If you are from SoCal and are into creating quality content here on Steemit, we'd love for you to follow us @SoCalSteemit and join our group on Discord




Animation By @zord189