Steemit Enagagement Challenge: Season 6 Week 1 - What outdoor games did you play as a child that aren't famous worldwide?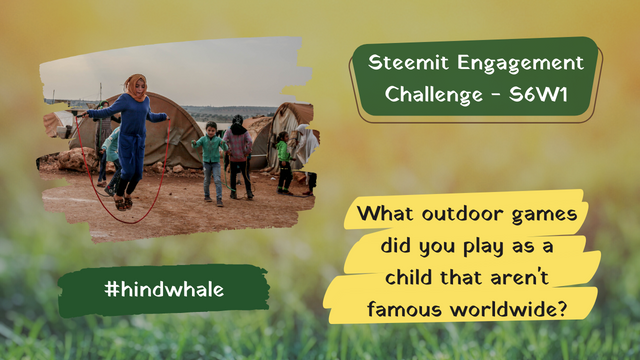 Source: Canva
Namaste Steem Family,
When I was growing up, my siblings and I spent most of our free time playing outside with the other children in our neighborhood. Most games we played outside were well-known across the country, but I am not sure how popular they were internationally. Despite the fact that some games such as hide & seek and tag are still popular around the world, I do not believe that kids today play these games as often as they did in the past.
Aside from this, we ensured that we took advantage of the recess time at school to its fullest extent. Some of the games we played at school during recess time were similar to those we played at home, but the school had more resources, so we mainly played cricket, basketball, and volleyball in addition to games that did not require any sports equipment. We maintained a high level of activity despite the fact that we did not have any of the modern technology that we have today.
As far as I am aware, this is the same for all of the people from different countries who are participating in this engagement challenge. In our country, we play many games, that no one outside of our country would know about, since these games originated in our country and did not see the light of the modern internet era and were lost in the darkness as a result of the availability of electronic and computer games.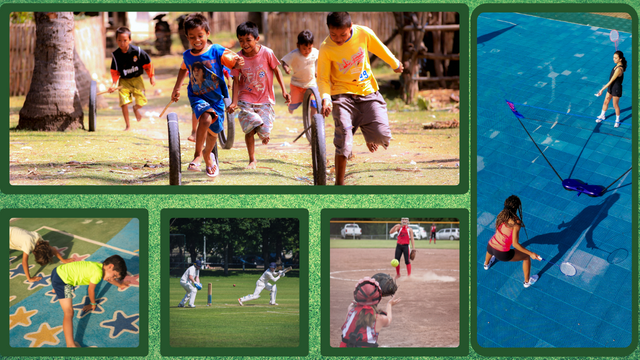 Source: Canva
This engagement challenge requires you to describe the games you played as a child, elaborating on their rules and techniques. It is likely that some of these games are unique to your geographical region and are not known around the world. In spite of their lack of popularity around the world, they may be fun to play, so you are describing them in detail in your own style, listing them one by one.
In order to improve your research, we have added a few links here that will give you a better idea of the types of games that were played and are played around the globe.
There is no limit to the number of games you may share in your post, therefore we do not intend to limit the number of games you may share.
---
Contest Guidelines
---
Write a 300-word article on the topic and share it with the #hindwhale community.
Plagiarism of any kind will not be tolerated.
There is a weekly limit of one entry per person per community, so please plan accordingly.
The user must be a member of at least #club5050.
The title of the post should be "Steemit Engagement Challenge S6/W1 - List Your Childhood Outdoor Games, Which are Not Famous Globally."
Follow @hindwhale, the official account of the #hindwhale community.
Comment thoughtfully on the entries of at least three other participants (ensure that you interact extensively with other users).
In the first five tags, include #hindwhale-s6w1, country (for instance, #India), and club status(#club5050).
You should invite at least three friends.
Each of the top three winners will receive and share a total of 10 STEEM (5, 3, and 2 Steem).
Develop compelling content that is appropriate for support and stands out from the competition.
This competition begins on November 21, 2022, at 00:00, and ends on November 29, 2022, at 23:59.
---
Conclusion
---
Copying the content from these pages is strictly prohibited, and we will catch you within a short period of time if you attempt to do so. Your content should be original, written in your own words, and described in a manner that allows readers to understand the details of the games from your country and how they were played.
---
Post checking and commenting policy for the community
| Category | Remark | Score |
| --- | --- | --- |
| #Club5050/75/100 | ✅ or ❌ | 1/1 |
| Verified User | ✅ or ❌ | 1/1 |
| #steemexlusive | ✅ or ❌ | 1/1 |
| Plagiarism Free | ✅ or ❌ | 1/1 |
| Bot Free | ✅ or ❌ | 1/1 |
| Voting CSI > 5 | ✅ or ❌ | 1/1 |
| Markdown Style | | 1/1 |
| Quality Content | | 3/3 |
| Total | | x/10 |
---
---
| | |
| --- | --- |
| 1st Position | 5 Steem |
| 2nd Position | 3 Steem |
| 3rd Position | 2 Steem |
---
Delegate to our community account (@hindwhale)
Delegations are encouraged from those who are interested in supporting the community. It will contribute to the growth of our community. We invite you to become a delegator of #hindwhale by giving any amount you consider appropriate:
Easy Links to delegate @hindwhale quickly
---