Like a Dolphin Contest by @thekittygirl
2/13/2020
Why Enter?
First and foremost congratulations @thekittygirl on the dolphinhood mile stone. Now on with the why.
But first we need a picture. I like pictures, I like taking pictures, and I like sharing the pictures I take. They may not be the best pictures in the world but they do represent my world, and what I see. Sometimes I will say why I took the picture sometimes what the picture means to me and sometimes I will use the picture to write a story about. I am not a very good writer, but like taking pictures I like sharing some of my story ideas also.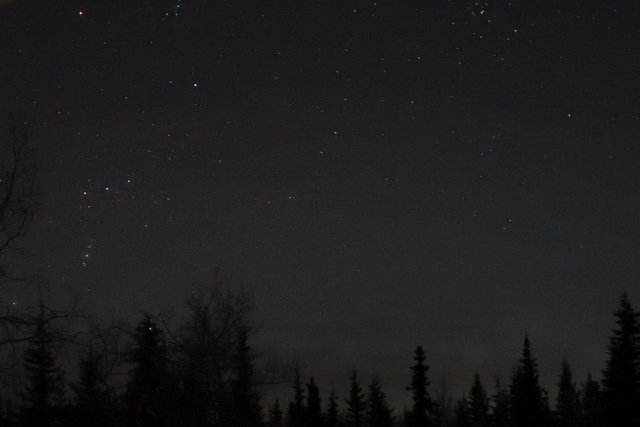 Larger View
Orion, the Hunter. Just in case you have a hard time seeing him. One of the things I found fantastic when I first joined steem block chain was the variety of content. I have to tell you it was very hard to not trash my vote value down. It really sucked only being able to give out limited votes on content. That and I really like to comment on stuff I see or read most of the time.
I was in heaven the day I found and learned how to use the manual vote slider on steemworld.org. I did not need to use it for very long before the help of a couple people pushed me to minnowhood, and I got my regular vote slider. Now no more limited voting, or so I thought.
When the price of steem was up I was able to even as a minnow cast some votes that had a 2 cent value and thus was above the dust vote threshold, wow I thought, now I can vote on comments that are really good, not just on post. That was unfortunately pretty short lived. It is nice to see the value going up some for Steem, this bodes well for me being able to vote on more post and more comments once again.
So being a Dolphin would be a great thing. I can support more people/groups through delegations, I can vote for more post I like and enjoy, and I can let the commentators know that I appreciated their comment when I do not have a lot of time to reply. But I think the best reason is that I will be able to help support other accounts that present content that I find enjoyable. my taste and whims change quite frequently, but I always end up returning to things that held my attention in the past.
There are accounts and people who's content I have enjoyed at one time or another on Steem Block Chain. People come and go, I would like to be able to keep those people posting on SBC. Even if I do not have the time to look at and read all of their post or I happen to be in a different phase of likes at the moment, I want to be able to return to those post or types of post. Currently there are a couple of people I want to stay around, (well there are a lot more, I just do not have the vote power), so I vote on their stuff if they post daily. I may not be able to vote on all of their post but at least one post a day to give them incentive to keep producing content that I can consume.
Stuff that I can consume. you see it does not matter to me if someone really does not like something. If I like something I am going to vote on it, read it, look at it, basically consume it. Other people's opinion may have an effect, but not to much. If I like it I like end of story.
So being a dolphin means I can keep my own herd/gaggle/flock/harem of content producers. I will be able to vote on more spread my wants my desires, my needs around and damn the rest of the people on SBC. If they want content that they like let them find their own herd/gaggle/flock/harem to support, or they can always follow my hand picked team.
There is so much and many different and diverse things to try and support, communities being one of them. I am trying to spread my post out among the different communities that I follow Perhaps when I become a dolphin myself, I will be more in tune with creating content for people to consume and be able to use even more of the community pages for making my post other than just steemit. Like I said there is so much to the SBC, do I stay with the use of steemit, or switch to steempeak, or esteem, or busy or one of the other many front ends out their. At some point in time the diversity is so great that we are spread as thin as we can go, right now vote wise I feel like I am slipping under the door with out enough energy to open the door wide and walk through it.
The Picture
Okay that picture was taken last night about midnight 12:08 AM on the Thirteenth of February. It was taken out my window just before bed. I was hoping that if I woke up with an urge to you know what, that it would still be clear out and I could get a better shot so I left my camera in place and ready to snap another picture. Unfortunately it clouded over during the night and the stars disappeared.
Conclusion
I would like to be a dolphin so I can shine my vote down on others, so I can hunt up new and interesting finds, so that the nights are filled with more pleasantness and dreams from reading the stories, seeing the views, and letting the brain just think.
Once again, @thekittygirl on the dolphinhood mile stone.
For those interest in participating in her contest:
Dolphin status and a contest!
Or just stop by and congratulate her on the milestone.