I created a Wikipedia page for Steempeak.com + Steem ecosystem in wiki proposal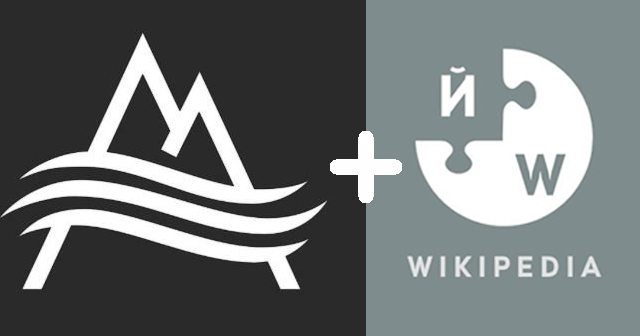 Wikipedia is today the largest information collection site in the world, the vast majority of all companies, people or organizations in the world have a site on this page where they expose all the intrahistory of their domains, my point is that it is a site in which without exception Steem and all its definitions should be attached to the encyclopedia, so many more users can have all the information of Steem and its ecosystem at hand.
So some days ago I was checking articles in wikipedia only to find that there are not very well defined articles about Steem in general (both in my native language Spanish and English), so I decided to bet these days that I'm in quarantine to organize myself and bring out this personal project of mine: to put all the Steem ecosystem in Wikipedia in as many languages as I can, but I'll talk about that later ;D
Let me tell you that making an article in Wikipedia is HARD, they follow a very strict code of writing and structuring of articles so that any writing is deleted the next day. Just to give you an idea of how to upload my Steempeak article I had to go through a process in which I deleted 4 previous Steempeak articles that I had tried to position, I spent days trying to figure out how to make the article the most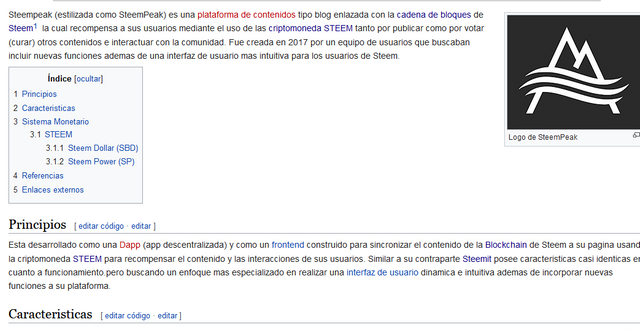 I was able to rely on information that the same @steempeak account published in its blog, but due to the policies of the wikipedia encyclopedia everything had to be written with a neutral tone, just giving the relevant data which means no flattery or putting Steempeak above Steemit or the other frontends.
I could also simplify and easily explain terms that are used in the Steem environment as "Curate" or "witness" as well as explain and differentiate what was the blockchain of Steem and what was the cryptomoney of STEEM
You can read the full article (in Spanish) by clicking on the following link
https://es.wikipedia.org/wiki/Steempeak
I will also publish it in English below because I want someone to help me give a reliable translation into English so that I can write an article for that language, as it is the most useful when it comes to spreading the word about Steem.
 SteemPeak

Steempeak (stylized as SteemPeak) is a blog content platform linked to the Steem blockchain which rewards its users by using STEEM cryptomonics for both publishing and voting (curating) other content and interacting with the community. It was created in 2017 by a team of users looking to include new features in addition to a more intuitive user interface for Steem users.

Index

1 Principles
2 Features
3 Monetary System
 3.1 STEEM
    3.1.1 Steem Dollar (SBD)
    3.1.2 Steem Power (SP)
4 References
5 External links

Principles

It is developed as a Dapp (decentralized app) and as a frontend built to synchronize Steem's Blockchain content to your site using the STEEM crypto-currency to reward your users' content and interactions. Similar to its counterpart Steemit has almost identical characteristics in terms of operation, but looking for a more specialized approach to make a dynamic and intuitive user interface in addition to incorporating new features to its platform.

Features

SteemPeak allows its users to create content blogs with the peculiar characteristic that these blogs can be monetized thanks to the votes (upvotes in the language of the platform) of the users themselves who also benefit from doing so (this type of reward is known as healing), In addition, these blogs are incorporated into the Steem blockchain in such a way that once published, a process similar to the Bitcoin blockchain is carried out, where the content is taken and captured in the blockchain, making it indelible and unalterable.

Monetary System

STEEM

It is the main crypto currency of the whole Steem ecosystem, is the one generated by the users when publishing and interacting with the community content and is one of which can be used both to trade within the platform and with the crypto currency exchanges that allow to sell or exchange them. The same users who interact with the blockchain perform the process of mining the crypto currency, this crypto currency in turn has two tokens that are also integrated into the monetary system of steem:

Steem Dollar (SBD)

Steem Dollar is a tradable asset that aims to simulate the US dollar and stabilize the economy of the Steem ecosystem. Users generate it by publishing content and interacting with the community. This currency has a defined amount in relation to STEEM in which for every 19 Steem printed, 1 Steem Dollar (SBD) is printed.

Steem Power (SP)

Steem Power works as a meter of the influence a user has on the Steem blockchain, it allows to publish more often both content and comments as well as the larger the Steem power is the greater the user's voting power when rewarding other users. It is not transferable, but if it can be lent to other users through the "Delegation" function, it can also not be transferred without the user first deciding to initiate a process called "Power Down" in which the Steem power held by the user is converted weekly to STEEM for a period of 13 weeks.


Steem Ecosystem in Wikipedia
This is an idea that has been on my mind for the last few days and that I promise to develop when I have time to write it and write it properly, it's about gathering a series of users in several languages to define terms and put together articles on the Wikipedia page and that way I can both define "what is such a definition" and make this incredible blockchain better known. I'm already working on the main sketch but I put my discord at the disposal of those who want to join collaborating with ideas or concepts ;D
cerati on steem#6317
Conclusion
I have in mind to make an article to the two remaining currencies that do not have it (Steem Power and Steem Dollar) as well as other mechanisms such as witness or why not to the steem ecosystem where I can expose and make an article for each frontend, the opportunities are there just to get to work and what better time than today!
Thank you very much for all the support that the community has given me, especially to @clixmoney and the team of @dcooperation that has been permanently supporting my initiatives since I set foot again in this ecosystem ;D
Thanks for coming by, follow me to keep up to date with my contributions