Big celebration🎉 Around-theworld🌎, 30 steem Giveaway🎁.
Big celebration🎉 Around-theworld🌎, 30 steem Giveaway🎁.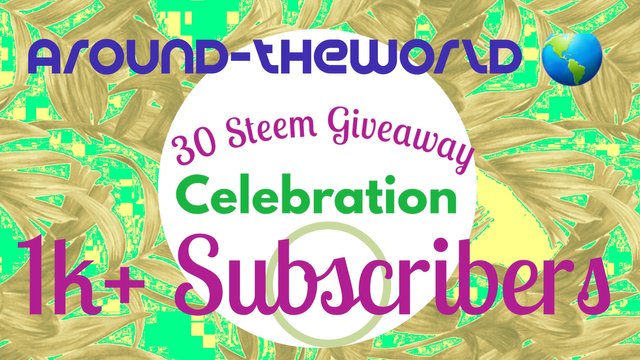 Hey friends how are you hope all of good,today we going to celebrated our community and we will distribute 30 steem for the celebration.Sponser @around-theworld
Why we celebrate? Actually we are now 1k+ subscribers with 102+ active poster with in two month,it's a big achivment for us.
We have lot of user who continue doing quality post every day,we have also active copyright team in our community,who work hard against plagiarism.
How can you join this contest?
It's a simple way you have to do for the joining this contest.

Easy Rule
You have to mention at least 4 (or more) members in your comment and from this user who reply to your comment #OK then you will receive giveaway gift.[even if 3 reply you]

Re-steem This Post.

Upvote this post (Optional)
💸Rewards💸
🎁30 Steem Giveaway🎁
We will provide equal rewards who participate in this contest.Contest will be end after 7 day.
#Note: We will visit each participant propile so don't try fake accounts.
Thanks to @stephenkendal sir for promoting steem always.
Best Regards @nevlu123 And Special Thanks to All Friends who are supporting this Post.