Welcome to Miami…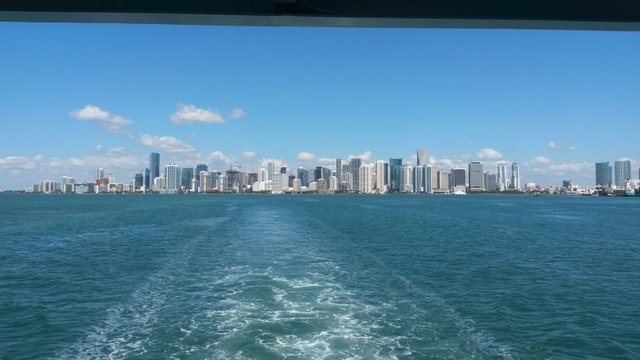 Hello dear Steemians,
In 2017 I was on a round trip in Florida with my family. As a conclusion of our tour we spent a few days in Miami, probably THE city in Florida. We had a great hotel with terrific pool and right on the beach of Miami beach. Partly the sky was full of kitesurfers, it was a spectacle. In Miami, of course, a boat tour may not be missing on which you can admire the huge million yachts and cruise ships. On the gateway you also pass the villas of the superstars, which are mainly located on islands in the bay around the harbor. Madonna, Puff Daddy, Elton John, John Travolta all have a villa here that they probably use only once every few years. Very interesting is also the sight of Al Capone's old villa, in which bullet holes are still to be found.
Cool is also a ride on the suspension railroad, which runs through the city center. From here my wonderful view of the city. There's also plenty of cars on the streets here. With bubbling engines of Ferraris, Lamborghinis, Hummers and even golden Mercedes show the rich here unabashedly what they have.
Last but not least, a visit to Seaworld is a must. Dolphins, orcas and of course the manatees native to Florida can be admired live here. Especially the manatees are often severely injured by ship propellers in Florida and then cared for here and get a home when they can no longer survive in the wild.
We liked Miami very much and we will definitely visit Florida again.
Many greetings from
Al
Hallo liebe Steemians,
2017 war ich mit meiner Familie auf Rundreise in Florida. Als Abschluss unserer Tour verbrachten wir ein paar Tage in Miami, vermutlich DIE Stadt in Florida. Wir hatten ein tolles Hotel mit grandiosem Pool und direkt am Stand von Miami beach. Teilweise war der Himmel voll mit Kitesurfern, ein Spektakel war das. In Miami darf natürlich auch eine Bootstour nicht fehlen auf der man die riesigen millionenschweren Yachten und Kreuzfahrtschiffe bewundern kann. Auf der Tor kommt man auch an den Villen der Superstars vorbei, die hauptsächlich auf Inseln in der Bucht um den Hafen liegen. Madonna, Puff Daddy, Elton John, John Travolta alle haben hier eine Villa die sie vermutlich nur alle paar Jahre mal benutzen. Sehr interessant ist auch der Anblick Al Capones alter Villa, in der noch Einschusslöcher zu finden sein sollen.
Cool ist auch eine Fahrt mit der Schwebebahn, die sich durch die Innenstadt zieht. Von hier hat meinen wunderbaren Ausblick auf die Stadt. Auch an Autos ist hier auf den Straßen alles geboten. Mit blubbernden Motoren von Ferraris, Lamborghinis, Hummern und auch goldenen Mercedes zeigen die Reichen hier ungeniert was sie haben.
Zu guter letzt darf natürlich auch ein Besuch in Seaworld nicht fehlen. Delfine, Orcas und selbstverständlich die in Florida heimischen Manatees kann man hier live bestaunen. Gerade die Manatees werden in Florida häufig durch Schiffsschrauben schwer verletzt und dann hier versorgt und bekommen ein Zuhause, wenn sie in der freien Wildbahn nicht mehr überleben können.
Uns hat Miami sehr gut gefallen und ist sicher fest eingeplant, wenn wir nochmal nach Florida reisen.
Viele Grüße Euer
Al