No Excuses!
If you cannot do great things, do small things in a great way. - Napoleon Hill
Someone I know once questioned the need for taking so many courses in the university, when in fact, one's post graduation experience is not relevant to some of those courses and topics. Many take some of these courses out of necessity, but they have no particular interests in them. One of the most prominent in these category is Mathematics.
While the aim of taking many courses could simply be to have a sort of background knowledge of the various subjects, such subjects sometimes become fully embedded in the curriculum. The real question is why not allow students focus on the core essence of their courses, and be well informed about all that it entails? - doing a small thing in a great way. This is however not what this post is about.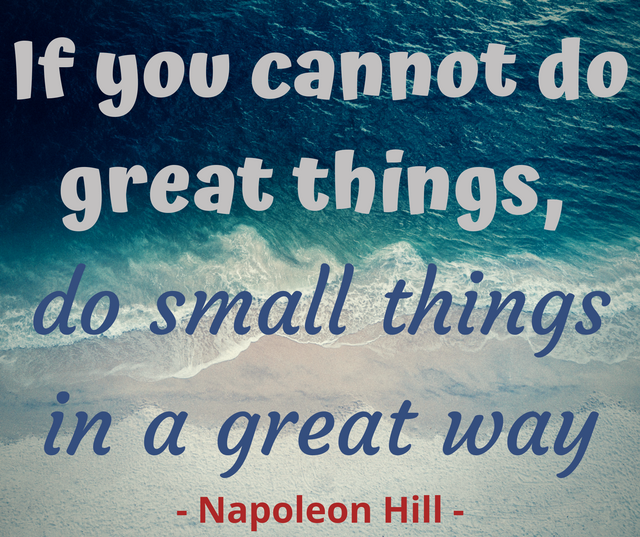 Created Using Canva
That being said, there is no room for idleness, no excuse for irresponsibility. If you have big goals or visions, begin implementation from somewhere. Every great endeavor has little elements that contribute to make it that big. Nobody will commit great things into your hands if you have no record of managing little things. A company cannot send you as a representative abroad for instance, if you have not first represented well in the same city or country.
Your exposure, experience or your resources may not be able to achieve great feats, but the more committed you get with smaller tasks the more you will build capacity to take on great tasks. Every leader is first a follower or servant. That period of learning or followership is the moment of little things. Greater tasks come with greater positions. Remember, uneasy lies the head that bears the crown. It is while dealing with little challenges that you learn how to deal with great ones too.
Do not stand to give excuses, make do with what is available now and get to work!
Thank you very much for reading this post, I appreciate your contributions. Remember also to always check back.
I am...
---
---
I am a Proud Member of