Curation Review : APR Increased to 19.7% from 11.7 %
Curation is a fun activity on the platform and now I can say this because I have been doing it for over a month and within this. I have learned a lot. when I started doing curation my APR was just 3.2% and within two weeks I was able to take it to 11.7%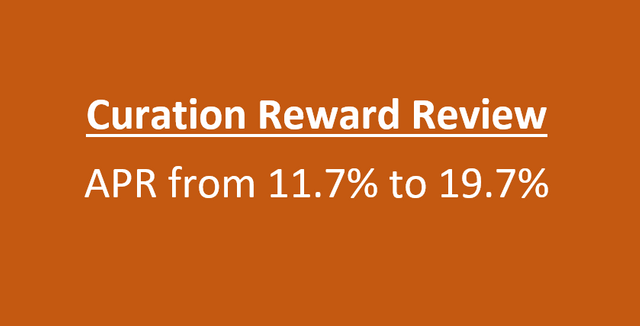 I shared my curation review post 2 weeks back and that time my APR was increased. I was holding 3.3k HP approx that time and today now I hold 7.5k HP. More Hive power helps me to give bigger vote value to authors and more curation reward to me.
I have completed four weeks on the curation and so far this is going great and I can say the growth I have seen in my APR is quite impressive. Usually, on dlease, we get 14-15% apr and I am able to fetch almost 20% apr as of now. This is a good reason me to look for more delegation through @dlease
This was my APR snapshot 2 weeks back and it shows APR as 11.7% and I posted it on 13 March 2021.
Today is 25 March 2021 and within 12 days this APR has gone significantly up and stands at 19.7
HiveStats Link for APR Check- https://hivestats.io/@reeta0119
---
I am loving this new experience on the platform because I do manual curation and come across various awesome posts. I enjoy things that I have got in to because of curation-
I check PeakD 15-20 times in a day using my phone and it has increased my activity on the platform.
Great opportunity to read amazing posts which I was missing earlier
Additional reward in through curation along with author reward so it's even more fun.
I interact with many authors while curating posts and it helps me to connect with more people on the platform.
---
Curation is the reward of staking liquid tokens and if there would be more people curating then it will help the platform to grow and increase the trust as well. I have decided that I will continue to share my curation experience probably once in 2 weeks. I hope that it will help more people to get into the curation part. I know that my vote value is not bringing value in a few $$ but this will grow for sure with the passage of time. I am trying to get 10k HP soon. This additional will come through my own stake as well as some increased delegation through the lease.
Thank you so much