Few words about @ph-support on Steemit: future growth and who will be receiving support (upvotes) from it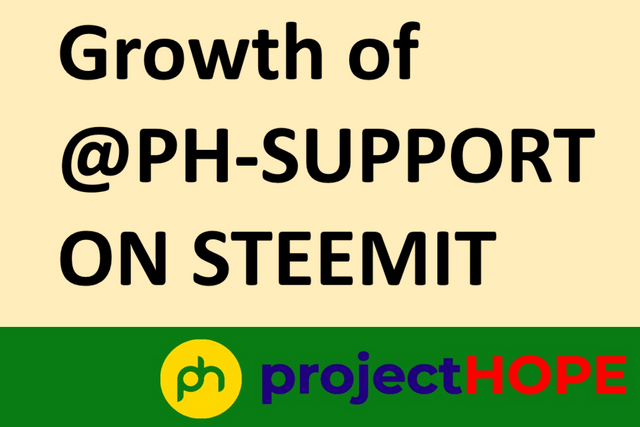 INTRODUCTION

Many of you, dear Project.hope members are aware that I'm encouraging all our authors to set up 50% beneficiary to @ph-fund on their publications. I'm aiming to provide much stronger upvotes on those posts to ensure that those who decide to follow up with 50/50 reward split will profit more and enjoy higher payouts.
Currently, I've been using a large part of received funds to rent out (via dlease) delegations on HIVE and so far ph-support is already reaching 630k Hive Power and we're still growing.
It's a very different story when we look at PH on Steemit ....
LONG TERM SURVIVAL

Overall, our voting power on HIVE is increasing steadily and my only concern has been: HOW TO ENSURE THE SURVIVAL of project.hope on Steemit.
After all, if we would lose support of one of our whales (like TheRising or Xpilar) then our voting power would be greatly affected and it could cause an even more difficult time for our team to manually curate publications posted within PH.
IDEA NUMBER 1
Initial solution would be easy: encourage more delegators.
Unfortunately, it's not as easy as one would think. Most of the time, we would need to be able to offer better terms and conditions than other projects do. After all - delegators are usually interested in receiving dividents more than anything else.
IDEA NUMBER 2
Building a strong curation trail and attracting more followers. This solution was one of my main focus . We're currently managing the biggest trail on SteemDB, however this tool is down almost as often as it is working. Blah :/
IDEA NUMBER 3
Trying to use dlease.io to rent Steem Power.
This also turned out to be a failure, since there are literally no traffic on Steemit version of dlease. It's another kind of ... dead end.
FINAL IDEA and GREAT INITIAL RESULTS

I recently started promoting a similar solution of setting up 50% beneficiary on our publications also on Steemit. My goal is to use part of this "extra income" to create a special budget. A budget which would allow me to approach large stakeholders and offer them much better terms and conditions (dividents received in exchange for their delegations) than I could ever do before.
Right now I can offer way more than received 100% of curation rewards. And this gives me some extra tools to negotiate with those so called "whales" and "orcas".
RESULTS?
Quite AMAZING so far.
Recently, I've managed to attract 40k SP delegation from @cryptoeater (39k SP) and just the other day I made another deal:
jacobyu delegate 50,003.738 SP to ph-support
Amazing? Isn't it?
IMPORTANT

It's obvious that the major weight of covering those costs of upcoming delegations to ph-support will be on the shoulders of all those who decided to set up a 50/50 reward split (50% of beneficiary to ph-fund).
For that reason, @ph-support on Steemit (currently 59k SP), will mainly be used to upvote posts of that group of PH members. To ensure, that their content is upvoted with extra voting power.
SHARE YOUR THOUGHTS WITH ME

I believe that this is the right direction, however I would also love to learn your opinion. Each one of you. So please, RESTEEM and drop a comment. I will read them all.
Yours, @crypto.piotr
@project.hope founder