12 tools to use for your content growth on Steemit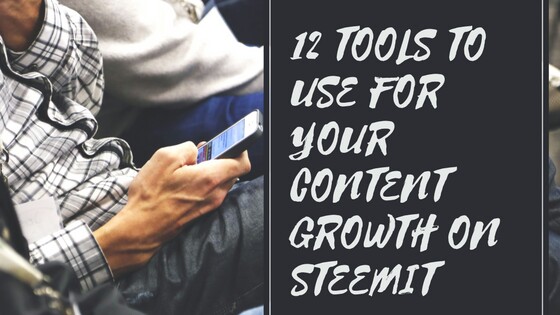 Steemit is a social media and blogging platform, the blogging platform has changed, thanks to Steemit, new publishers keep signing up everyday on the platform, you need to know tools to make you get started and rise to the top on Steemit.
I want to list tools that can get you started on Steemit, on this list you can find a perfect tools to use, either when posting maybe videos, music, and articles.
I have tried most of this tools and they are amazing, most are connected to Steemit, and they are good choices to use.
Articles, tools
The platform has already provide an editor at the top right, the editor auto saves you text whenever you type.
A new web application was created, in January 2018. An app written in Javascript and runs in the browser which enables the user to create and consume digital contents like videos, sounds, blog posts and online courses, there are free educational information, for articles blog posts that can be of help on Viper.Network.
eSteem application is good for posting articles on Steemit, it is easy to use, it has good navigations at the bottom of the editor, you can get your eSteem app on Google play store.
Video, audio posting tools on Steemit
Free upvoting tools based on quality contents
Upvoting bots
Don't give up on Steemit easily because you are not getting upvotes, there are upvoting bots that can support you on Steemit when you post good content, you need to know how to use these bots tools, here are some bot tools that might be of help on Steemit, you may want to invest.
@upvu
The 100% upvote of @upvu right now is 141$ in worth, you can set your budget on what you want to invest with them,
If you delegate SP to @upvu, there are two benefits,
at first, if you posts, @upvu will upvote the post in 5 minutes.
Another is you will receive STEEM or UPVU (Steem Engin Token).
tipu is a tool created by @themarkyman, all you do is bid above 5 steem and get your share of upvote back. The more your bid goes the higher your earning is going to grow, you can also earn by delegating your steem power to them
On minnowsupport, you can get upvotes once in 24hrs, visit their blog and click the discord channel link to join the community of Discord channel, price for registering is 0.001 on minnowsupport, they are supporting minnows on Steemit #minnowsupportproject.
You can bid on minnowbooster above 0.100, and get an upvote back, this bots are good, don't bid below 0.100, the more your bid is the more the weight of you upvote.
This bot bid is around 0.050 and they upvote back on your blog post.
Others upvoting bots are :
Steem dollars exchange
Other useful website to use on Steemit are:
Back to you guys you can drop your favorite tool at the comment. The tools I listed above will never be completed without your comment on this post on your favourite tool you use, and let others learn.
Resteem this article to your followers so that they can also learn and contribute on this post.