Sow SUN- Understanding the DeFi System in Tron, step by step (Part One)
I must say before entering into the development of this post, first that it will be a bit long, as being able to understand the DeFi ecosystem in the Tron block chain has been quite complex and has deserved some hours of dedication watching videos, among other things.
In advance I also follow that this is not a financial advice, but rather the result of my short experience in this project, you must before investing do your own research.
It will be a first publication, to talk about how to operate in the wallet TronLink, and a second publication to talk specifically about sun.io, it is necessary to understand this first process in order to later enter the Mining Pool, and win in your sleep.
So, let's start...

Much has been said about DeFi in the last few months, and a lot of Capital has entered the Ethereum blockchain thanks to DeFi (Decentralized Finance).
Let's remember that Tron and the block chain that supports it has similar functionality to the Ethereum, but with the big difference that the transactions are much faster and also much cheaper (great detail this).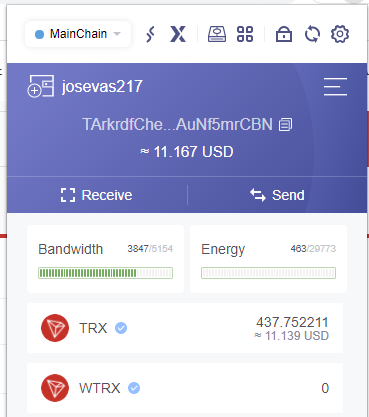 My Wallet TronLink
Well, to enter the JustSwat system is necessary to download to the computer (where I did, but may be on the phone) the application tronlink, is a wallet that will allow intelligent contracts JustSwat, through which runs DeFi, can be directly related to your wallet Tronlink.
Well, that would be a first. Once it has been downloaded, there is another process, having "power to perform transactions. It's something, just so you understand, like the equivalent in steemit of having resource credit that will be much more the more steempower you have.
So, in tronlink you get power when you freeze the Tron token on it. (This is something I can explain later in more detail).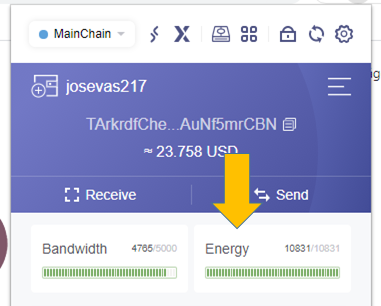 My Wallet TronLink
Obviously, to do that you must first send TRON to this wallet, either from Binance or any other exchange, or even using steemscan you can send directly steem making it very easy to Tron. <In the final part of this publication there is a link to STEEMSCAM
Once you have Tron in your wallet you must freeze part of them to have energy to do the transactions. This energy is spent but still regenerates.
I hope I've explained myself well up to here.
Well, once you have in tronlink what you are going to invest in JustSwap (DeFi in Tron), and we have also frozen some Tron to have energy for transactions, we are going to JustSwap. That will look like this: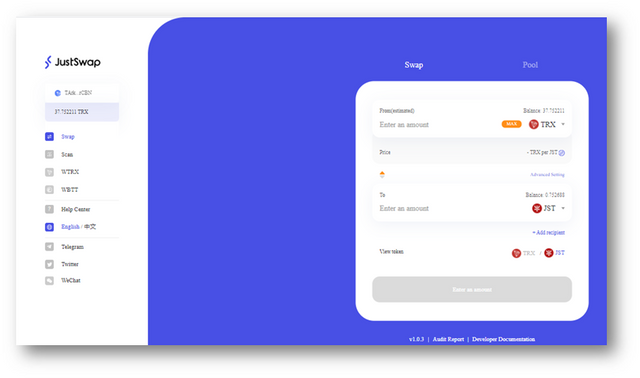 Source
In it we can do two things, in a general way:
At Swap: we exchange our tokens to have apart from Tron, the other one we are going to need to enter DeFi.

Pool: the place where we will enter to add liquids in this Financial ecosystem, once we have a couple of currencies (Example: Tron/Just, Tron/Sun, among others).
Well, we do the exchange in Swap, in my case I exchanged Tron for Just, the funds for it are the Tron that I passed previously to Tronlink, which is going to connect directly to JustSwap, seeing reflected the amounts that I have in my Wallet, and letting me do the transactions, that will arrive directly to my Wallet. *(In another post I can talk about this in more detail).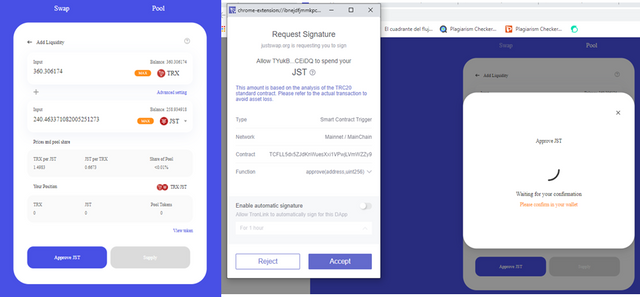 Source
Then, in my case I bought Just, you must be clear about the following: if I plan to invest 10 dollars in Just to put them in the pool, I must have the same amount (in dollars) of Tron. Because I will work with pairs of Tokens (Tron/Just, Tron/Sun) and they must be in equal amounts.
Well, once I've got my Just tokens in Swap, I go to where it says Pool.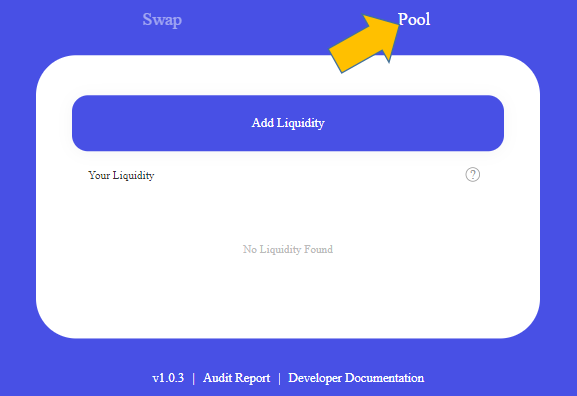 Source
And I do the following:
I click where it says Add Liquidity, and that's where I should channel my investment with the pair of tokens I have, in my case Just/Tron.
Later, after channeling the complete process (Verification and signature of intelligent contract) it will allow me to see the following, I will be entering directly into the Pool.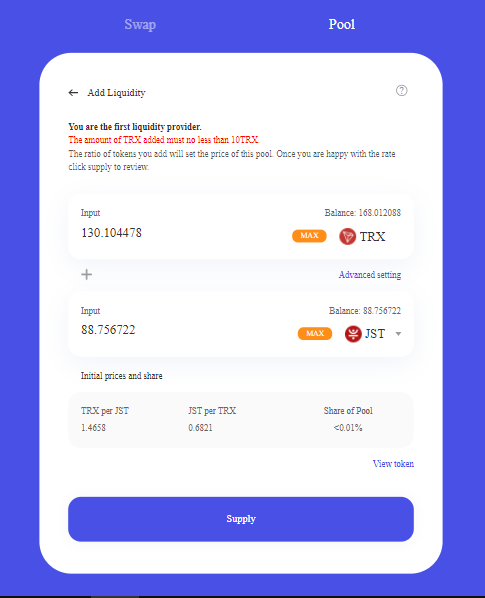 Source
You will notice that the amounts I show from the first one don't coincide with these, what happens is that this was the first investment, which was a low amount to test, but in the end, with the second investment, everything is added up, because it is with the same pair of tokens, in the same pool.
Well, the next step I made in https://sun.io/, but, I will show it tomorrow in a next publication, because this one is already quite long.
I hope you have at least an idea of how is the process.
Tomorrow I will continue explaining.
This publication is within the framework of 1 Week Challenge to Sow Your SUN and Earn STEEM Rewards which is carried out by @steemitblog with the support of @steemcurator01 and @steemcurator02


I authorize the use of this banner to everyone who wants to do it.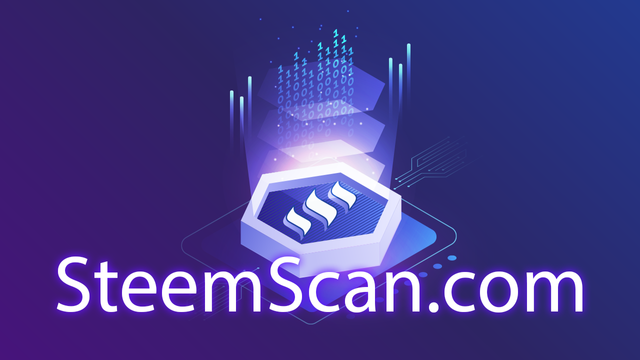 Visit our partner STEEMSCAN if you are looking for an easy and fast way to convert STEEM to other important cryptom currencies. To access the page click on the following link: