How to buy Bsteem at RobiniaSwap? (less than 200Steem)
Hello Project Hope Community, here I am again sharing with you all a fairly simple to understand post regarding how Robinia and Metamask work. Well, I know I've written quite a bit about it and it might seem like I know everything about it, however, I don't, I recently discovered a new way to invest Bsteem in the project, without it needing to be that 200steem minimum through the bridge.
Let's be clear, not everyone has to be able to invest 200steem, but maybe if you have some balance in your Metamask wallet, let's figure $10 or $5. If we go to trade, it doesn't present us with the option to buy Bsteem, but, there is another way, and it's the one I want to share with you. Follow me😉.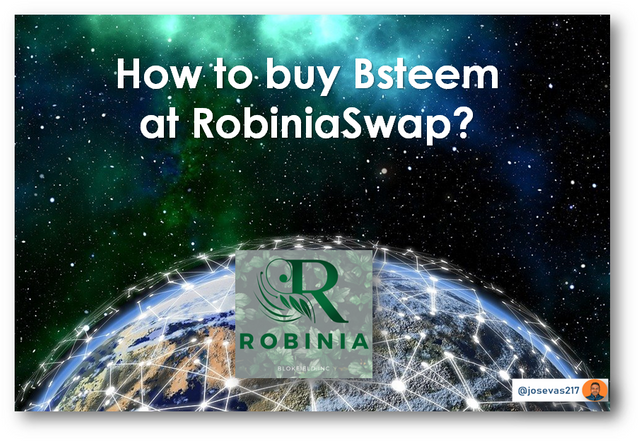 Source
At this point we are all familiar with how Metamask works, and to a large extent with the RobiniaSwap platform, but, we may have noticed that we don't have that possibility in Trade, however, don't worry, there are other ways to buy Bsteem, and make stake, if you want to invest in this project.
This will be a very visual post, then I will leave a series of images listed, which will allow you, following the numerical order to make this exchange easy and fast. You already know, just go by the numbers.
When you enter Metamask, you can see that it offers you several options, among them SWAP, as you can see.
Then you must select the currency you are going to exchange to receive Bsteem. In this case I will exchange BNB for Bsteem.
Once you have selected the tokens you are going to exchange (1 and 2), go to point 3 and click.
In point 4 it will take you to check how much Bsteem you are going to receive for that amount of BNB and in 5 you must confirm the exchange.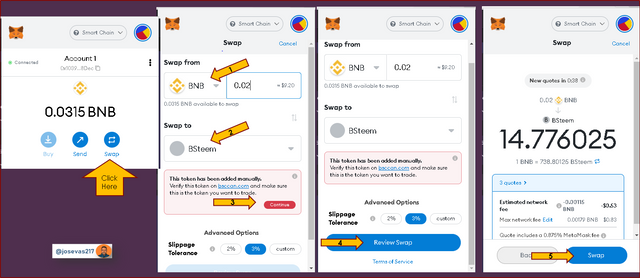 Fuente
The moments shown below in the images (6 and 7) are a few seconds while the process is taking place.
Point 8, you can see that the Bsteem are already reflected in my Wallet, buying less than 10 $, without needing to have those 200 Steem I need to pass them through the bridge.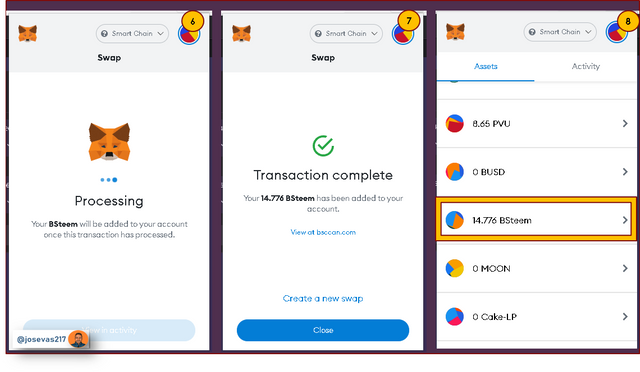 Source
As always, hoping you find this post helpful.
Doubts or suggestions, in the comments. Greetings.


I authorize the use of this banner to everyone who wants to do it.